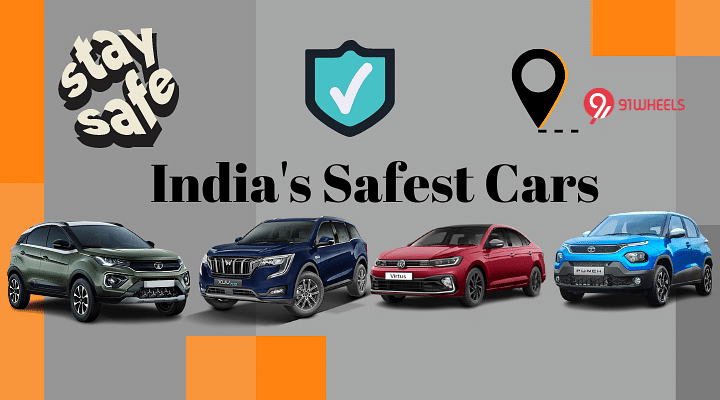 Prepare to be amazed as we unveil the Safest cars on Indian roads. With an unyielding focus on your safety, this extraordinary vehicle takes centre stage. Its robust design and cutting-edge safety features combine to create the most safest car on the road. Get ready to meet the ultimate symbol of security, ensuring worry-free travels like never before.
KEY HIGHLIGHTS
Latest safety features equipped cars
Cutting-edge technology
Top cars with 5-star safety ratings in India
When it comes to purchasing a car, safety should be a top priority. With India's challenging road conditions and increasing traffic, it's essential to choose a vehicle that can provide a safe driving experience. In this blog post, we'll take a look at some of the safest cars in India and discuss why safety should be an important factor when making a car purchase. Meanwhile, you can join our 91Wheels Whatsapp Group for all of such latest updates and guides relating to the automotive industry.
Also Read: The Top Off-Road Cars For Thrill Seekers In India In 2023
Volkswagen Virtus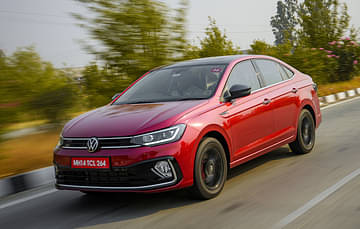 Elevating both elegance and safety to new heights, the Volkswagen Virtus triumphantly secures its position of automotive security. With an impressive 5-star GNCAP rating for adult and child safety, this exquisite German sedan proudly stands as a midsize car to achieve such an honour under GNCAP's updated testing protocols. Setting a new standard in safety, the Volkswagen Virtus leaves no room for compromise, as it equips essential safety features as standard. These include dual airbags, ABS with EBD, multi-collision braking, electronic differential lock, tyre pressure monitor, rear parking sensors, and rear defoggers. For those seeking an even more comprehensive safety experience, the higher variants offer an augmented level of protection with up to 6 airbags and hill start assist.
Mahindra XUV700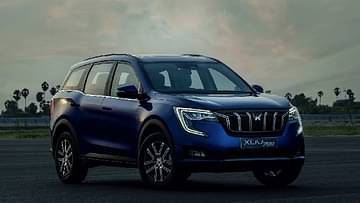 Safety is a top priority in the XUV700, evident from its comprehensive features. Alongside standard dual airbags and an Anti-Lock Braking System with Electronic Brakeforce Distribution (EBD), the SUV is equipped with the Electronic Stability Program, enhancing stability and control. As a testament to its exceptional safety measures, the XUV700 has proudly secured a prestigious 5-star safety rating in the Global NCAP (GNCAP) evaluations. The Mahindra XUV700 made a lasting impression upon its launch, captivating attention for numerous reasons. This SUV not only boasts a lavish and opulent design but also rivals offerings from esteemed Korean and European car manufacturers. Setting a new standard, the XUV700 proudly holds the title of the first made-in-India SUV to feature the Advanced Driver Assist System (ADAS). With a sophisticated network of sensors and onboard computers, this system diligently monitors the surroundings, ensuring optimal control and preventing unwanted accidents.
Volkswagen Taigun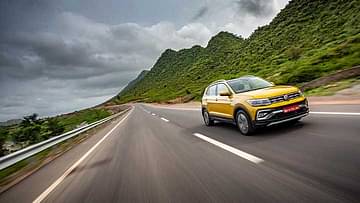 The Volkswagen Taigun secures its place among the safest cars with its outstanding 5-star ratings for both adult and child safety. The sturdy bodyshell of this German mid-size SUV, built on the MQB A0-IN platform, proves its resilience under Global NCAP's stringent new protocols, including additional side impact tests. Going beyond the 5-star G-NCAP rating, the Taigun prioritizes safety with a range of advanced features, such as up to 6 airbags, ESC, traction control, TPMS, and a rear camera. The Taigun's 1.5-liter turbo petrol engine also incorporates cylinder deactivation technology, reducing its carbon footprint and delivering improved mileage. Drive with confidence in the Volkswagen Taigun, knowing that your safety is paramount.
Mahindra Scorpio N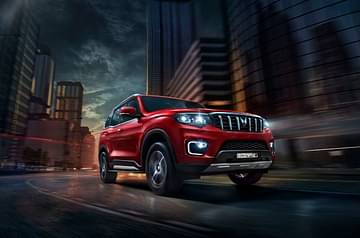 As one of the safest cars on the road, this remarkable SUV has undergone rigorous testing under Global NCAP's latest protocols, making it a trailblazer as the third car in India to do so. With an impressive 5-star rating for adult occupant safety and a commendable 3-star rating for child occupant safety, the Mahindra Scorpio N ensures the well-being of all passengers. Safety takes precedence with an array of cutting-edge features including ABS with EBD, up to six airbags, hill-assist control, a tyre pressure monitoring system, and electronic stability control, among others. No compromise is made when it comes to protecting you and your loved ones. But the Mahindra Scorpio N isn't just about safety; it's also an adventure-seekers dream. Renowned for its exceptional off-roading capabilities, this SUV lets you conquer rugged terrains with ease. For those seeking an extra dose of adventure, higher variants of the Scorpio N offer an optional four-wheel-drive drivetrain, ensuring you never miss out on thrilling experiences.
Tata Punch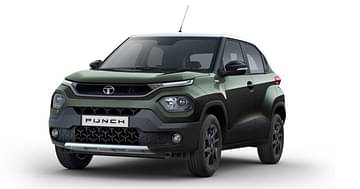 Emphasizing safety as a top priority, the Tata Punch is equipped with essential measures like ABS, EBD, and dual airbags, ensuring a secure driving experience. Adding to its safety arsenal, the Punch introduces brake sway control, a unique feature that enhances stability during braking manoeuvres. For those opting for the AMT variants, the exclusive Traction Pro Mode comes into play, providing assistance on challenging terrains. Compact yet sturdy, the Tata Punch combines agility with a muscular presence, commanding attention wherever it goes. Its sleek and distinctive design elements set it apart from the crowd, while the spacious interior offers comfort and versatility for both driver and passengers. With the Tata Punch, you can confidently navigate city streets and tackle unruly surfaces with ease. This Micro-SUV promises an exhilarating driving experience while keeping safety at the forefront. Get ready to unleash the power and excitement of the Tata Punch as it redefines your expectations of a compact SUV.
Tata Nexon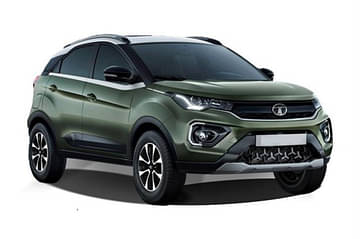 With its muscular and robust design, the Tata Nexon exudes a captivating presence on the road. Its sleek lines and bold features make it a true head-turner. When it comes to safety, the Nexon leaves no stone unturned. Equipped with dual airbags, ABS with EBD, ESP, traction control, rollover mitigation, hydraulic brake assist, and a host of other advanced safety features, the Nexon ensures the well-being of both driver and passengers. Step inside Nexon's well-crafted interior and experience comfort and convenience at its finest. The spacious cabin provides ample legroom and an array of cutting-edge features to enhance your driving pleasure. This trendsetting compact SUV redefines the concept of safety, blending it seamlessly with a captivating design and exceptional performance.
Verdict on the Safest
When it comes to choosing a car in India, safety should be a top priority. The above-listed cars have received high safety ratings from Global NCAP, making them some of the safest cars in India. However, it's essential to keep in mind that safety features may vary from one variant to another. Therefore, it's essential to carefully examine the car's safety features and opt for the one that suits your needs the most. Additionally, it's crucial to follow traffic rules and drive safely to reduce the risk of accidents on the road. Some other commendable Indian cars with the safest structure are - Mahindra XUV300, Tata Tiago, & Tata Altroz.
Also Read - Budget Wheels: Top Cars Under 7 Lakh for the Savvy Driver