What does 21 SPD mean?
2 views
The Hero Thorn 26T (21 SPD) FS has a 21-speed drivetrain. This means that the bike has 21 different gears that you can use to change the amount of resistance on the pedals. For more details, please click on Hero Thorn 24T (21 SPD) FS Specifications

91Wheels Expert

• 3 Months ago

Add Your Answer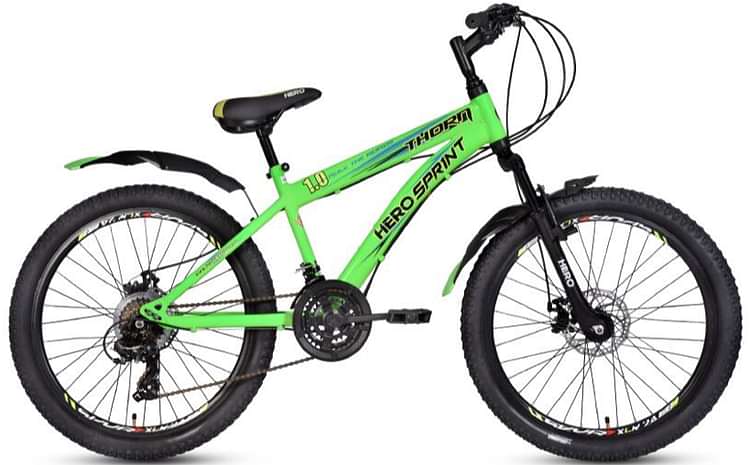 ₹ 12,610 *
Don't miss out on Latest Offers!
Have More Questions about Hero Thorn 24T (21 SPD) FS?
Get answers from our 91wheels experts

Ask 91Wheels Experts
New Cycles in India
Hero Cycles

Mountain Cycles
Popular Hero Thorn 24T (21 SPD) FS Cycles Comparisons
Hero

Thorn 24T (21 SPD) FS

₹ 12.61 K*

Avon

Solo 26T Single speed

₹ 12.60 K*

Hero

Thorn 24T (21 SPD) FS

₹ 12.61 K*

Firefox

AXXIS 27.5 D

₹ 12.60 K*

Hero

Thorn 24T (21 SPD) FS

₹ 12.61 K*

Firefox

Bad Attitude Domintor 27.5 D

₹ 12.60 K*

Hero

Thorn 24T (21 SPD) FS

₹ 12.61 K*

Hero

Howler 27.5T V-Brake

₹ 12.55 K*

Hero

Thorn 24T (21 SPD) FS

₹ 12.61 K*

Hero

Thorn 24T (21 SPD) FS

₹ 12.61 K*

Kross

XPLORE 26T

₹ 12.70 K*

Hero

Thorn 24T (21 SPD) FS

₹ 12.61 K*

La Sovereign

Black Gold

₹ 12.70 K*

Hero

Thorn 24T (21 SPD) FS

₹ 12.61 K*

Hero

Thorn 26T (21 SPD) FS

₹ 12.71 K*

Hero

Thorn 24T (21 SPD) FS

₹ 12.61 K*

Hercules

RP 17 HT DX2

₹ 12.71 K*

Hero

Thorn 24T (21 SPD) FS

₹ 12.61 K*
View More Cycles Comparisons
User Reviews
No Reviews Found