What are the booking details of Honda Elevate?
24 views
Asked:

4 month ago
Bookings for Honda Elevate has been started. It is advised to visit nearest Honda dealership to know the booking details and process for Honda Elevate. To find the nearest Honda car dealership, please click here Dealer - Honda Elevate

91Wheels Expert

• 05 Sep 2023

Add Your Answer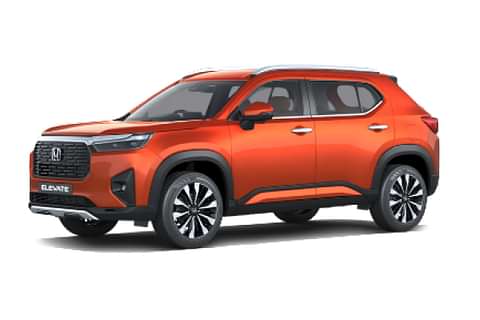 ₹ 11.08 Lakh - ₹ 16.08 Lakh *
*Ex-showroom Price in
New Delhi
Don't miss out on Latest Offers!
Have More Questions about Honda Elevate?
Get answers from our 91wheels experts

Ask 91Wheels Experts
General Questions on Honda Elevate
Delivery of a vehicle totally depends on the waiting peroid and availability of the vehicle in dealership showroom. The waiting period of Honda Elevate is upto 4 months. If the waiting period increases, the delivery date of Honda Elevate can also extend according to waiting period. To know the exact delivery date, it is

...Read More

91Wheels Expert

• 08 Sep 2023

In order to take the test drive of Honda Elevate, it is advised to contact the nearest Honda car dealership. A dealership executive will guide you and arrange a test drive for you. To find the nearest Honda car dealership, please click here

...Read More

91Wheels Expert

• 11 Sep 2023

The waiting period for Honda Elevate varies across the major cities in India. The maximum waiting period for is upto 4 months. In order to know the exact waiting period in your city, please visit nearest Honda cars dealership. A dealership executive will help you to know the exact waiting period for Honda Elevate. It is

...Read More

91Wheels Expert

• 08 Sep 2023
Elevate Questions and Answers
Other Honda Elevate Question & Answers
Filter By Categories:
Latest
General
Maintenance
Specification
Mileage
Safety
+ 1 more
Elevate Questions and Answers
Honda Elevate Frequently Asked Questions
Filter By Categories:
All
General
Performance
Specification
Safety
+ 3 more
Elevate FAQs
New Cars in India
Honda Cars

SUV Cars

Upcoming Cars
Honda Elevate Videos
Honda Elevate SUV Is Here To Beat Rivals || Detailed Walkaround Review || Better Than Hyundai Creta?

Publish date : 19 June 2023
More Honda Videos

Honda Elevate Car Owner Reviews
Comfort

4.6

Design

4.4

Reliability & Maintenance

4.2

View all parameters
All (79)
Comfort (11)
Design (12)
Features (5)
Maintenance Cost (1)
Performance (8)
Show more
VV

V Vinay kumar

29 Sep 2023

It offers smooth acceleration and responsive performance. Pleasurable features and performance. Upkeep is also excellent. Its the most affordable car in the segment. It is fantastic. Finest highway performance, comfort and view are both fantastic. Off-road stability comes in handy.

Like

Its aerodynamic form, bold traces, and one of a kind LED lights factors create a captivating presence on the road. With its spacious cabin, muscular stance, and attention to element, this powered gives a visual ceremonial dinner for luxurious car fans. Stylish alloy wheels and roof rails, adding to its overall attraction.

Like

It has six airbags, ISOFIX child seat mounts, ABS, and EBD. It also features vehicle stability assist, rear parking camera, and advanced driver assistance systems (ADAS) such as adaptive cruise control, lane keep assist, auto-emergency braking, and auto high beam assist. All these safety features enhance driving confidence and feels safe to drive.

Like

Interior with ample legroom and headroom, making it comfortable for passengers of all sizes. Additionally, its compact size makes it easy to control in tight spaces, making it ideal for city driving.

Like

Stands apart with its design. It is cool with the LED taillights run in segments down the rear window, ending in a solid, squared-off design. Design that captures the essence of the original. It combines modern elements with future-inspired aesthetics.

Like
Elevate User Reviews