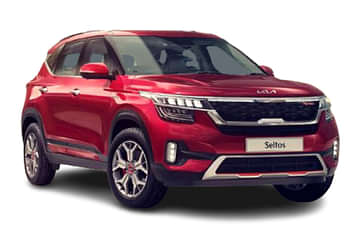 KIA Seltos
Seltos is a SUV car from KIA. Least expensive KIA Seltos variant is 1.5 Petrol MT HTE which is sold in Indian automobile market at an ex-showroom price of Rs. 10.69 Lakh.
'*Ex-showroom Price in
New Delhi
KIA Seltos Specifications
KIA Seltos-key Specifications

| | |
| --- | --- |
| Body Type | SUV |
| Transmission | Manual & Automatic |
| Fuel Type | Petrol & Diesel |
| Engine | 1353 to 1497 cc |
| No. of Seats | 5 Seater |
Latest On KIA Seltos
Last Updated On 22 Dec'22: For 2023, Kia will update the Seltos with a more powerful turbo petrol engine as well as more features. The new engine will comply with upcoming BS6-II norms and features will ensure the updated Seltos is on par with rivals.
Kia Seltos rival, Maruti Grand Vitara CNG is all set to be launched in a few months.
Kia Seltos New Features: The Kia Seltos' suspension has been changed for the MY2022 model year to increase ride quality and comfort for passengers. New wheel coverings with the Kia emblem in the centre are also included. As standard equipment, the Kia Seltos now includes four airbags, a tyre-pressure monitoring system, electronic stability control, vehicle stability management, all-wheel disc brakes, and more.
Read More
KIA Seltos Price
Price of KIA Seltos in India ranges between Rs. 10.69 Lakh and Rs. 19.15 Lakh.The KIA Seltos variants start from 10.69 Lakh - 1.5 Petrol MT HTE and goes upto 19.15 Lakh - 1.5 Diesel AT X-line. KIA Seltos is also available on EMI with interest rates varying from 7.15 to 7.5% through various banks.
KIA Seltos Variants With Price
| Variant | Specifications | Ex-Showroom Price | Offers | Compare |
| --- | --- | --- | --- | --- |
| 1.5 Petrol MT HTE | Petrol, Upto 16.8 kmpl, Manual | ₹ 10.69 Lakh | | |
| 1.5 Petrol MT HTK | Petrol, Upto 16.5 kmpl, Manual | ₹ 11.75 Lakh | | |
| 1.5 Diesel MT HTE | Diesel, Upto 21 kmpl, Manual | ₹ 11.89 Lakh | | |
| 1.5 Petrol MT HTK+ | Petrol, Upto 16.8 kmpl, Manual | ₹ 12.85 Lakh | | |
| 1.5 Diesel MT HTK | Diesel, Upto 21 kmpl, Manual | ₹ 13.19 Lakh | | |
| 1.5 Petrol HTK+ iMT | Petrol, Upto 16.5 kmpl, Manual | ₹ 13.25 Lakh | | |
| 1.5 Diesel MT HTK+ | Diesel, Upto 21 kmpl, Manual | ₹ 14.29 Lakh | | |
| 1.5 Petrol MT HTX | Petrol, Upto 16.5 kmpl, Manual | ₹ 14.65 Lakh | | |
| 1.5 Diesel MT HTX+ | Diesel, Upto 20 kmpl, Manual | ₹ 14.79 Lakh | | |
| 1.5 Petrol AT HTX | Petrol, Upto 16.5 kmpl, Automatic | ₹ 15.65 Lakh | | |
| 1.5 Diesel MT HTX | Diesel, Upto 21 kmpl, Manual | ₹ 16.09 Lakh | | |
| 1.5 Petrol MT GTX Option | Petrol, Upto 16.5 kmpl, Manual | ₹ 16.45 Lakh | | |
| 1.5 Diesel HTX AT | Diesel, Upto 20.8 kmpl, Automatic | ₹ 17.09 Lakh | | |
| 1.5 Diesel HTK+ iMT D | Petrol, Upto 16.8 kmpl, Manual | ₹ 17.09 Lakh | | |
| 1.4 Turbo Petrol MT GTX+ | Petrol, Upto 16.1 kmpl, Manual | ₹ 17.39 Lakh | | |
| 1.4 Turbo Petrol AT GTX+ | Petrol, Upto 16.2 kmpl, Automatic | ₹ 18.39 Lakh | | |
| 1.5 Petrol AT X-line | Petrol, Upto 16.5 kmpl, Automatic | ₹ 18.69 Lakh | | |
| 1.5 Diesel AT GTX+ | Diesel, Upto 18 kmpl, Automatic | ₹ 18.85 Lakh | | |
| 1.5 Diesel AT X-line | Diesel, Upto 18 kmpl, Automatic | ₹ 19.15 Lakh | | |
KIA Seltos Overview
The KIA Seltos is one of the most acclaimed and popular models from the house of
KIA
. Prices for this SUV start from Rs. 10.69 Lakh to Rs. 19.15 Lakh and buyers can pick from as many as 19 different versions.. The transmission options on the KIA Seltos include both Manual and Automatic gearbox. The Seltos offers a max power of 140 PS. Some of the main rivals include
Maruti Suzuki Grand Vitara
,
Toyota Urban Cruiser HyRyder
and
Volkswagen Taigun
. The KIA Seltos is one of the most popular cars in the SUV segment in India.
KIA Seltos have 19 variants ranging from Rs. 10.69 Lakh to Rs. 19.15 Lakh. Under the hood, Seltos is powered by a 4 cylinder, 1497 cc, Smartstream G1.5. It is able to produce 144 Nm @ 4500 rpm torque and 113.42 bhp @ 6300 rpm power with a fuel efficiency/mileage of 16.8 kmpl. KIA Seltos can store up to 50 Litres fuel in one go at max. Head to our Seltos Specifications page for a complete specs list.
Monthly Sales
91wheels experts bring you the latest update on market insight and sales performance for your favourite car models.
Model Name
Units Sold in Month 2023
October 2022
November 2022
December 2022
KIA Seltos
9777
9284
5995
Source: Monthly SIAM Data 2023
Seltos Dimensions & Measurements
Seltos has 4315 mm Length, 1800 mm Width, 1645 mm Height, 2610 mm WheelBase, 190 mm Ground Clearance, 50 Litres Fuel tank Capacity, 433 Litres Boot Space, 205/65 R16 Front Tyre Size, 205/65 R16 Rear Tyre Size.
Seltos NCAP Rating
Seltos has been accredited with NCAP Rating of 3 (Adult Safety Rating) & 2 (Child Safety Rating).
Keep reading to explore more about Seltos's updated specs, latest prices, mileage, genuine user reviews, colours, exclusive images & videos, best offers near you, KIA car dealers.
Read More
New Cars in India
KIA cars

Popular cars

Upcoming cars
KIA Seltos Competitors
₹ 10.45 Lakh - ₹ 19.65 Lakh*

₹ 10.48 Lakh - ₹ 18.99 Lakh*

₹ 11.56 Lakh - ₹ 18.71 Lakh*

₹ 10.52 Lakh - ₹ 18.43 Lakh*

₹ 10.44 Lakh - ₹ 18.24 Lakh*

₹ 12.64 Lakh - ₹ 16.14 Lakh*

Scorpio Classic vs Seltos

₹ 11.59 Lakh - ₹ 19.69 Lakh*

₹ 9.99 Lakh - ₹ 16.29 Lakh*

₹ 11.32 Lakh - ₹ 18.42 Lakh*
KIA Seltos Expert Verdict
Features we admire in this car
2022 model gets updated features including 4 airbags as standard in lower trims
Great engines on offer including diesel & turbo petrol
Great in terms of features
Improve ride quality, minor design tweaks
Spacious car
Features that could have been better
Long waiting period a major concern
Top end versions too expensive
Turbo petrol is exciting but thirsty for fuel
DCT automatic's long term reliability a concern
KIA Seltos Detailed Review
Seltos Exterior

Unlike the Hyundai Creta, which has a very radical styling that polarises opinions, the Kia Seltos has conventional looks that have a much wider acceptance. However, akin to its mechanical twin, this C-SUV has a bold stance that helps it with a higher street presence. The highlights of the front end include full-LED headlamps with a LED DRL light bar on each headlight unit that almost extends to the centre of the grille. This gives the Seltos a pretty unique look in the dark, but the lower variants miss out on this arrangement and instead come with projector headlamps with smaller DRLs.

 

The Kia Seltos looks quite handsome even in the side profile and things like an upward sweeping belt line, dual-tone paint schemes and diamond-cut alloy wheels help the SUV look modern and attractive. The rear-end looks good, too, and rounds off the well-styled exterior appearance. Also, the Seltos is available in Tech Line and GT Line styling trims. The latter brings in a lot of red accents that can be found on the skid plate, side skirts and brake callipers along with a more attractive set of alloy wheels.

Summary

The Kia Seltos does not have the very futuristic and unconventional look of the Hyundai Creta but it is surely among the more handsome cars in its price segment. The GT Line and X-Line add a touch of sportiness to the design to help the Seltos stand out in the crowd

Seltos Interior

Inside, the fuss-free, simple yet elegant design continues, which, together with the high quality of materials, bestows the cabin with a premium ambience. In fact, the cabin of the Kia Seltos feels so well put together that it ends up giving some costlier cars a run for their money. The top-spec trim comes with a full quote of 6 airbags, connected car technology, an electric sunroof, ambient lighting and more. It also offers enough space in both rows while the top-end trims have plenty of equipment on offer.

 

The highlight of the dashboard is the wide-screen 10.25-inch touchscreen infotainment unit nestled around the same gloss black panel that holds the instrument cluster. The arrangement reminds us of some much costlier cars and goes well to further enhance the appeal of the interior. The steering wheel is a flat-bottom unit whose rim feels good to hold, especially with the leather wrap on the higher versions. The Tech Line trims get a dual-tone light cream-dark grey colour theme, with the seats getting white colour upholstery. This further elevates the sense of space but is tough to maintain in the dusty environments of many Indian cities.

 

On the other hand, the GT Line versions get an all-black colour theme with black leather upholstery for the seats. It also offers aluminium sports pedals to pump up the sportiness quotient. Irrespective of the variant, the seats are well bolstered and sufficiently comfortable. Plus, the armrest is wide enough for both the occupants to comfortably rest their elbows on. The top-spec GT trims even offer an 8-way electrically adjustable driver's seat that makes it quite easy to find the most convenient driving position.

The occupants in both rows won't complain of lack of headroom, shoulder room or legroom. In fact, even with three occupants in the rear seat, things never get cramped for anyone. The large greenhouse, together with the wide cabin, prevents things from getting claustrophobic. The Kia Seltos comes with 433-litre of boot space, which is exactly what even the Hyundai Creta offers. Besides, the loading lip isn't too high and it's easy to load/unload big pieces of luggage. Moreover, there are plenty of storage spaces strewn across the cabin to help you store the knick-knacks.

Summary

The Kia Seltos offers a premium-looking cabin that is brimming with features and has enough space for 5. The 433-liter boot space is one of the bigger ones in the segment which can accommodate a lot of luggage. Driving posture to is very easy to find.

Seltos Performance

Like the Hyundai Creta, the Kia Seltos is available with three engine options – 1.5-litre naturally aspirated petrol, 1.5-litre turbodiesel, and 1.4-litre turbo-petrol. All the engine options are available with both manual and automatic transmission options. Of course, our pick of the lot is the 1.4-litre unit that outputs 140 PS and 242 Nm. It comes mated to a 7-speed dual-clutch automatic transmission as an option and a 6-speed manual as standard. Meanwhile, the 1.5-litre petrol unit offers 115 PS and 144 Nm, and the oil-burner outputs 115 PS and 250 Nm. While the former can be purchased with a CVT, the latter is available with a 6-speed torque-converter automatic transmission.

The 1.4-litre turbo-petrol mill offers strong performance with minimal turbo-lag. There's enough grunt on offer even at 1,500 RPM and this helps the Seltos charge forward at a high velocity. The dual-clutch transmission does the job of selecting the right gear for you while the driving modes – Eco, Sports and Normal – let you choose the best settings based on your driving. There are even 3 traction control modes - Snow, Sand and Mud to help you tackle tough road conditions.

Meanwhile, the 1.5-litre naturally aspirated petrol motor isn't as quick but definitely feels very smooth, especially with the CVT. This is the engine-transmission combination to choose in case your driving is mostly restricted to the urban confines. The CVT offers jerk-free performance in stop-go traffic while the smooth engine offers a relaxing drive experience. Finally, the diesel motor is the one to have if you're someone who has a monthly running of over 3,000 km. It's a fairly refined unit that offers a strong performance. In all three variants, the NVH is well-controlled and there's little that we find against any of these motors.

Summary

The wide range of engine and transmission options available on the Kia Seltos help you choose the best possible combination to suit your driving style and conditions. Option of a Diesel AT will appeal to those who intend to a lot of highway cruising.

Seltos Ride and Handling

While the segment-best ride quality has become a trademark of the Hyundai Creta, the Kia Seltos goes on to impress with its sporty dynamics that specially appeal to the driving enthusiast. Unlike the softly-sprung cousin, this C-SUV has a rather stiff suspension setting that goes on to offer plenty of driving pleasure while still keeping the occupants comfortable over broken patches of roads. True, you'll miss the plushness that the Creta offers but unless you're travelling on sharp undulations, the passengers won't complain of discomfort.
Update: for 2022, Kia has tweaked the suspension and the Seltos now offers a more comfortable ride. 

True, the ride is definitely towards the stiffer side, things don't get too uncomfortable unless you drive over really sharp undulations at low speed. Also, the Seltos offers great high-speed stability and the body roll is minimal in spite of the height. The steering is sharp enough and doesn't have any vagueness towards its dead centre. Moreover, the great high-speed stability and the confident handling work together to further enhance the feeling that you're driving a car that's from a segment or two above. The top-end variants get disc brakes on all four wheels, which provide with a very strong braking force.

Summary

The Kia Seltos isn't as comfortable as the second-gen Hyundai Creta, but better dynamics make it more fun to drive. The responsive steering along with a strong set of brakes make for a very confidence inspiring driving experience in the Seltos.

Seltos Safety

The Australian-spec Kia Seltos bagged a full 5-star rating at ANCAP but the Indian version tested by Global NCAP could manage only a 3-star score. A big reason for this disparity is the less usage of Advanced High Strength Steel (AHSS) in the SP2i platform of the local version as compared to the SP2 architecture of the model sold abroad.

Right from the base trim, Seltos gets four airbags, TPMS, front seat-belt warning, ABS with EBD, brake assist, ESP, hill-descent control, child safety lock, speed sensing door lock and more. Meanwhile, the GTX and GTX+ trims come with a 360-degree view camera, Vehicle Stability Management, Hill Hold Assist and more.

Summary

The Indian Kia Seltos does not boast a full 5-star safety rating of the version sold abroad but comes with a handful of passive and active safety features at least on the top-end trims. A 3 star GNCAP rating with an unstable bodyshell is a cause for concern though.
KIA Seltos Videos
2022 Kia Seltos Diesel Automatic Review with 3 people || Pros and Cons || Short Term Experience

Kia Seltos Anniversary Edition : see what all has changed
KIA Dealers
Kolkata

3 dealers in Kolkata

Pune

9 dealers in Pune

Lucknow

3 dealers in Lucknow
Seltos Cost of Ownership
Select Variant type
TCO for KIA Seltos for 1 year is
₹ 12,40,088*
View Breakdown
| TCO Calculation | 1 Year |
| --- | --- |
| Ex Showroom Price | ₹ 10,69,000* |
| Fuel Cost (approx) | ₹ 21,428* |
| Insurance | ₹ 64,140* |
| Service Cost | ₹ 85,520* |
| Total Cost of Ownership | ₹ 12,40,088* |
* Calculation is basis an average taken for fuel prices across India. Petrol Rs 100/Ltr*, Diesel: Rs 90/Ltr*, CNG: Rs 85/Kg*
KIA Seltos Car Owner Reviews
4.2
646 ratings and reviews
Design

4.4

Comfort

4.3

Performance

4.3
It's smooth sailing on our gives pleasure and it's automatic no hectic in any traffic we have been enjoying the ride! Thanks SELTOS

Mileage in city 18 km/l outer 24km/l Performance is good

Nice car. Reasonable maintenance costs Good service network.

Good features,good milage, comfortable for long rides,value for money

Best Car i experience but if I get Innova type car in Kia motors I will buy definitely
Have More Questions about KIA Seltos?
Get answers from our 91wheels experts
KIA Seltos Questions and Answers
Latest News on KIA Seltos
Publish date : 2 January 2023

Publish date : 26 December 2022
KIA Seltos FAQs
What is the ARAI mileage for KIA Seltos?

KIA Seltos claims a mileage of 21 kmpl.

What are the transmission types available in KIA Seltos?

The KIA Seltos comes in Petrol & Diesel with Manual & Automatic transmission.

What is the price of the base model of KIA Seltos?

The base variant price for KIA Seltos 1.5 Petrol MT HTE is priced at Rs.10.69 Lakh.

What are the colour options of KIA Seltos?

KIA Seltos is available in 9 colours - Intense Red, Aurora Black Pearl, Red+Black, Punchy Orange, Glacier White Pearl, Sparkling Silver, Wite Pearl+Black, Gravity Gray, Imperial Blue.

Does KIA Seltos come with a sunroof option?

Yes, KIA Seltos comes with a sunroof configuration.

What is the seating capacity of KIA Seltos?

KIA Seltos comes with a 5 seater capacity.
Seltos On Road Price in India