It was eleven months back in August 2021 when Simple Energy dropped a surprise in the world of electric mobility. This surprise was called the 'One' and came with technological marvels that were unheard of in the segment. Bookings started on the 15th of August and I was among the lucky ones to book this within the first few minutes itself. However, what followed was an endless wait for updates, production version clarity and the delivery schedule.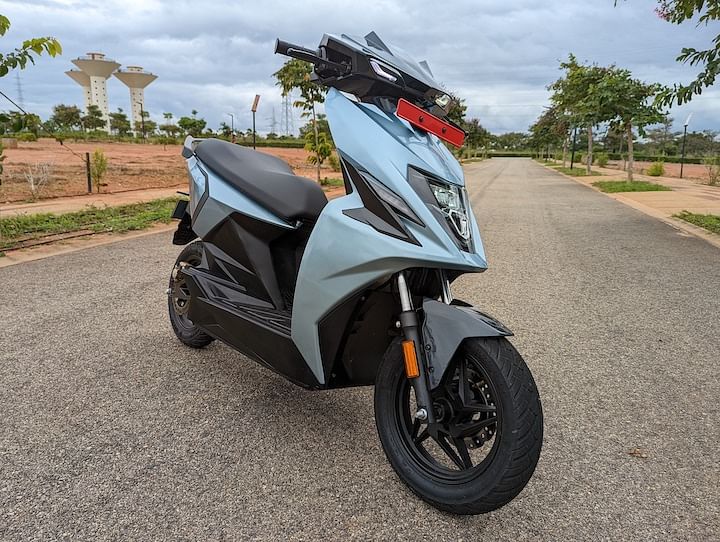 They say good things take time coming and the same is the case with the Simple One. I finally got a chance to sample this revolutionary e-scooter few days back around the outskirts of Bangalore and even had a quick informal chat with Suhas, CEO & Founder. All my doubts, questions and even apprehensions got cleared and happy to report, I am happy I did not cancel my booking all this time.
It looks great
As compared to the prototype that we saw last year, the Simple One has come a long way in terms of design. It looks sharp, modern and sporty, just what you want from your new age mobility partner. The striking and aggressive DRLs look menacing and are placed on either side of the razor sharp visor. The LED headlamp comes in on the lower part and giving it company as the raised indicators. The indicators are housed on a small body extension that are hollow for a mini, pseudo 'air dam' effect.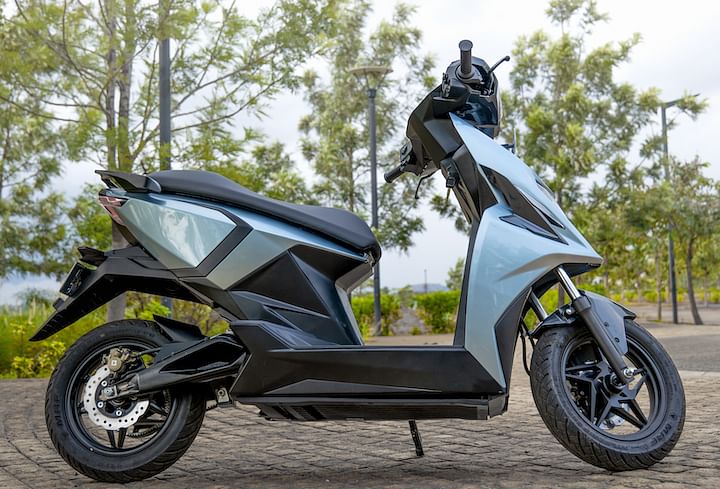 The side profile showcases that the Simple One isn't a generous scooter in terms of dimensions. Yes, it is compact but has its own share of design lines - the raised seat, raised rear and smart looking 12 inch alloy wheels. By the way, these wheels are designed keeping aerodynamics in mind. The rear of the Simple One is something I love. Yes, the rear wheel could have been bigger but inverted V shaped LED lights shout attention. Likewise, the grab rail too is designed well.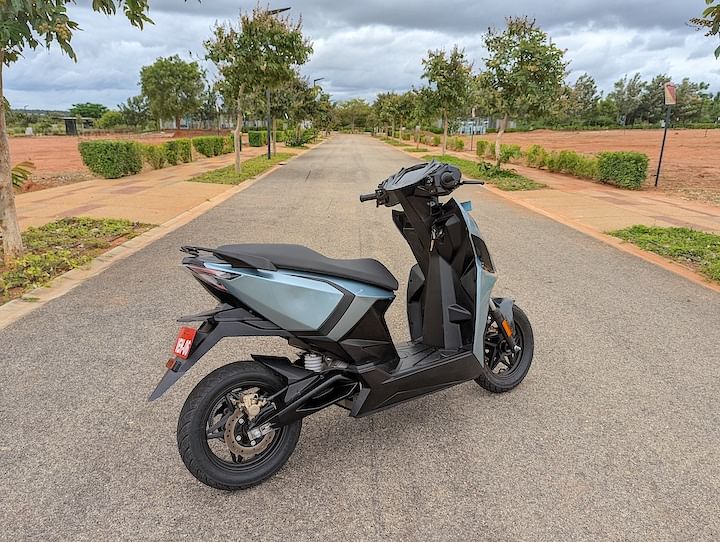 Overall, the Simple One stands out in terms of aesthetics. There are four colours to pick from - shade of black, blue, red and white. Simple Energy will also offer wider tyres once the deliveries start - these will be 100mm wide for the front and 110mm wide for the rear.
Feature Loaded
This is one area where the Simple One stands out. From the regular dose of touch screen LCD display to disc brakes at both the ends, this scooter also offers you a cruise control. There are four riding modes (will discuss them later), a huge under-seat storage space, dual battery set-up (with a portable smaller unit) and Bluetooth connectivity. There will also be over the air updates and a connected app that offers functions like Geo Fencing, remote telemetry, navigation et al. I am also happy to see TPMS (tyre pressure monitoring system) being standard here. And although ABS (anti-lock braking system) isn't on offer right now, you do have CBS or combined braking system.
Battery & Range.
This scooter also takes care of the biggest hurdle that owners face while putting down their money for an electric vehicle. Range Anxiety isn't a concern here as the Simple One has a total battery capacity of 4.8 kWh. There are two batteries, one being fixed under the floor and second being a portable 1.5 kWh unit. This is located under the seat and can be taken incase you want to charge it at home, office or someone else's place. Ofcourse when you charge the scooter conventionally, both the batteries end up getting charged.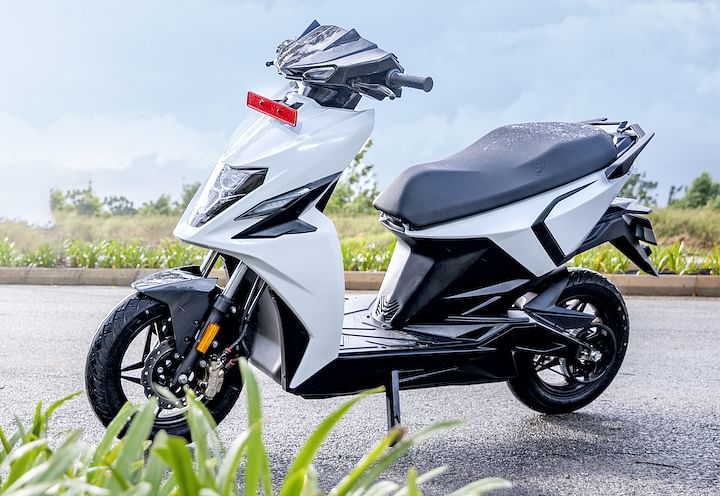 Simple One claims both the batteries combined together will offer real world riding range of 200km! This is far more than what other options offer in the same price band. In my opinion, most users will look at charging the scooter once every 3-4 days, if ridden in the Eco mode. The certified mileage by the way stands at a whopping 236km! This ofcourse is in the Eco Mode. Other three modes include Ride, Dash and Sonic. The real world riding range in these are approximately 150km, 100km and 65km respectively. In terms of charging, it takes just over 2 and half hours for the main battery and an hour and fifteen minutes for the secondary battery.
Performance
And this brings us to the USP of the Simple One. There is no other Indian scooter (petrol or electric) that comes close in terms of acceleration. With a light rider, this thing will hit 40 km/h in 2.77 seconds and 60 in less than 4.5 seconds. Love traffic light GPs? This one will keep you happy. And the power doesn't really taper off even till 80 km/h. Given the right road, the One will also hit 105 km/h in the Sonic mode. However, this mode will deactivate once the battery level drops to 40%. But its not just about the outright punch but how the scooter fares during roll-ons. Though our test ride location was devoid of traffic for me to judge this e-marvel for city overtaking, the punch from 40 to 60 or 60 to 80 was surprisingly very good.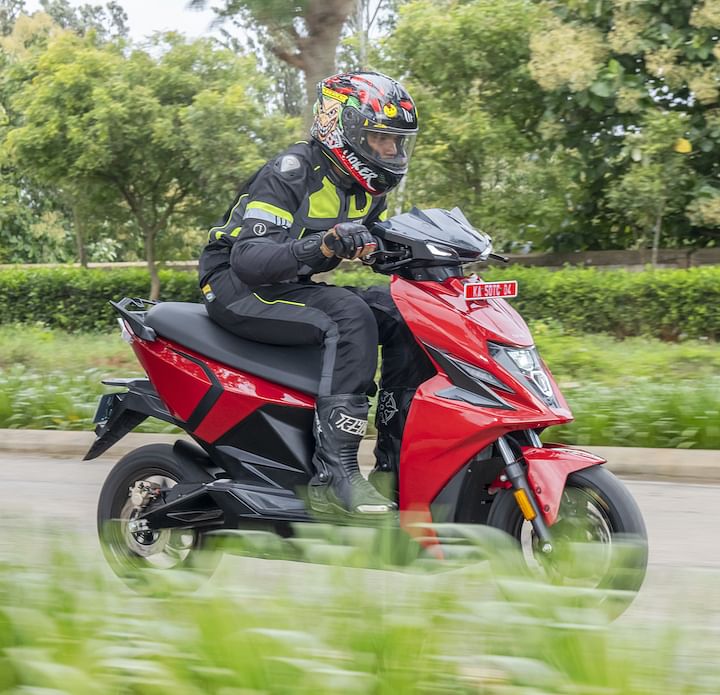 The Eco mode is limited to a top whack of 45 km/h and I am assuming most users will pick this only when the destination is far away or battery level is low. The Ride mode (I call this the City mode) has a good balance of punch and range. Top speed is limited to 65 km/h, acceleration is brisk and you get ample range to do a return trip from your city's outskirts. 3rd mode is the Dash mode that is also usable for riding to work and back at a pace that will keep you ahead of others - 85 km/h with a range of about 100km. Perfect for me as my one-way commute to Gurgaon is 35km. And then the Sonic mode that can be used to tease motorcycles and fast moving cars during your commute. Yes, you can switch between modes on the GO.
Handling
Suhas Rajkumar, during a candid discussion, revealed his love for motorsports. This passion was clearly evident in the way the Simple One handled on the move. Even with a tall, heavy rider, the scooter felt nimble, changing lanes how I wanted it to. The small test ride area had its share of turns, u-turn and even cone sets that allowed me to do a quick slalom run. At the end of the stint, I was convinced that the Simple One is definitely one of the best handling scooters in India. A special mention needs to be done for the Symmetrical mounted progressive monoshock at the rear. Under hard acceleration or braking, the suspension does not offer much unwanted 'push' to the rider. Likewise, even with a load of over 100kgs, over undulations, the rear did not feel too soft, neither did it bottom out even once. Brilliant!
Rider ergonomics are something I want to talk about here. The seat is well padded and a generous amount of that is reserved for the rider. The rear part isn't too high which means good set-up a pillion. And although the scooter isn't large in dimensions, the seating posture felt adequately comfortable for my frame. The handle bar - seat - floor board triangle will be extremely comfortable (yet sporty) for anyone under 5'10" in my opinion. Talking of which, the floor board is large enough to take in large boot sizes as well.
Verdict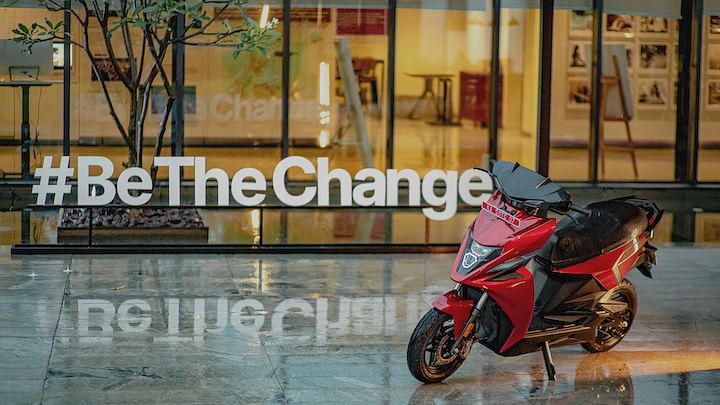 At Rs 1.1 lakh, the Simple One offers astonishingly good value for money. Over 200km of real world range, 105 km/h top speed, sorted dynamics and feature loaded, the wait for this revolution has been worth it. Suhas has promised deliveries to start from physical stores by end of September / early October. I can't wait to get mine home (in a shade of white) and follow up with ample videos for our readers and viewers. Stay tuned!