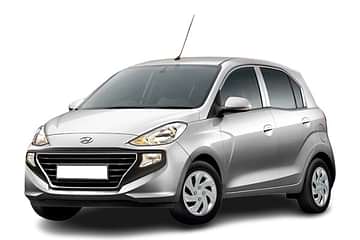 Hyundai Santro
Santro is a Hatchback car from Hyundai. Least expensive Hyundai Santro variant is Era MT which is sold in Indian automobile market at an ex-showroom price of Rs. 4.63 Lakh.
₹ 4.63 Lakh - ₹ 6.45 Lakh*
(Price before discontinued)
Hyundai Santro is Discontinued.
Hyundai Santro Specifications
Hyundai Santro-key Specifications

| | |
| --- | --- |
| Transmission | Manual & Automatic |
| Fuel Type | Petrol & CNG |
| Mileage | 30.48 km/kg (cng) |
| Engine | 1086 cc |
Latest On Hyundai Santro
Last Updated On 4th Nov'22: Due to low sales, Hyundai has pulled the Santro from the Indian market.
Hyundai Santro was the entry-level hatchback from the Korean car manufacturer in India. The Hyundai Santro was also one of the most affordable hatchbacks in the country. Hyundai has recently pulled the plug from the Santro brand. The Santro hatchback production has been discontinued as Hyundai plans to navigate the segment with new cars. According to the reports, Hyundai is planning to soon introduce a new hatchback that will be the successor for the Santro in India. Although, there are no further official words from the company regarding this upcoming car and when will it be launched in the domestic market. Hyundai Santro was known for offering a practical combination of refined engine, spacious cabin, & decent design as per the family car standards. The soft ride quality of Santro made it one of the most comfortable cars in the segment as well. 
Read More
Hyundai Santro Price
Price of Hyundai Santro in India ranges between Rs. 4.63 Lakh and Rs. 6.45 Lakh.The Hyundai Santro variants start from 4.67 Lakh - Era MT and goes upto 6.45 Lakh - Petrol Smart Auto Asta AMT. Hyundai Santro is also available on EMI with interest rates varying from 7.15 to 7.5% through various banks.
Read More
Hyundai Santro Variants With Price
Variant
Ex-Showroom Price
 
 
Era MT

Petrol, Upto 20.3 kmpl, Manual

₹ 4.63 Lakh
Petrol Era Executive MT

Petrol, Upto 20.3 kmpl, Manual

₹ 4.90 Lakh
Magna MT

Petrol, Upto 20.3 kmpl, Manual

₹ 5.36 Lakh
Sportz MT

Petrol, Upto 20.3 kmpl, Manual

₹ 5.73 Lakh
Petrol Smart Auto Magna AMT

Petrol, Upto 20.3 kmpl, Automatic

₹ 5.82 Lakh
Sportz AMT

Petrol, Upto 20.3 kmpl, Automatic

₹ 6.00 Lakh
Asta

Petrol, Upto 20.3 kmpl, Manual

₹ 6.01 Lakh
Magna MT CNG

CNG, Upto 30.48 Km/kg, Manual

₹ 6.10 Lakh
Sportz MT CNG

CNG, Upto 30.48 Km/kg, Manual

₹ 6.42 Lakh
Petrol Smart Auto Asta AMT

Petrol, Upto 20.3 kmpl, Automatic

₹ 6.45 Lakh
Dlite MT

Petrol, Upto 20.3 kmpl, Manual

N/A
Petrol DX

N/A
Petrol GLS I - Euro I

N/A
Petrol GLS I - Euro II

N/A
Petrol GLS II - Euro I

N/A
Petrol GLS II - Euro II

N/A
Petrol GS

N/A
Petrol GS zipDrive - Euro I

N/A
Petrol GS zipDrive - Euro II

N/A
Petrol GS zipPlus

N/A
Petrol L1

N/A
Petrol L2

N/A
Petrol LE

N/A
Petrol LE zipPlus

N/A
Petrol LP

N/A
Petrol LP - Euro I

N/A
Petrol LP - Euro II

N/A
Petrol LP zipPlus

N/A
Petrol LS

N/A
Petrol LS zipDrive Euro I

N/A
Petrol LS zipDrive Euro II

N/A
Petrol LS zipPlus

N/A
Hyundai Santro Overview
The Hyundai Santro is one of the most acclaimed and popular models from the house of
Hyundai
. Prices for this Hatchback start from Rs. 4.90 Lakh to Rs. 6.42 Lakh and buyers can pick from as many as 32 different versions.. The transmission options on the Hyundai Santro include both Manual and Automatic gearbox. The Santro offers a max power of 69PS@5500rpm. Some of the main rivals include
Renault Kwid
,
Maruti Suzuki S-Presso
and
Maruti Suzuki Celerio
. The Hyundai Santro is one of the most popular cars in the Hatchback segment in India.
Hyundai Santro have 32 variants ranging from Rs. 4.63 Lakh to Rs. 6.45 Lakh. Under the hood, Santro is powered by a 4 cylinder, 1086 cc, . It is able to produce 10.1 kgm @ 4 500 rpm torque and 68PS@5500rpm power with a fuel efficiency/mileage of 20.3 kmpl. Hyundai Santro can store up to 35 litres fuel in one go at max. Head to our Santro Specifications page for a complete specs list.
Monthly Sales
91wheels experts bring you the latest update on market insight and sales performance for your favourite car models.
Model Name
Units Sold in Month 2023
May 2022
June 2022
July 2022
Hyundai Santro
2608
7
3
Source: Monthly SIAM Data 2023
Santro Dimensions & Measurements
Santro has 3610 mm Length, 1645 mm Width, 1560 mm Height, 2400 mm WheelBase, 35 litres Fuel tank Capacity, 235 Litres Boot Space, 155/80 R13 Front Tyre Size, 155/80 R13 Rear Tyre Size.
Keep reading to explore more about Santro's updated specs, latest prices, mileage, genuine user reviews, colours, exclusive images & videos, best offers near you, Hyundai car dealers.
Read More
New Cars in India
Hyundai cars

Popular cars

Upcoming cars
Hyundai Santro Competitors
₹ 4.70 Lakh - ₹ 6.33 Lakh*

₹ 4.26 Lakh - ₹ 6.12 Lakh*

₹ 5.37 Lakh - ₹ 7.14 Lakh*

₹ 3.99 Lakh - ₹ 5.96 Lakh*

₹ 5.54 Lakh - ₹ 7.42 Lakh*

₹ 5.54 Lakh - ₹ 7.70 Lakh*

₹ 5.35 Lakh - ₹ 7.72 Lakh*

₹ 3.54 Lakh - ₹ 5.13 Lakh*

₹ 6.06 Lakh - ₹ 7.72 Lakh*

₹ 5.73 Lakh - ₹ 8.51 Lakh*
Hyundai Santro Gallery
View From Co-driver's Door
Hyundai Santro Expert Verdict
Features we admire in this car
Easy to drive city car with great visibility
Peppy motor combined with optional AMT
Great fit & finish on the inside for a small car
Features that could have been better
No CNG option
Petrol isn't as efficient as rivals
Model discontinuation means low resale value
Hyundai Santro Detailed Review
Santro Performance

6 /10

Hyundai Santro provides a peppy performance as it comes with a petrol engine powertrain. The all-new Santro launched by Hyundai is powered by an engine with 1.1 Epsilon MPi Petrol or CNG (BS6) 4 cylinders. This engine is capable of churning out a maximum power of 60 hp and the maximum torque is 85.3 Nm for the petrol and 59.17 Nm in the CNG variants. The petrol variants offer a maximum power of 69 bhp on the tap of the throttle. The transmission is manual and 5-speed which allows smooth changing of gears. The overall engine performance of the Hyundai Santro is peppy and the smooth engine-gearbox combination help make the Santro a comfortable city car.

Summary

The new and improved Hyundai Santro offers superior and strong performance for the price of such an economical ride.

Santro Exterior

6.5 /10

Hyundai has worked well on the overall exterior design of the Santro. The new Santro looks premium and the smiling fascia helps create a more happy vibe among the potential buyers. The Hyundai Santro is one of the widest cars in its segment due to the extra room added while designing it. It is a great choice for families, carpools and long drives. The exterior of the car looks more like it was adopted from the i10 than the first generation Santro. In the front, one can observe the unique cascade design with chrome front grille paired with dynamic Z-shaped character lines all over the body frame of the car. This gives the new Santro a stylish, sporty and functional look.

The halogen headlamps are swept back with angular patterns. On the front of the car, fog lamps have been added to provide better visibility to the driver. The turn indicators and the door handles resemble the first generation Santro. An absence of alloy wheels and LED DRLs can be noticed. However, Hyundai has equipped the wheels with a silver R14 steel wheel cover that makes it look modern yet sporty. Adjusting the windows with a mere click of a button is another common yet convenient feature. The dual-toned bumpers at the rear with reflectors add a sporty appearance to the car. There is black plastic on either side of the license plate on the rear bumper. The tail lamps and the bumper reflectors are complementary to each other as well. 

Summary

The exterior of the Hyundai Santro is distinctive, roomy, sporty and stylish.

Santro Interior

7 /10

The interior of the Hyundai Santro is designed for comfortability during a family driving experience with the introduction of five seats. The interior of the car sports a dual-tone colour scheme of beige and black garnished with gold highlights. The door handles on the inside are champagne-colored as well. There is ample accommodation available in the front as well as the back. The cabin of the car has enough accommodation for ease of ingress and egress to get in and out of the car. The seats are a little low and there is a slope from the rear window line to the back offering good ventilation in the cabin. There is enough headroom for an average-sized person. However, there is no room for adjusting the seat height in the rear or adjustability for the steering wheel, and lacks headrests. Speaking of the overall seating comfort, the Hyundai Santro is miles ahead in terms of space and management of its competitors. Although, we wish that Hyundai had provided more features to it. 

There are switches for the power windows placed next to the gearbox. A parcel tray to store items like tissue boxes, books, stuffed toys, etc. is available at the rear. On the dashboard, there is also room to place an idol. Attached to every door there's a place to keep bottles, books, a small bag, etc. There is also a rear seat bench which folds when you need more space for bigger baggage on trips. Above the glove box, is a storage area to keep essential items such as your charger, phone, wallet, house keys, etc. There is also a vanity mirror on the back of the sun visor, a room lamp.

Hyundai added some modern characteristics to the car such as the elephant-inspired unique centre fascia with an attachment of a touchscreen console. The 17.64cm AV system is touchscreen complete with smartphone connectivity, Android Auto connectivity, Apple CarPlay connectivity, iBlue Smartphone app connectivity, and mirror link. The steering wheel also has audio, voice recognition and Bluetooth controls. The AC vents at the rear of the car are positioned in such a way that they provide the perfect airflow. The propeller design and easy adjustability exude a high-quality comfort level. There is also an additional feature of power and a USB outlet. 

Summary

The Hyundai Santro is far more technologically advanced and offers premium quality interior space with ensured luxury.

Santro Ride & Handling

6.5 /10

During city drives, it is possible to drive at 50kmph in the fourth gear. Accelerating to a 5th gear will require the driver to shift down to act on enough juice to pick up the pace. In the case of the third gear, the car will accelerate until the engine is revved beyond 4000rpm. However, the 5-speed transmission comes with improved NVH levels. The state-of-the-art Smart Auto AMT delivers smooth and seamless as you shift the gears. The suspension duties have a degree of stiffness during uneven road traveling but gains equilibrium again on normal roads. The car can drive at 100kmph at 3000rpm effortlessly. At speeds of 80kmph, the car might feel a little heavy. The ride and handling of the Hyundai Santro are more suited for city driving. The small dimensions, light steering, and soft suspension wobble the car at highway speeds easily. 

Summary

Thanks to a high ground clearance and a dull steering, the Hyundai Santro won't delight the performance enthusiasts but its suspension will keep everyone comfortable over most road surfaces.

Santro Safety

5 /10

Hyundai is known for consistently working on passenger safety. The new Hyundai Santro has been designed with new safety features and a strong body shell for enhanced passenger safety. The advanced version of the Hyundai Santro offers a variety of cutting-edge safety and convenience features. The car is not large in height but has a strong frame made of impermeable steel with 63 percent of AHSS 25HSS. There is an anti-lock braking system that helps prevent skidding on the most slippery of monsoon rides with your family. The Electronic Brakeforce Distribution offers guarantees to regain of composure after sudden braking and restricts wheel lock-up.

There is also a bonus feature of impact/speed sensing automatic door locking during elevated speeds and automatic unlocking as well. The front seatbelt pretensioners limit forward movement in case of collision or sudden braking. There is a rear parking camera equipped with rear parking sensors. The display of the 17.64 cm screen shows a preview of the parking space. The sensors and the camera do an excellent job of safe parking. There is a defogger at the rear end which helps to remove mist and offers a pristine view of the roads. The dual front airbags are added to protect the driver and the passengers in case of an accident. The Electronic ORVM provides great access for your sight in tight parking spaces. The Day and Night IRVM ensure the prevention of glaring from the sun and other vehicles on the road. The rear washer and wiper will help clear vision during the monsoon seasons. The Eco-Coating technology enables the circulation of fresh air conditioning for a long duration. The Floor Mat Hook on the driving seat stops the movement of the mat and avoids its interleaf with pedals.  

Summary

All things considered, the safety quotient of the second generation Santro is very high and promises a worry-free and comfortable drive.
Hyundai Dealers
Kolkata

15 dealers in Kolkata

Pune

17 dealers in Pune

Lucknow

9 dealers in Lucknow

Navi Mumbai

3 dealers in Navi Mumbai
Santro Cost of Ownership
Select Variant type
TCO for Hyundai Santro for 1 year is
₹ 5,45,770*
View Breakdown
| TCO Calculation | 1 Year |
| --- | --- |
| Ex Showroom Price | ₹ 4,63,190* |
| Fuel Cost (approx) | ₹ 17,733* |
| Insurance | ₹ 27,791* |
| Service Cost | ₹ 37,055* |
| Total Cost of Ownership | ₹ 5,45,770* |
* Calculation is basis an average taken for fuel prices across India. Petrol Rs 100/Ltr*, Diesel: Rs 90/Ltr*, CNG: Rs 85/Kg*
Hyundai Santro Car Owner Reviews
3.9
491 ratings and reviews
Design

4.3

Performance

4.2

Comfort

4.0
Comfortable for family travelling, ground clearance is also good.

It is a pleasure in driving my car and it is safe to drive daily.

Good car. Body quality is poor. Pickup is very slow. Power is also less. Great mileage. Average leg room and head space.

It is a perfect family car with space, mileage, comfort and price.

Great experience with this new hyundai santro sports model
Have More Questions about Hyundai Santro?
Get answers from our 91wheels experts
Hyundai Santro Questions and Answers
Updated on 5 Months ago

Hyundai Santro has Disc brake at the front wheel and Drum brake at the Rear wheel. For more details, please click on Hyundai Santro

Updated on 8 Months ago

Hyundai Santro is only available in CNG and Petrol

Updated on 10 Months ago

Hi there, the Hyundai Santro is a good small family car. But, it isn't a great car and so you should consider buying Maruti Suzuki WagonR.

Updated on 10 Months ago

Hi there, 60 kgs of CNG can be filled up in Hyundai Santro's fuel tank.
Latest News on Hyundai Santro
Publish date : 6 May 2022
Hyundai Santro FAQs
What is the ARAI mileage for Hyundai Santro?

Hyundai Santro claims a mileage of 30.48 Km/kg.

What are the transmission types available in Hyundai Santro?

The Hyundai Santro comes in Petrol & CNG with Manual & Automatic transmission.

What is the price of the base model of Hyundai Santro?

The base variant price for Hyundai Santro Era MT is priced at Rs.4.67 Lakh.

What are the colour options of Hyundai Santro?

Hyundai Santro is available in 6 colours - Alpha Blue, Fiery Red, Imperial Beige, Titan Grey, Typhoon Silver, Polar White.

Does Hyundai Santro come with a sunroof option?

No, Hyundai Santro does not come with a sunroof configuration.

What is the seating capacity of Hyundai Santro?

Hyundai Santro comes with a 5 seater capacity.