Maruti Suzuki Announces Nation Wide Valentine Special Service offer
On the beautiful week of Valentine, India's largest car manufacturer- Maruti Suzuki has come up with a great offer to keep your cars in check. Maruti Suzuki has announced a nation-wide service program on the occasion of Valentine's day. Customers can avail discounted labour charges, Attractive offers on parts and accessories and also complimentary dry wash/ top wash.
All the Maruti Suzuki service station comes under this Valentine offer and it is valid from 9th February till 27th February. The Valentine special offer is valid for all the Maruti Suzuki customers and for all the cars.
Also read: Haima Group Showcases EV1 Hatchback At The 2020 Auto Expo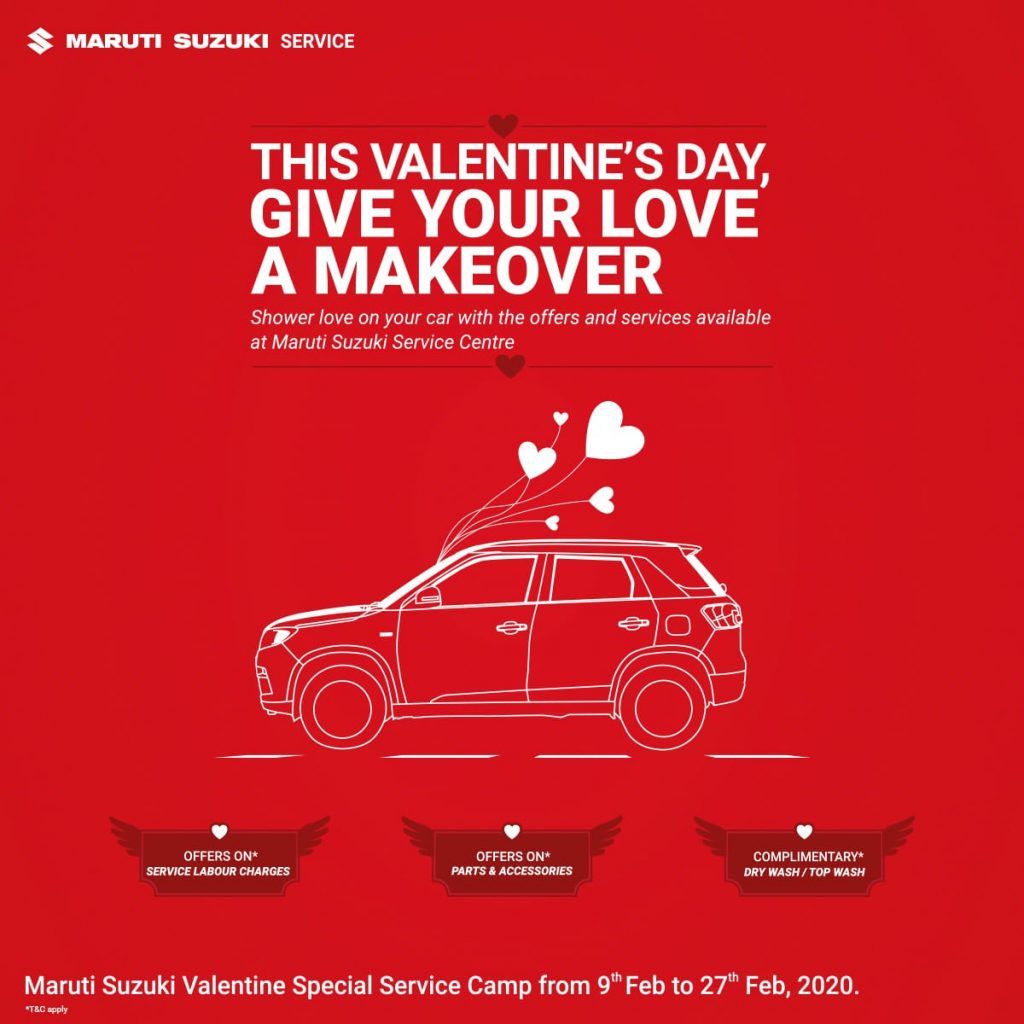 Mr Partho Banerjee, Executive Director (Service), Maruti Suzuki India Limited said "The Valentine's Day service camp aims at reiterating Maruti Suzuki's commitment towards consistently providing high-quality service to its customers. Servicing close to 16.3 Lakh cars a month, Maruti Suzuki service technicians are dedicated to providing the utmost care and attention to each car for a delightful driving experience. We are providing a range of attractive offers on service labour charges, and parts and accessories, in addition to complimentary dry wash/top wash. We are confident that our customers will appreciate this initiative and will wholeheartedly take part in the camp to benefit from the offers being extended."
Also read: Mercedes AMG GT63 4 Door Launched At A Price Of Rs 2.42 Crores
Maruti Suzuki has also unveiled the Brezza facelift and Ignis facelift at the 2020 Auto Expo. Maruti Suzuki has also decided not to continue with diesel engines post-April 2020. To rectify the mileage loss from the absence of diesel cars, MSIL unveiled the Swift hybrid which claims a whooping a mileage of 32 km/l. Thanks to the 10W electric motor which coasts the car solely on electric power when needed and it helps to attain this impressive mileage figure.