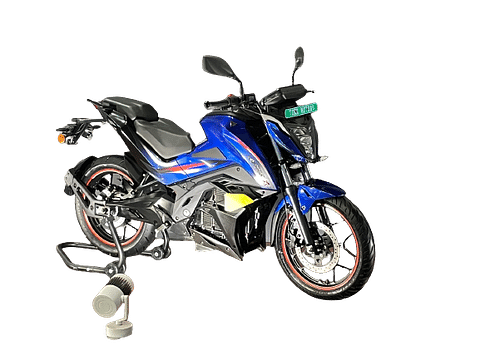 Tork KratosX
Tork KratosX is a Sports bike, that will launch in India at an expected price of ₹ 1.30 Lakh. KratosX is expected to launch in January 2024. Tork KratosX will compete with Kabira Scooters KM 3000, Revolt Motors RV 400, Cyborg Beamer.
₹ 1.30 Lakh*
*Ex-Showroom Price
(Estimated starting price)
Expected Launch Date - January 2024
Tork KratosX Latest Update
Last updated on 3rd Nov'23: Tork Motors introduced the KratosX as a groundbreaking electric motorcycle concept in 2023, and it appears that the company has maintained the core design features without making any significant alterations. However, they have introduced a noteworthy addition to their Tork Kratos R model, which is the inclusion of a brand-new Eco+ riding mode.
Tork KratosX Features: Tork Kratos X will be using a 7-inch large TFT instrument cluster with touch controls. Additionally, the Kratos X will be coming along with a new FF mode also known as the Furiously Fast mode. This suggests a better top speed and torque than the standard Kratos models.
Tork KratosX Price & Launch: Tork Motors had previously announced that the test runs for the Kratos X will commence in March this year and its official deliveries would likely begin in June 2023. Unfortunately, the brand hasn't shared the pricing details of the Kratos X yet, but we would possible get the details in the coming months.
Read more
Tork KratosX Price
The Tork KratosX price is expected to start at ₹ 1.30 Lakh.
User Reviews
No Reviews Found
Latest News on Tork KratosX
Publish date : 11 October 2023

Publish date : 11 January 2023
KratosX News
Tork KratosX FAQs
What is going to be the price of upcoming Tork KratosX?
The tentative price of the upcoming Tork KratosX is going to be around Rs. 1.30 Lakh.
When is the Tork KratosX bikes going to be launched in India?
Tork KratosX bike is expected to be launched around January, 2024.