Joy E-Bikes has introduced new electric two-wheelers, the Wolf+ and Gen Next Nanu+ in India. The Wolf+ and Gen Next Nanu+ are high-speed electric scooters with a starting price of Rs 1.10 lakh and Rs 1.07 lakh (ex-showroom) respectively. Bookings for these scooters will begin on February 11, 2022, at Joy E-Bikes dealerships across the country. Let's take a look at these two Joy E-bikes Wolf+ and Nanu+ in more detail.
Joy Electric Scooters Wolf+ & Gen Next Nanu+
Wolf+ has a touring design that allows you to drive around the city. The Wolf+ has a 740mm seat height and a 1345mm long wheelbase. The Gen Next Nanu+, on the other hand, is a more aggressive and sharply styled scooter designed with younger customers in mind. The Nanu+ has a seat height of 730mm and a 1325mm wheelbase. Both scooters have the same length, width, and height at 1800mm, 460mm, and 1100mm, respectively.
Also Read: Naon Zero One Electric Scooter With 140 KM Range Unveiled
The Wolf+ and Gen Next Nanu+ scooters are made in the companys manufacturing plant in Vadodara, Gujarat to promote localization and the "Make in India" initiative.
The Wolf+ and Nanu+ feature the same hardware and functionality, including the Keyless Start/Stop feature, which allows you to turn your scooter off and on with the flip of a switch. The use of various sensors results in intelligent functionalities. The Joy E-connect app allows for one-touch Bluetooth control. The scooters can be tracked, and the health of the batteries can be checked remotely. Furthermore, both scooters have three drive modes: Eco, Sports, and Hyper.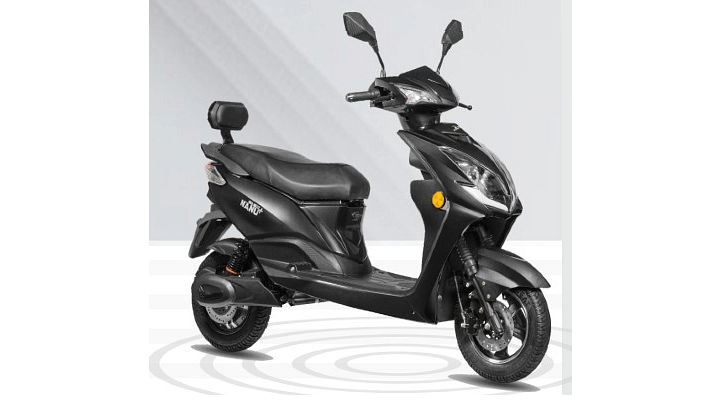 Also Read: Okinawa Oki90 : More Details Out Including Range & Features
Both scooters have a regenerative braking mechanism that extends the range of the ride by recharging the battery when the brake lever is pushed. The battery on these scooters is rated at 60V 35Ah and is portable, allowing for a quick recharge. A charging cycle will take 4 to 5 hours, with a claimed range of 100 kilometres per charge. When paired with three-speed controllers, the BLDC motors produce more torque on the scooter. The 1500W motor in both scooters produces 20 Nm of torque and a max speed of 55 kmph. To stop in the shortest distance possible, double disc brakes are linked to an electrical braking system.
Wolf+ is available in three colours: Matte Black, Stardust Grey, and Deep Wine, and costs Rs 1,10,185 (ex-showroom). At a starting price of Rs 1,06,991 (ex-showroom), the Gen Next Nanu+ is available in two colours: Matte White and Midnight Black.
Also Read: Simple One Electric Scooter To Get Upgraded Motor - Details
Which one will you choose among the Joy Wolf+ and Nanu+? Do let us know in the comment section. Also, join 91 Wheels WhatsApp and 91 Wheels Telegramgroups to know more about vehicles, conduct discussions on your favourite ride, and much more! Also, you can subscribe to our Youtube channel for video content on the latest from the world of cars and motorcycles.