With the rise in petrol and diesel prices on an everyday basis, it is becoming difficult for those who have travel 70-100 km regularly from home to office and vice-versa. Now, diesel comes as a choice for those covering more than 70 km a day, maintaining a diesel becomes a task after years. And so CNG, an alternate fuel option is getting popular today in metro cities. While some carmakers are offering CNG models for some trims, many buyers go for the aftermarket ones. And here we have a CNG equipped Hyundai Creta.
Here we have the older-gen Hyundai Creta with an aftermarket CNG kit. This Creta uses a 1.6-litre naturally aspirated petrol engine which used to make 121 PS with a peak torque of 151 Nm. The unit was mated to a 6-speed manual and a 6-speed torque converter unit.
Now, coming to this CNG equipped Creta from Maharashtra, it gets a sequential CNG kit. Under the hood, it gets a BRC single-stage reducer which helps in reducing the pressure of the gas and is fitted with a water line. The latter helps in reducing the amount of non-filtered CNG gas inside. It also gets a pressure gauge to know what is the pressure of the gas and also comes with injection rail and electronic control module.
We all know that there is a 10% decrease when your car runs on CNG so this Creta here gets a current-based power booster. This eventually helps in the pick-up or for that extra power delivery when you are driving uphill or overtaking someone.
This CNG equipped Hyundai Creta gets both external and internal filling options. You can fill the CNG from wither of the required points. Once you step inside, you can find the switch beside the headlamp height adjuster one. From there you can switch between petrol or CNG option.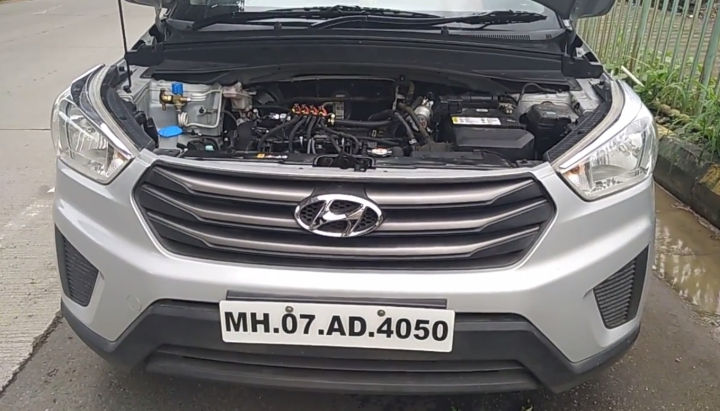 Sharing about the mileage figures then you can get anywhere between 16-20 km/kg which is very cheap and reduces the running costs. Also, the cylinder finds its place in the boot and thanks to the Creta cargo unit, there is still some space left in the boot. What's interesting is that this Creta comes with new tech ground clearance kit. That means if the all 5 persons are in the car with luggage and the SUV approaches a speed breaker then suspension won't be handling all the burden.

Now, here comes the question that whether you should opt for the aftermarket CNG kits or not? Well, if you ask us personally then NO. It is because not only the warranty gets voided from the carmaker but also there is a risk of cheap cylinders and kit being used. And not always customer prefer the high tech CNG kits. The CNG kits start from as low as Rs 20000 and go up to Rs 70,000.
If you want to buy a CNG model then you can check Maruti and Hyundai who happens to provide CNG factory-fitted models on their cars. In that case not only is the warranty taken care of, but there is a safe trust that the CNG kit is straight from the factory.