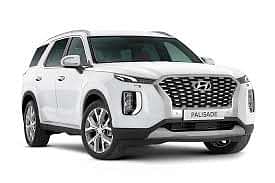 Hyundai Palisade
Hyundai Palisade is a SUV car, that will launch in India at an expected price of ₹ 40.00 Lakh. Palisade is expected to launch in August 2024. It will be available in Petrol and Diesel versions. Hyundai Palisade will compete with MG Gloster, Toyota Fortuner, Skoda Kodiaq.
₹ 40.00 Lakh*
*Ex-Showroom Price
(Estimated starting price)
Expected Launch Date - August 2024
Hyundai Palisade Latest Update
The Hyundai Palisade is a humongous SUV from the Korean manufacturer and is a close cousin to the Kia Telluride. Being positioned as a full size luxury SUV, it would be pitched against the SUVs in the price bracket of 40-50 lakhs like the entry level Germans, the BMW X1, Audi Q2 and some other SUVs like the Toyota Fortuner and the MG Gloster.
What do we expect?
We expect Hyundai Motors India to introduce the Palisade as a premium SUV which fulfils the purpose of not being just an SUV, but also a family SUV. As the Hyundai Palisade is already being offered in the international markets, Hyundai is evaluating the decision of following a CBU or CKD route as per the volumes before heading towards localisation. The Indian version of the Palisade is likely to remain unchanged with the same platform, chassis, design language and minimum alterations in the equipment list as well!
Hyundai Palisade Expected Powertrain
The Hyundai Palisade is expected to be powered by a gas-guzzler 3.8L V6 engine, coupled with an 8 speed automatic transmission and an optional AWD powertrain, putting out 295 hp of power and 355 N-m of torque. It is suspected that even a petrol engine can be offered with the Palisade which is currently on offer in the South Korean markets.
Hyundai Palisade Safety Features
This Mammoth boasts a 5 star crash test rating with a long list of safety equipment on offer. Some of the safety features include airbags, ABS, EBD, Hill descend control, parking sensors with surround view camera, heads up display, forward collision warning, pedestrian detection, Automatic Emergency braking, Adaptive Cruise Control, Lane keep assist, blind spot monitoring, Rear cross traffic alert, driver drowsiness monitoring and the list goes on and on!
Hyundai Palisade Launch Time
The launch of this enormous vehicle from the Korean Manufacturer was being planned in the bygone days before the COVID era. The Palisade is now expected to be introduced in the Indian markets anytime in the second half of 2022.
Read more
Hyundai Palisade Price
The Hyundai Palisade price is expected to start at ₹ 40.00 Lakh.
Hyundai Palisade Expert Verdict
Features we admire in this car

Interior space
Modern design elements
Ride comfort
Value for Money as per the offerings

Features that could have been better

Cramped up third row
Low fuel economy
Polarising design can be a hit or a miss
User Reviews
No Reviews Found
Hyundai Palisade Questions and Answers
Latest
Most Relevant
Most Discussed
Latest News on Hyundai Palisade
Publish date : 2 August 2021
Palisade News
Hyundai Palisade FAQs
What is going to be the price of upcoming Hyundai Palisade?
The tentative price of the upcoming Hyundai Palisade is going to be around Rs. 40.00 Lakh.
When is the Hyundai Palisade cars going to be launched in India?
Hyundai Palisade car is expected to be launched around August, 2024.
Which are the key features expected in the upcoming Hyundai Palisade?
Hyundai Palisade is expected to be coming with Transmission Automatic, Body type SUV, Max Torque (nm@rpm) 287 bhp @ 6000 rpm.
Does the upcoming Hyundai Palisade come with both Automatic and Manual transmission?
Hyundai Palisade is expected to be coming with Transmission Automatic.