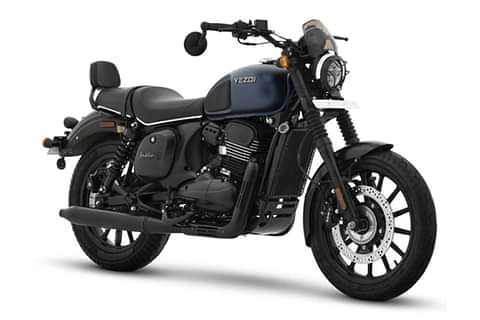 Yezdi Roadster
Yezdi Roadster is a Cruiser bike available at a price range of ₹ 2.06 Lakh - ₹ 2.13 Lakh. Powered by a 334 cc engine, the bike is available in 4 variants and comes in 8 colours. Other key specifications of the Roadster include a top speed of 140 kmph, a fuel tank capacity of 12.5 Litres, and ground clearance of 175 mm. The Yezdi Roadster comes with a reported mileage of 28.53 kmpl.
Read more
*Ex-Showroom Price
Yezdi Roadster Specifications
| | |
| --- | --- |
| Engine Capacity | 334 cc |
| Mileage | 28.53 kmpl |
| Fuel Tank Capacity | 12.5 Litres |
| Power | 29.7 PS @ 7300 rpm |
| Torque | 29 Nm @ 6500 rpm |
| Number of Gears | 6 Speed Manual |
Roadster Specs
Latest On Yezdi Roadster
Last Updated on 4th Nov'23 : Yezdi currently offers the Roadster in three versions. The entry-level Dual Tone variant is priced at Rs 2.08 lakh (ex-showroom Delhi) and is available in the Crimson color. The Chrome version is priced at Rs 2.12 lakh (ex-showroom Delhi) and comes in two colors: Sin Silver and Gallant Grey. The Dark edition starts at an ex-showroom price of Rs 2.06 lakh and is offered in five shades: red, white, grey, green, and blue. The 2023 Yezdi Roadster retains the same 334cc engine, producing 29.2 bhp of power and 28.9 Nm of torque.
Yezdi Roadster is one of the three products launched by the iconic motorcycle manufacturer in India. The roadster is based on the same chassis & mechanical setup as the other two motorcycles. The Roadster is a more road-oriented bike that is designed for cruising the long highways in supreme comfort. The riding position is comfortable & with a relaxed riding position, the big windscreen helps attain more confidence for the highway riders.
Safety: Safеty is a paramount concern for thе Yеzdi Roadstеr, boasting a suite of features to prioritize ridеr well-being. Thе Continental dual-channel ABS systеm prevents wheel lock during intense braking, еnsuring control and stability on slippеry or unеvеn surfacеs. Equippеd with LED hеadlamps and tail lamps, the bike offers enhanced visibility in low-light conditions, with added energy efficiency and durability compared to traditional bulbs. Its stееl trellis framе combines strength and lightweight flexibility, bolstеring handling and shock absorption. Thе digital instrumеnt clustеr providеs vital data such as spееd, fuеl lеvеl, gеar position, trip mеtеr, odomеtеr, and sеrvicе rеmindеrs, accompaniеd by low battеry, sidе stand, and malfunction indicators. Safеty takes cеntеr stage in thе Yezdi Roadstеr's dеsign.
Body: The Roadster is built around a double-cradle frame, and the body suspends on telescopic forks up front with 135 mm wheel travel, and twin gas-filled emulsion rear shock absorbers (for the retro touch) with 100 mm wheel travel. The Yezdi Roadster gets three ABS modes - Road, Off-road, and Rain. The modes can be selected via buttons on the left handlebar. The overall design has been kept simple, and the panel under the front seat looks the same as it was in the old bike. The small LED headlights will remind you of a certain Harley-Davidson.
Engine : The Yezdi Roadster is powered by a 334cc, single-cylinder, liquid-cooled engine that generates 29.29bhp of power at 7,300rpm and 29Nm of torque at 6,500rpm. The engine features updates such as an updated crankshaft, different connecting rods, and a tweaked cylinder head. These modifications contribute to its overall performance.
Mileage : While there is no official mileage claim from the manufacturer, the users have reported it to dwindle between 26 kmpl to 28 kmpl.
Features : The Yezdi Roadster boasts a digital instrument console with an odometer, speedometer, and digital fuel gauge. It includes a tachometer, dual trip meters, and features like a clock, low fuel, low oil, and low battery indicators, ensuring riders are well-informed. Safety features encompass a stand alarm, automatic headlight on (AHO), and daytime running lights (DRLs), while the LED headlight, brake/tail light, and turn signals enhance visibility. Practical elements like a pass light, electric start, and kill switch make riding easy. The bike provides rider and pillion comfort with a stepped seat, backrest, grab rail, and footrests. Meanwhile it lacks connectivity features and a USB charging. 
Colors : The Yezdi Roadster offers an exciting range of color choices to suit various tastes and preferences. For those who appreciate dual-tone aesthetics, options include "Rush Hour Red DT," "Lunar White DT," "Forest Green DT," and "Crimson." If you prefer a touch of chrome, you can opt for "Gallant Grey" or "Sin Silver." For a more understated and dark theme, there are captivating options like "Shadow Grey," "Inferno Red," "Glacial White," "Smoke Grey," "Hunter Green," and "Steel Blue".
Rivals : The Yezdi Roadster competes with models like the Royal Enfield Meteor 350 and the Honda H'ness CB350 in the Indian market. It aims to establish its presence and compete with these well-established rivals.
Read more
Yezdi Roadster Price
Price of Yezdi Roadster in India ranges between Rs. 2.06 Lakh and Rs. 2.13 Lakh. The Yezdi Roadster variants start from Rs. 2.06 Lakh - Dark Smoke Grey and goes upto Rs. 2.13 Lakh - Chrome Gallant Grey & Sin Silver. Yezdi Roadster is also available on EMI starting at Rs. 3.81 K with 8.5% interest rate.
Yezdi Roadster Variants With Price
Yezdi Roadster Detailed Review
Yezdi made a comeback earlier this year in India with three motorcycles, one of which is the Roadster. The Yezdi Roadster is an eye-catching motorcycle from a design standpoint thanks to its classic styling, peanut-shaped fuel tank, and spherical headlight. The front panel appears the same as it did on the last cycle, and the general design has been kept simple. It stands out from the rest of the lineup thanks to the twin exhaust arrangement. While the Chrome series has a metal finish on the engine and exhaust and a height windscreen for maximum wind protection, the Roadster Dark series has a blacked-out motif with bar-end mirrors and a short flyscreen.
Summary
The Yezdi Roadster's overall style will undoubtedly catch people's attention and lend the motorcycle a classic appeal.
Roadster Engine & Performance
8 /10
The 334 cc engine that powers the Jawa Perak also powers the Roadster. On the other hand, Yezdi's engine receives new cams and a bigger throttle body. The Perak produces 29.2 bhp of power and 29 Nm of peak torque, which is less than this. Compared to the Scrambler and Aventure, the Roadster is intended to have a smoother torque curve that peaks at lower revs. In light of these specifications, the Roadster should be a pleasurable motorbike to ride. The engine of the Roadster has been tuned differently to fit the personality of the motorcycle. It functions with a 6-speed transmission.
Summary
The Yezdi Roadster is a fun motorcycle with quick acceleration and improved handling at low speeds. You can ride the bike faster thanks to the engine's good tuning.
Roadster Tyres, Brakes And Features
9 /10
The body of the Roadster is supported by a double-cradle frame, telescopic front forks with 135 mm of wheel travel, and twin retro-style gas-filled emulsion shock absorbers at the back with 100 mm of wheel travel. With dual-channel ABS that also has three settings, the 230 mm front disc brakes and 240 mm rear disc brakes are responsible for stopping the vehicle. It rides on 100/90 - 18-inch front tyres and 130/80 - 17-inch rear tyres. 
Full LED lighting and a fully digital instrument cluster that resembles the Scrambler are among the features of the new Yezdi Roadster. Additionally, it receives a complete LCD instrument cluster with real-time displays of the mileage, range left, gear position, rpm, fuel level, clock, trip metre, and light indicators. Sadly, the Roadster lacks Bluetooth connectivity.
Summary
The Yezdi Roadster has an advantage because to the availability of multiple levels of ABS adjustment.
Roadster Dimensions
8.5 /10
The dimensions of the Yezdi Roadster are 1,440 mm wheelbase, 175mm ground clearance and 790 mm seat height. The weight of the bike stands at 184 kg. Mounting on the bike becomes an easy task due to the seat height.
Summary
Because of the bike's low seat height and good driving characteristics, getting on and off the bike is simple.
Yezdi Roadster Bike Owner Reviews
Design

4.6

Comfort

4.3

Maintenance Cost

4.2

View all parameters
All (24)
Comfort (1)
Design (1)
General (2)
Mileage & Performance (1)
Reliability & Maintenance (1)
Bike looks awesome in terms of design.

Like

Dealership is very bad. Service is very poor. I am very very dis appointed but bike is very good again dealer are not good. I am not satisfied nothing to ask.

Likes (1)

20 yrs experience from bike driving in all pune area.

Like

Had some quality issues with the bike and it have very poor mileage as company claimed 29 kmpl but it just give 17 to 18kmpl.

Like

My cousin having this bike and I am regularly riding this bike and the experience is Outstanding starting from the Start button the exhaust sound is super cool then the sitting comfort is too good smooth riding and the breaking system is outstanding

Like
Roadster User Reviews
Yezdi Roadster Questions and Answers
Latest
Most Relevant
Most Discussed
Yezdi Roadster Images
Front Side Profile

Front Side Profile

Front Profile

Rear Side Profile

Rear Side Profile
Roadster Images
Yezdi Roadster Videos
Exclusive Ride of Yezdi Roadster 2022 || Cheapest Yezdi Bike On Sale || Ride Impressions in Hindi

Publish date : 25 July 2022
More Yezdi Videos
Yezdi Roadster Colours
Sin Silver

Gallant Gray

Hunter Green

Smoke Gray

Steel Blue

Inferno Red

Glacial White

Crimson Dual Tone
Roadster Colours
Yezdi Roadster FAQs
What is the on-road price of Yezdi Roadster?
The on-road price of Yezdi Roadster in New Delhi is Rs. 2.18 Lakh. This on-road price includes the ex-showroom price, RTO and insurance charges.
What is the engine capacity of Yezdi Roadster?
The engine capacity of Yezdi Roadster is 334 cc.
What is the ARAI mileage of Yezdi Roadster?
Yezdi Roadster claims a mileage of 28.53 kmpl.
What are the colour options of Yezdi Roadster?
Yezdi Roadster is available in 8 colours - Sin Silver, Gallant Gray, Hunter Green, Smoke Gray, Steel Blue, Inferno Red , Glacial White , Crimson Dual Tone and more.
Which are the competition bikes of Yezdi Roadster?
There are Royal Enfield Classic 350, Honda Hness CB350, Royal Enfield Meteor 350 bikes competing with Yezdi Roadster.