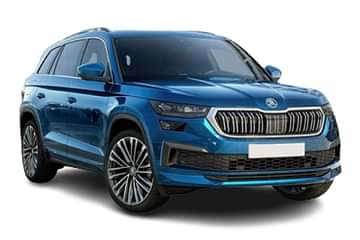 Skoda Kodiaq
Kodiaq is a SUV car from Skoda. Least expensive Skoda Kodiaq variant is Style which is sold in Indian automobile market at an ex-showroom price of Rs. 37.49 Lakh.
*Ex-showroom Price in
New Delhi
Skoda Kodiaq Specifications
Skoda Kodiaq-key Specifications

| | |
| --- | --- |
| Body Type | SUV |
| Transmission | Automatic |
| Fuel Type | Petrol |
| Engine | 1984cc |
Latest On Skoda Kodiaq
Last Updated On 29th Aug'22: Skoda Kodiaq was sold out for India but now the car has been re-introduced the model in India and the deliveries will start next year. Skoda Kodiaq rival, Jeep Meridian deliveries commence.
Skoda Kodiaq Price Hike: The Skoda Kodiaq is the flagship SUV from the brand in the Indian market. The Skoda Kodiaq is based on the 7-seater concept and primarily focuses the customers looking for a luxurious soft-road SUV. Skoda recently launched the facelifted avatar of the Kodiaq in India this year. The new Skoda Kodiaq comes equipped with a revised exterior design along with an upgrade in the features. The Skoda Kodiaq facelift gets a 2.0-L TSI turbo petrol engine that churns out 190 hp and comes mated to a 7-speed DCT gearbox. list. Additionally, the new Skoda Kodiaq has been updated in the powertrain as well. The facelifted Skoda Kodiaq now uses only a petrol engine as the diesel engine has now been phased out. The first batch of the facelifted SUV was sold within 24 hours. Catering to the success of the newly launched facelift, Skoda is planning to increase the prices of the Kodiaq SUV. The price hike is to happen soon in the upcoming months. 
Read More
Skoda Kodiaq Price
Price of Skoda Kodiaq in India ranges between Rs. 37.49 Lakh and Rs. 40.00 Lakh.The Skoda Kodiaq variants start from 37.49 Lakh - Style and goes upto 40.00 Lakh - L & K. Skoda Kodiaq is also available on EMI with interest rates varying from 7.15 to 7.5% through various banks.
Skoda Kodiaq variants with price
| Variant | Specifications | Ex-Showroom Price | Offers | Compare |
| --- | --- | --- | --- | --- |
| Style | Petrol, Upto 12.7 kmpl, Automatic | ₹ 37.49 Lakh | | |
| Sportline | Petrol, Upto 12.7 kmpl, Automatic | ₹ 38.49 Lakh | | |
| L & K | Petrol, Upto 12.7 kmpl, Automatic | ₹ 40.00 Lakh | | |
Skoda Kodiaq Overview
The Skoda Kodiaq is one of the most acclaimed and popular models from the house of Skoda. Prices for this SUV start from Rs. 37.49 Lakh to Rs. 40.00 Lakh and buyers can pick from as many as 3 different versions.. The transmission option on the Skoda Kodiaq is limited to Automatic only. The Kodiaq offers a max power of 187.4 bhp @ 4200-6000 rpm. Some of the main rivals include Citroen C5 Aircross, Toyota Fortuner and MG Gloster. The Skoda Kodiaq is one of the most popular cars in the SUV segment in India.
Skoda Kodiaq have 3 variants ranging from Rs. 37.49 Lakh to Rs. 40.00 Lakh. Under the hood, Kodiaq is powered by a 4 cylinder, 1984 cc, Turbocharged Petrol Engine. It is able to produce 320 Nm @ 1500-4100 rpm torque and 187.74 bhp @ 4200-6000 rpm power with a fuel efficiency/mileage of 12.7 kmpl. Skoda Kodiaq can store up to 58 Litres fuel in one go at max. Head to our Kodiaq Specifications page for a complete specs list.
Monthly Sales
91wheels experts bring you the latest update on market insight and sales performance for your favourite car models.
Model Name
Units Sold in Month 2022
June 2022
July 2022
August 2022
Skoda Kodiaq
79
110
151
Source: Monthly SIAM Data 2022
Kodiaq Dimensions & Measurements
Kodiaq has 4699 mm Length, 1882 mm Width, 1665 mm Height, 2791 mm WheelBase, 192 mm Ground Clearance, 58 Litres Fuel tank Capacity, 270 Litres Boot Space, 235/55 R18 Front Tyre Size, 235/55 R18 Rear Tyre Size.
Keep reading to explore more about Kodiaq's updated specs, latest prices, mileage, genuine user reviews, colours, exclusive images & videos, best offers near you, Skoda car dealers.
Read More
Skoda Kodiaq Detailed Review
Kodiaq Performance

Unlike the older Skoda Kodiaq, the new one does not come with the option of a diesel engine now. Our favorite Skoda Kodiaq motor comes with only a 148bhp 1.5 TSI 150 petrol engine, which offers a fantastic price-to-performance ratio. It should be fast enough for most large SUV purchasers, with a 0-100 kmph time of 9.8 seconds, and is somewhat faster than the Peugeot 5008 1.2 Pure tech 130. It doesn't have the low-to-mid-range grunt of the diesel, and you have to rev higher when it's fully loaded. The 187bhp 2.0 TSI, 190, and 242bhp vRS boost the petrol range's capabilities but raise the expense and operational expenses. The petrol engine is power-packed and the Skoda Kodiaq never feels lagging in power over steep inclines or even at high altitudes. 

Summary

The performance of Skoda Kodiaq is pretty impressive.

Kodiaq Exterior

Skoda has recently updated its flagship SUV in India. The Skoda Kodiaq now features a more modern design with additional tech. Skoda Kodiaq's front end has been re-conceptualized, i.e. according to the modern design, the fog lights are directly beneath the remodelled headlights. A new LED matrix light has been installed. The whole front bumper and the grille have been modified on the new Kodiaq 2021 version. With the exception of a new batch of alloys with economy-related widths and shapes, the Skoda Kodiaq retains most of its appearance. The backlights have indeed been replaced with the new lighting systems in the back. The bumper has been altered with redesigned reflector strips of lights, and the Skoda appearance package sits immediately above the licence plate casing, replacing the emblem of Skoda, a characteristic aesthetic characteristic established by Skoda's director of design, Oliver Stefani. The headlights, rear lights, bumper, grille have been changed and modified that give it a major facelift from the exterior.

Summary

Everything is conceptualized according to modern engineering.

Kodiaq Interior

Apart from the small modifications to the colour palette, trimmings, and interior, the 2017 Skoda Kodiaq receives a number of significant improvements. The interior of Skoda cars has always been one of the most comfortable and feature-packed. The new Skoda Kodiaq now offers more tech and additional comfort features to its occupants. A 10.25-inch entirely digital and configurable panel screen has substituted the traditional instrument panel. The primary touchscreen varies in size between 8 and 9.2 inches according to the base model chosen, and it also has a sleeker aesthetic than the previous model's rotating buttons. The round chrome trims on the door handle in the Style and L&K models are a nice touch. The passenger floorboard now has LED lighting effects in one of ten different colours, as well as the storage compartments at the door panels in the front, which are now illuminated in white colour. 

Summary

The interior is extravagant and it looks that way due to the instalment of LED lights.

Kodiaq Ride & Handling

Skoda has always tried to offer opulent ride quality to its customers. The Skoda Kodiaq is no different from the premium luxury cars as it provides a fun-to-drive steering feedback along with a very composed and calm ride quality. Varying passenger comfort is a reasonable assumption of any large SUV, but when the maker of the Octavia and Superb produces one, you, of course, want it to be comfy. And while the Kodiaq is comfy, it isn't particularly so. When pushed aggressively, its structure is cushioned intricately by its suspensions, preventing it from rocking or bouncing excessively. As a consequence, it drives surprisingly well for a vehicle of its dimensions. However, on anything more than a millpond of ground, the ride has a twitchy aspect caused by the slightly firmer-than-average suspension springs that might be accentuated by the anti-roll bar choices and which our sample car's adjustable dampers didn't successfully resolve.

Summary

Skoda Kodiaq is very comfortable and smooth to drive.

Kodiaq Safety

The overall safety stadrds and the equipment of the Skoda Kodiaq are unmatchable. The premium SUV comes with strong build quality and a long list of safety features. The Kodiaq uses standard and tested mechanical components since it is based on the Volkswagen Group's "MQB" architecture. The Audi TT, A3, and Q2 share the very same foundations, whereas the Volkswagen Passat, Golf, and Tiguan, as well as the Skoda Octavia and Superb, have comparable underlying principles. As a result, you can rest assured that the Kodiaq has been carefully designed and will last the passage of time. Its engines and motors have a comparable track record and can be found in a variety of VW Group vehicles.

After impartial multiple safety tests by the Euro NCAP specialists, the Kodiaq received a five-star rating, with a 92 percent score for protection of vulnerable adults and a 77 percent score for child passenger safety. The security features were impressive, with automated sudden braking as a default all across the board. All the Kodiaqs come standard with Skoda's 'Care Connect' system, which immediately contacts paramedics and services regarding the emergency if ever, the airbags activate in an accident. 

Other security features, on the other hand, aren't standard. Blind-spot indication, auto-dipping headlamps, and lane-departure alerting are only available on the highest Series Kodiaqs. These upgrades are available on relatively low-model automobiles, but they're doubtful to be inexpensive if the Skoda Superb's upgrade option is any indication. 

Summary

No one should really worry about safety in the Kodiaqs as the percentage for both adult and children safety is extremely high.
Skoda Car Dealers in popular cities
Kolkata

3 dealers in Kolkata

Pune

4 dealers in Pune

Lucknow

3 dealers in Lucknow
Kodiaq Cost of Ownership
Select Variant type
TCO for Skoda Kodiaq for 1 year is
₹ 43,02,206*
View Breakdown
| TCO Calculation | 1 Year |
| --- | --- |
| Ex Showroom Price | ₹ 3,74,90,00* |
| Fuel Cost (approx) | ₹ 2,83,46* |
| Insurance | ₹ 22,49,40* |
| Service Cost | ₹ 29,99,20* |
| Total Cost of Ownership | ₹ 4,30,22,06* |
* Calculation is basis an average taken for fuel prices across India. Petrol Rs 100/Ltr*, Diesel: Rs 90/Ltr*, CNG: Rs 85/Kg*
Skoda Cars in India
Popular cars

Upcoming cars
Skoda Kodiaq Car Owner Reviews
4.3
86 ratings and reviews
Design

4.3

Safety

4.3

Features

4.3
AC is not comfortable. Seats are also not comfortable.

It's a great car and can compete with Mercedes and BMW .

Superb car with great safety features.Price is high but worth buying for.

Company & product are good but sales as well as services at the service center are WORSE. May it be in Bhubaneswar or Bangalore.

Totally wastage of money. Worst product and after sales Service is Zero. If you want to buy a tension buy skoda. Spare parts usually available after 15 days on skyrock price. White Elephant. Please call me before buying skoda. KULBIR SINGH GABA 8000200010
Skoda Kodiaq Questions and Answers
Have More Questions about Skoda Kodiaq?
Get answers from our 91wheels experts
Question asked on 22 Feb 2022

You can get in touch with your nearest Skoda Dealership to know about the delivery time in your city.
Latest news on Skoda Kodiaq
Skoda Kodiaq FAQs
What is the ARAI mileage for Skoda Kodiaq?

Skoda Kodiaq claims a mileage of 12.7 kmpl.

What are the transmission types available in Skoda Kodiaq?

The Skoda Kodiaq comes in Petrol with Automatic transmission.

What is the price of the base model of Skoda Kodiaq?

The base variant price for Skoda Kodiaq Style is priced at Rs.37.49 Lakh.

What are the colour options of Skoda Kodiaq?

Skoda Kodiaq is available in 6 colours - Lava Blue Metallic, Moon White Metallic, Race Blue Metallic, Magic Black Metallic, Steel Grey Metallic, Graphite Grey Metallic.

Does Skoda Kodiaq come with a sunroof option?

Yes, Skoda Kodiaq comes with a sunroof configuration.

What is the seating capacity of Skoda Kodiaq?

Skoda Kodiaq comes with a 5 seater capacity.
Kodiaq On-Road Price in India