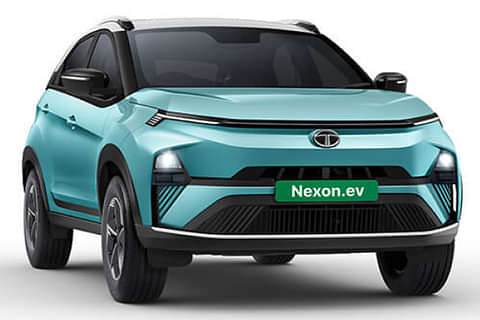 Tata Nexon EV
Tata Nexon EV is a 5-seater SUV available at a price range of ₹ 14.74 Lakh - ₹ 19.94 Lakh. The car is offered in 9 variants and 7 colours. It has a 30 kWh or a 40.5 kWh battery options, resulting in a driving range of 325 km/charge or 465 km/charge respectively. Other key specifications of the Nexon EV include a boot space of 350 Litres and a configuration of 6 airbags.
Read more
*Ex-Showroom Price
Tata Nexon EV Specifications
| | |
| --- | --- |
| Body Type | SUV |
| Fuel Type | Electric |
| Range | 325 km/charge |
| Charging Time | 10.5 Hrs |
| Number of Seats | 5 Seater |
Nexon EV Specs
Latest On Tata Nexon EV
Last Updated on 31st Oct'23 :Tata Motors has officially launched the 2023 Nexon EV, starting at a price of Rs 14.74 lakh (ex-showroom). This refreshed Nexon EV introduces new variant names, enhanced features, and a completely revamped design language. The EV is offered in two variants, MR and LR, with prices going up to Rs 19.94 lakh (ex-showroom)
Nexon EV 2023 Price : The 2023 Nexon EV is priced between Rs 14.74 lakh and Rs 19.94 lakh (ex-showroom). It's available in two primary variants: Medium Range (MR) and Long Range (LR).
Battery : The MR version has a 30 kWh battery that gives it a range of 325 kilometres and a top power of 127 bhp. On the other hand, the LR version has a bigger 40.2 kWh battery and a power output of 143 bhp. Both versions have the same torque at 215 Nm.
Dimensions : Its dimensions measure 3994 mm in length, 1811 mm in width, and 1616 mm in height.
Features : The Tata Nexon EV comes with full-LED lighting, a 12.3-inch infotainment system with wireless connectivity for Apple CarPlay and Android Auto. It's also equipped with a digital instrument cluster, multiple driving modes, a fast-charging Type-C socket, a 9-speaker JBL audio system, touch-sensitive HVAC controls, wireless charging, a 360-degree camera, an electric sunroof, and more.
Safety : Safety features include 6 airbags, Blind Spot View, Electronic Stability Program (ESP) with i-VBAC, Traction Control, Hill Ascent Control, Hill Descent Control, ABS with EBD and CSC, child-safety rear door locks, ISOFIX anchorage points for child seats, camera-based reverse park assist, reverse parking sensors, front parking sensors, electronic parking brake, and more.
Colours : The Nexon EV offers a choice of seven colours: Pristine White, Daytona Grey, Flame Red, Empowered Oxide, Fearless Purple, Creative Ocean, and Intensi-teal.
Ground Clearance : The LR and MR variants provide unladen ground clearances of 190 mm and 205 mm, respectively.
Rivals : The Tata Nexon EV competes with the MG ZS EV and the Mahindra XUV400 Electric.
Read more
Key Features of Tata Nexon EV
Cinematic 12.22 inches Touchscreen

The Tata Nexon Ev offers an expansive 31.24 cm touchscreen with Wireless Android Auto™ and Apple CarPlay™. It boasts OTA updates and download your favourite music, videos, navigation apps, games and more. Enjoy your preferred OTT series and access 15+ apps. Furthermore, it offers multiple audio modes to enhance your in-vehicle acoustic experience.

Digital Steering Wheel

Tata introduces an all-new Smart Digital Steering Wheel with a stylish two-spoke, backlit design, complete with an illuminating Tata logo at its centre. The steering-mounted switches seamlessly complement the steering's design and control vital functions.

Digital Instrument Cluster

The 2023 Nexon accentuates its technological prowess with a digital instrumental cluster featuring a multi-dial view. Embedded maps enhance safety and provide an enriched driving experience by displaying crucial information, such as charging status and energy flow.

JBL Cinematic Sound System

Experience JBL audio with nine speakers and subwoofers, delivering a 360-degree 3D surround sound experience. You can easily control and adjust the audio without disturbing passengers in the rear.

Battery Pack

The Tata Nexon offers two battery pack options: MR and LR. LR boasts a 40.5 kWh capacity, 465 km range, 106.4-kW power, and 215 Nm torque. MR features a 30-kWh capacity, 325 km range, 95 kW power, and 215 Nm torque. Both use LFP-based batteries with robust thermal resilience, liquid cooling, and ZIP Tron powertrain tech. Both variants support 7.2 kW charging and achieve 10-90% DC fast charge in 56 mins.

360-Degree Surround View Camera System

Prioritizing safety, Tata equips the new Nexon Ev with a 360-degree Surround View Camera System, providing a comprehensive view of your surroundings. Additionally, it features a Blind Spot View Monitor for added safety during turns.

6 Airbags and ESP with iVBAC

Ensuring safety, the Nexon Ev includes six airbags that cover critical areas in the event of an accident. Key features also encompass ESP with iVBAC, which helps prevent skidding and loss of vehicle control. ESP employs various sensors to monitor the vehicle's speed, steering angle, and yaw rate.

V2V Technology with V2L

Tata introduces V2V technology in the Nexon Ev, enabling you to charge another EV anywhere through vehicle-to-vehicle charging. The V2L feature empowers your EV to function as a power bank, providing energy to your gadgets.
Tata Nexon EV Price
Price of Tata Nexon EV in India ranges between Rs. 14.74 Lakh and Rs. 19.94 Lakh. The Tata Nexon EV variants start from Rs. 14.74 Lakh - Creative Plus Mid Range and goes upto Rs. 19.94 Lakh - Empowered Plus Long Range. Tata Nexon EV is also available on EMI starting at Rs. 27.22 K with 8.5% interest rate.
Tata Nexon EV Variants With Price
View Nexon EV Variants
Why Electric Car ?
Cost Effective

Lower Fuel Prices, No Registration Charges. Thus, 25-35% lower cost of ownership.

Source

Eco Friendly

Zero Tailpipe Emissions. Thus, 30-40% reduction in pollution caused.

Source

Minimal Maintenance

Lesser Moving parts means lower overall maintenance costs.

Source

Fun to Drive

Easier manoeuvrability, Ease of Driving.

Future of Mobility

Evolving Battery Technology, IoT Driven Mobility
Tata Nexon EV Expert Verdict
Features we admire in this car

Strikingly beautiful design, looks distinctive on the road
Plethora of features like sequential welcome LED lights, etc.
Gets a bigger 12.3-inch crisp & user-friendly infotainment display
6-airbags now standard
V2V & V2L charging options are a thoughtful touch
First-in-segment Arcade.ev is one of the most unique features

Features that could have been better

Range drop is still inconsistent
No cup holders for front passengers in top variants
Less utility spaces throughout the cabin
Is Nexon EV 2023 a good car? Our Expert's Take!
The new Nexon EV facelift has improved multiple folds in terms of design, engineering, & safety. The performance of the new Nexon is at par with the segment rivals. It offers a great combination of a comfortable cabin, excellent ride quality, & safety. With 6 airbags now standard, the new Nexon EV has become even more better value-for-money. We will recommend it for the buyers who want an EV to use on long routes everyday in a mid-size SUV budget. However, the range drop is still inconsistent wh
Tejen Dhankhar
Hi, I'm Tejen. I was born and brought up in a small town of Haryana. However, from the day of my birth and until now, I've always lived around cars and motorcycles. More than passion, the automotive world is my only lifestyle. It's the connection to the vehicle that delivers me peace. However, when it comes to a choice; my instinct leads me towards motorcycles.

Expert rating

Tata Nexon EV Detailed Review
The Tata Nexon EV has undergone a comprehensive design refresh, introducing notable changes that provide it with a distinct identity. Its front fascia now closely resembles the recently unveiled ICE Nexon model. However, to differentiate it from its internal combustion engine counterpart, the Nexon EV showcases a full-width LED light bar at the front, accompanied by vertically positioned LED headlamps equipped with cornering fog lamps for enhanced visibility. The most distinctive and attention-grabbing feature of the EV is the full-width LED light strip that extends seamlessly across the front. Interestingly, this light strip isn't merely a visual element; it also serves a practical purpose by displaying the vehicle's charging status, making it both aesthetically pleasing and functionally informative Moving along the side profile, the Nexon EV proudly displays alloy wheels with a design reminiscent of the ICE variants, maintaining a cohesive and unified aesthetic. At the rear, the similarities continue, featuring a seamlessly connected LED light bar on the rear boot lid and the signature Y-shaped tail lamps that define the Nexon's unique rear-end styling.Furthermore, the Nexon EV offers a wide array of choices when it comes to its exterior appearance. Customers can select from a palette of seven distinct colors: Pristine White, Daytona Grey, Flame Red, Empowered Oxide, Fearless Purple, Creative Ocean, and Intensi-teal. These options allow for a personalized touch and enable owners to select the color that best complements their individual preferences and style.
Summary
Owing to its updated design language, the Nexon EV now possesses a more captivating appearance and, with subtle modifications, has established a unique and distinctive identity.
The top-tier Nexon EV facelift offers a wide array of standout features that elevate its appeal. These include a remarkable 12.3-inch touchscreen, surpassing the ICE Nexon's 10.25-inch screen in size. Additionally, it boasts a two-spoke illuminated steering wheel, a customizable 10.25-inch digital instrument cluster, and touch-sensitive HVAC controls, contributing to a tech-forward interior with minimal physical buttons.Notable highlights extend to a 360-degree camera for enhanced visibility, integrated connected car technology, wireless charging capabilities, ventilated front seats for added comfort, an air purifier for improved air quality, fast-charging Type-C ports, a sunroof to brighten up the cabin, a premium JBL sound system for exceptional audio, voice command functionality, Over-The-Air (OTA) software updates, and the newly introduced Arcade.ev app suite. An interesting and practical addition, especially during charging breaks (assuming you're not a Transformer who has also made the switch to an EV), is the ability to use the app while in Park Mode. This feature allows occupants to stream content from popular OTT platforms like Prime Video and Disney+ Hotstar, ensuring that downtime at the charging station doesn't lead to boredom. It's a considerate touch for keeping you entertained and helping you make progress through your current watchlist.
Summary
The addition of these features has significantly enhanced the EV's feature set, positioning it as a leader in its segment.
Regarding safety, the Nexon EV boasts an extensive range of features that prioritize the well-being of its occupants. These include a total of six airbags, a four-wheel disc brake system, an Anti-lock Braking System (ABS), an Electronic Stability Program (ESP), hill start assist, a blind-spot view monitoring system, front parking sensors, an electric parking brake equipped with an auto-hold function, hill descent control, and a seat belt reminder for all five seats. These safety enhancements exemplify the vehicle's commitment to providing a secure and protected driving experience.
Summary
The inclusion of these additional safety features has significantly enhanced the Nexon EV's level of occupant protection.
Nexon EV Battery & Powertrain
9 /10
The latest Nexon EV features a Gen-2 permanent magnet synchronous motor, with a 20% weight reduction, a 30% decrease in rare earth materials use, and improved cooling and efficiency. Upgraded aerodynamics provide a 2% range increase. It offers a 0-100kph acceleration time of 8.9 seconds, a top speed of 150km/h, and reduced NVH. The Medium Range variant delivers 127 hp and 215 Nm, while the Long Range variant offers 143 hp and 215 Nm. Both come with a 7.2kW AC charger as standard. However, it is worth noting that while power remains consistent, torque has decreased by 30Nm in the MR variant and by 38Nm in the LR variant.Using either the AC wall box charger or the portable charger, the EV can complete a full charge, going from 10% to 100%, in approximately 10.5 hours for one variant and 15 hours for the other. However, with the 7.2 kW charger, this charging time is significantly reduced to about 4.3 hours and 6 hours, respectively, to achieve a full charge.For a swift charging option, a DC fast charger is available, capable of charging the vehicle from 10% to 100% in just 56 minutes, regardless of the variant in question. Additionally, the vehicle is equipped with Vehicle-to-Load (V2L) technology, allowing it to provide power with a capacity of up to 3.3 kW, enabling various external applications and uses.
Summary
The brand has retained the same battery pack without alterations but has succeeded in extending the range. Additionally, with the V2L feature, it has achieved the distinction of being the first budget-friendly EV to provide this functionality.
Tata Nexon EV Car Owner Reviews
Comfort

5.0

Design

4.9

Maintenance Cost

4.3

View all parameters
All (93)
Comfort (22)
Design (29)
General (1)
Mileage (1)
Performance (1)
Show more
The spacious cabin, comfortable seating, and smooth ride quality have been highlighted by reviewers, making it a comfortable option for daily commutes and long drives.

Like

The car has a modern and stylish design that sets it apart from its competitors. It features sleek lines, a bold front grille, and distinctive LED headlights. The overall design is aerodynamic and futuristic, giving the car a unique and attractive appearance.

Like

Front Fascia, Relative Smaller Height, Tail Looks gives a feel of Bolt Crossover which is made more stylish through Bigger More Stylish Alloys, Eyebrow like LED DRL. Overall, Macho SUV Character of the car.

Likes (4)

Door Panel look Sturdy and even the body build seems well good enough for the car. Fit, Finish of the Car is well to premium level. Eye Shaped LED DRL, Projector Headlight, LED Tai Light, Stylish Alloy Wheel, Chrome Lining, Shark Finn Antenna. Sports a sleek split headlight layout with LED DRLs merging best. Contemporary and smart look.

Likes (3)

Seating position is comfortable, providing a relaxed driving posture that minimizes debility on long journeys. Suspension combination does a commendable job of absorbing road undulations and maintaining stability, providing a smooth and controlled drive experience. Noise level in cabin is low and one can feel peace during ride.

Likes (3)
Nexon EV User Reviews
Tata Nexon EV Questions and Answers
Latest
Most Relevant
Most Discussed
Tata Nexon EV Images
Front Profile

Front Profile

Front Profile

Front Profile

Front Profile
Nexon EV Images
Tata Nexon EV Videos
2023 Tata Nexon EV facelift Most Detailed Review | More Range | More Features

Publish date : 18 September 2023
More Tata Videos
Tata Nexon EV Colours
Creative Ocean

Daytona Grey

Empowered Oxide

Fearless Purple

Flame Red

Intensi Teal

Pristine White
Nexon EV Colours
Tata Nexon EV FAQs
What is the charging time for Tata Nexon EV?
Tata Nexon EV will take 10.5 Hrs to charge from 0-100 percent.
What is the driving range for Tata Nexon EV?
Tata Nexon EV claims a range of 325 km/charge.
What is the price of the base model of Tata Nexon EV?
The base variant price for Tata Nexon EV Creative Plus Mid Range is priced at Rs.14.74 Lakh.
What are the colour options of Tata Nexon EV?
Tata Nexon EV
is available in 7 colours - Creative Ocean, Daytona Grey, Empowered Oxide, Fearless Purple, Flame Red, Intensi Teal, Pristine White and more.
Does Tata Nexon EV come with a sunroof option?
Yes, Tata Nexon EV comes with a sunroof configuration.
What is the seating capacity of Tata Nexon EV?
Tata Nexon EV comes with a 5 seater capacity.