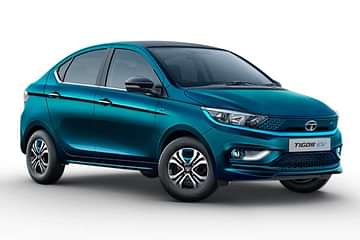 Tata Tigor EV
Tigor EV is a Sedan car from Tata. Least expensive Tata Tigor EV variant is XE which is sold in Indian automobile market at an ex-showroom price of Rs. 12.49 Lakh.
*Ex-showroom Price in
New Delhi
Tata Tigor EV Specifications
Tata Tigor EV-key Specifications

| | |
| --- | --- |
| Body Type | Sedan |
| Fuel Type | Electric |
| Range | 306 Km/Charge |
| Charging Time | 2 Hours |
| Battery Capacity | 21.5 kWh& Lithium Ion&Battery Placed Under Rear Seats kwh |
| No. of Seats | 5 |
Latest On Tata Tigor EV
Last Updated On 19th Oct'22: Tata Tigor EV to be equipped with more features and we expect it to happen this month only.
Tata Tigor EV Variants: The Tata Tigor EV is available in 4 different variants. These include the XE, XM, XZ+, & XZ+ DT. 
Read More
Tata Tigor EV Price
Price of Tata Tigor EV in India ranges between Rs. 12.49 Lakh and Rs. 13.75 Lakh.The Tata Tigor EV variants start from 12.49 Lakh - XE and goes upto 13.75 Lakh - XZ+ LUX. Tata Tigor EV is also available on EMI with interest rates varying from 7.15 to 7.5% through various banks.
Tata Tigor EV variants with price
| Variant | Specifications | Ex-Showroom Price | Offers | Compare |
| --- | --- | --- | --- | --- |
| XE | Electric, Automatic | ₹ 12.49 Lakh | | |
| XT | Electric, Automatic | ₹ 12.99 Lakh | | |
| XZ+ | Electric, Automatic | ₹ 13.49 Lakh | | |
| XZ+ LUX | Electric, Automatic | ₹ 13.75 Lakh | | |
Why Electric Car ?
Cost Effective

Lower Fuel Prices, No Registration Charges. Thus, 25-35% lower cost of ownership.

Source

Eco Friendly

Zero Tailpipe Emissions. Thus, 30-40% reduction in pollution caused.

Source

Minimal Maintenance

Lesser Moving parts means lower overall maintenance costs.

Source

Fun to Drive

Easier manoeuvrability, Ease of Driving.

Future of Mobility

Evolving Battery Technology, IoT Driven Mobility
Tata Tigor EV Expert Verdict
Features we admire in this car
4 star safety rating, feels solid with a nice ride quality
Decent performance from electric motor
Good space for a sub-4-metre sedan
India's most affordable passenger EV (as of May 2022)
Offers adequate performance + 200km real world range
Priced well for an EV
Features that could have been better
Boot space is down from 419 litres to just 316
Doesn't Look Much Different From Fleet Version
Lack of Charging Infrastructure
Nexon EV has better performance & range at a slightly higher EMI cost
Unproven Long Term Reliability
Tata Tigor EV Detailed Review
Tigor EV Performance

Being an EV, the electric motor and battery combination of the Tata Tigor EV helps it perform well. The setup is done nicely & Tigor EV can easily potter around the city traffic with its powertrain. The addition of Ziptron technology is the most significant change in the Tigor EV. On a single charge, a larger 26kWh liquid-cooled lithium-ion battery with an ARAI certified range of 306km is available. This is a significant improvement over the previous model, and range anxiety sufferers will find this car to be more tolerable. The longer battery life also means faster charging times. If you use a 25kW fast charger, Tata claims you can charge the car from zero to 80 per cent in just 25 minutes. This is reached at a temperature of 25 degrees Celsius, although the charging time will only increase by a few minutes if the temperature rises to 30 degrees or more. The vehicle also has a charger that connects to standard 15-amp household outlets. Using this charger, you'll get to 80% in 8 hours and 45 minutes, according to the manufacturer. The first and probably most striking feature of the new Tigor EV's drivetrain is how smooth and linear it is.

The regular drive mode is adequate for everyday city use, and in most situations, it will suffice. The Tigor EV is available in three different variants: XE, XM, and XZ+, with pricing beginning at Rs 11.99 lakh ex-showroom. Now, this base price isn't particularly good value because the base variant lacks a number of important features. On the one hand, it comes with modern amenities like temperature control, a digital instrument display, and LED taillights, but it lacks fundamental items like power windows in the back, alloy wheels, and even a music system.If you ask me, the top-spec XZ Plus is the most cost-effective option. You get everything you want, including push-button start, a great Harman audio system, a cooled glove box, driver's seat height adjustment, a rear parking camera, a rear armrest, auto folding wing mirrors, and more.When you consider that the entry-level Nexon EV is a couple of lakh more costly, you're getting a far better electric car, the Tigor EV's value proposition is put to the test once again. It is, however, considerably lighter than the Nexon, which might translate to a superior real-world range between the two. Naturally, the smaller Tigor EV will be simpler to drive and park around town, and there is currently no better budget car for those looking to make the move to EVs.

Summary

The automobile has a peak speed of about 120 kilometres per hour, which is sufficient for highway driving.

Tigor EV Exterior

When you look at the new Tigor EV, you'll notice that it appears nicer than before, despite the fact that it hasn't been altered all that much. Blue components have replaced the chrome line beneath the grille and headlights, as well as the chrome bezel on fog lamps. Unfortunately, the car still lacks LED headlights and wears halogen projector lighting. The redesigned bumper has LED DRLs with fog lamps and is dotted with a tri-arrow motif. The EV badge may be found on the car's grille, flanks, and back. The highest trim on the standard Tigor has 15-inch wheels, but this one has 14-inch X-shaped units with blue accents. The overall looks and design of the Tigor EV is similar to the ICE-powered sibling. Tata has neatly integrated the small boot at the end of the Tigor EV. 

 

Summary

Although I think The Tigor EV exterior is intended to be a simple-to-drive city commuter, and it succeeds admirably.

Tigor EV Interior

Even on the inside, the modifications are minor, with blue accents throughout the cabin. The deeper stitching on the chairs contrasts nicely with the blue highlights. A benefit of the black seats is that they are more difficult to stain than white seats. The top half of the dashboard and door panels are deeper in colour than the lower half, which is virtually cream-coloured. You receive a kit that's virtually identical to what you'd find in a normal Tigor. A 7.0-inch touchscreen infotainment screen is available, featuring Android Auto and Apple CarPlay compatibility. It also includes 35 connected car functions, such as vehicle metrics on your phone, remote start, geo-fencing, and more. When you're attempting to save money while driving, they might come in useful. There is a smaller one for the middle passenger, but it is only suitable for youngsters or tiny people. The floor is largely flat, making it simpler to accommodate three passengers in this automobile than in others. The overall quality of the cabin is solid and sturdy as the other Tata cars. The airy cabin is well supported by lots of usable space for the occupants. 

Summary

However, given the car's price point, I would have hoped to see some more amenities or a more premium-looking cabin.

Tigor EV Ride & Handling

TELCO DNA retains in every Tata car, this is well proven by the Tigor EV. The ride of Tigor EV is amazing as most of the undulations are easily eaten up by the good suspension setup. Regenerative braking is available with this vehicle, and as previously stated, an indicator on the right side of the instrument cluster displays the amount of regen braking performed. While there is no way to change the regen braking amount, the default value is enough. Testing. Dual airbags, reverse parking sensors, ABS, and EBD are all standard features. Aside from that, there's a back parking camera, as well as a hill climb and descent control. 

Summary

Because the suspension and steering have been adjusted for comfort, you'll be able to glide over bumpy roads and manoeuvre through traffic without becoming overly tired. The steering wheel is a touch mushy, but overall it is light. When you put your foot down on the accelerator pedal at a low speed, you'll get some wheel spin performance.

Tigor EV Safety

Tata is well established for making one of the safest cars in the country. Tigor EV is no surprise either as it is a solid-built car. Electronic Stability Control, side-impact prevention, and three-point belts in all seating positions, among other features, can enhance the electric vehicle's safety rating.
In the most recent crash testing, the Tata Tigor EV, the first electric vehicle (EV) to be evaluated by the Global NCAP, received four stars for both adult and kid occupants. Under the #SaferCarsForIndia initiative, the electric car was considered in its most basic safety specification, which included two airbags as standard.

According to the safety rating agency, additional safety features such as Electronic Stability Control (ESC), side-impact protection, three-point belts in all seating positions, and ISOFIX connections can increase the electric vehicle's safety rating. 

Summary

The Tata Tigor EV was tested in its most basic safety configuration, which had two airbags as standard equipment.
Tata Tigor EV competitors
₹ 9.54 Lakh - ₹ 10.64 Lakh*

₹ 8.49 Lakh - ₹ 11.79 Lakh*

₹ 9.13 Lakh - ₹ 9.46 Lakh*

₹ 14.99 Lakh - ₹ 17.50 Lakh*

₹ 18.34 Lakh - ₹ 20.04 Lakh*

₹ 23.84 Lakh - ₹ 24.03 Lakh*

Kona Electric vs Tigor EV

₹ 22.58 Lakh - ₹ 26.50 Lakh*
Tata Tigor EV Colour Images
Signature Teal Blue

Daytona Grey
New Cars in India
Tata cars

Popular cars

Upcoming cars
Tata Tigor EV Overview
The Tata Tigor EV is one of the most acclaimed and popular models from the house of
Tata
. Prices for this Sedan start from Rs. 12.49 Lakh to Rs. 13.75 Lakh and buyers can pick from as many as 4 different versions.. The transmission option on the Tata Tigor EV is limited to Automatic only. Some of the main rivals include
Tata Xpres-T EV
,
Tata Tiago EV
and
Mahindra E-Verito
. The Tata Tigor EV is one of the most popular cars in the Sedan segment in India.
Tata Tigor EV have 4 variants ranging from Rs. 12.49 Lakh to Rs. 13.75 Lakh. Under the hood, 72 V 3-Phase AC Induction Motor. It is able to produce 105 Nm torque and 75 PS power . Head to our Tigor EV Specifications page for a complete specs list.
Tigor EV Dimensions & Measurements
Tigor EV has 3992 mm Length, 1677 mm Width, 1537 mm Height, 2450 mm WheelBase, 176 mm Ground Clearance, 316 Litres Boot Space, 175/65 R14 Front Tyre Size, 175/65 R14 Rear Tyre Size.
Tigor EV NCAP Rating
Tigor EV has been accredited with NCAP Rating of 4 (Adult Safety Rating) & 4 (Child Safety Rating).
Keep reading to explore more about Tigor EV's updated specs, latest prices, mileage, genuine user reviews, colours, exclusive images & videos, best offers near you, Tata car dealers.
Read More
Tata Dealers
Kolkata

8 dealers in Kolkata

Pune

18 dealers in Pune

Lucknow

10 dealers in Lucknow

Navi Mumbai

2 dealers in Navi Mumbai
Have More Questions about Tata Tigor EV?
Get answers from our 91wheels experts
Tata Tigor EV Questions and Answers
Hi, The amount of subsidy depends on the battery capacity. However, the maximum incentive is capped at Rs. 1.5 lakhs. Apart from the FAME subsidy, you may also avail of state EV subsidy if your state offers direct incentives on EVs. For more details Kindly visit Tata EV Dealers

Hi, Tata Tigor EV is only available with this version in only electric.

The Tata Tigor EV's battery has an 8-year or 1,60,000-kilometer guarantee.

Yes, the Tata Tigor is available with height adjustable seat height.

As a true embodiment of the electric evolution, the new Tata Motors electric car – Tigor EV houses a supremely ample 26 kWh lithium-ion battery pack.
Tata Tigor EV Car Owner Reviews
4.1
95 ratings and reviews
Comfort

4.4

Design

4.3

Performance

4.1
The Range depends on how one drives, as the AI Algorithm computes based on historic evidence of driving habit. Initially, the max range in the first three months of purchase turned out to be 164. It was frustrating. Later, as we made adjustments to driving an Electric Vehicle, as compared to an Automatic Petrol Car that my wife and I were used to, the range kept increasing, and now we were rewarded with a range of 311 Kms. As one drives more sensibly, power consumption has steadily come down from the high of 174 Wh/Km to 125 Wh/Km; which, on power charges in Delhi of Rs 8 per Unit, translates to Operating cost of Re 1/- per Km! We now take out our Ciaz AT ZXi+, not more than once a week.

...Read More

Waste car zero satisfaction ac not working charging not working

Good features and full safety. Economical price

Have driven.. Its smooth and very comfortable.. Its awwsome feeling

Great car to buy the car, since it helps environment.Too over-whelmed to buy this master-piece.
Latest news on Tata Tigor EV
Publish date : 22 November 2022
Tigor EV On-Road Price in India
Tata Tigor EV FAQs
What is the charging time for Tata Tigor EV?

Tata Tigor EV will take 2 Hours to charge from 0-100 percent.

What is the driving range for Tata Tigor EV?

Tata Tigor EV claims a range of 306 km/charge.

What is the price of the base model of Tata Tigor EV?

The base variant price for Tata Tigor EV XE is priced at Rs.12.49 Lakh.

What are the colour options of Tata Tigor EV?

Tata Tigor EV is available in 2 colours - Signature Teal Blue, Daytona Grey.

Does Tata Tigor EV come with a sunroof option?

No, Tata Tigor EV does not come with a sunroof configuration.

What is the seating capacity of Tata Tigor EV?

Tata Tigor EV comes with a 5 seater capacity.
Tata Tigor EV Videos
Tata Tigor EV Mileage Range Test || Delhi to Rishikesh Road Trip in Electric Car