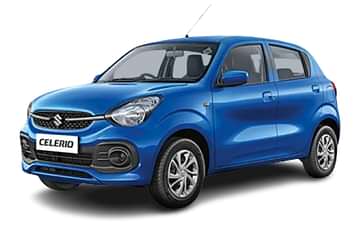 Maruti Suzuki Celerio
Celerio is a Hatchback car from Maruti Suzuki. Least expensive Maruti Suzuki Celerio variant is Lxi MT which is sold in Indian automobile market at an ex-showroom price of Rs. 5.25 Lakh.
*Ex-showroom Price in
New Delhi
Maruti Suzuki Celerio Specifications
Maruti Suzuki Celerio-key Specifications

| | |
| --- | --- |
| Transmission | Manual/Automatic |
| Fuel Type | Petrol/CNG |
| Mileage (Upto) | 35.6 km/kg (cng) |
| Engine | 997-999cc |
Latest On Maruti Suzuki Celerio
Last Updated On 27th Sep'22: The Maruti Suzuki Celerio ZXI+ AMT has now entered our long-term garage for the next three months and all the team members look forward to the convenience of an AMT along with the frugal K10C engine.
Maruti Suzuki Celerio Accessories: Maruti recently updated its Celerio hatchback in its latest avatar. The 2022 Maruti Suzuki Celerio comes with an all-new design, new features, & more punch-packed performance. While the brand is offering a long list of features as a standard part of the package, a couple of optional official accessories packages to are on offer. The Maruti Celerio is now the most fuel-efficient hatchback in the country and offers an affordable price tag to all. The company is now offering two different Maruti Celerio accessories packages - Active & Cool Package and Peppy & Stylish. This package adds an extra element of excitement for those with a sporty and trendy character. The package also focuses on improving the aesthetics of the car. All of the above accessories & package options are now available and can be brought online through the Maruti Suzuki Genuine Accessories website and configurator at the dealerships.
Read More
Maruti Suzuki Celerio Price
Price of Maruti Suzuki Celerio in India ranges between Rs. 5.25 Lakh and Rs. 7.00 Lakh.The Maruti Suzuki Celerio variants start from 5.25 Lakh - Lxi MT and goes upto 7.00 Lakh - Zxi+ AT. Maruti Suzuki Celerio is also available on EMI with interest rates varying from 7.15 to 7.5% through various banks.
Read More
Maruti Suzuki Celerio variants with price
| Variant | Specifications | Ex-Showroom Price | Offers | Compare |
| --- | --- | --- | --- | --- |
| Lxi MT | Petrol, Upto 25.24 kmpl, Manual | ₹ 5.25 Lakh | | |
| Vxi MT | Petrol, Upto 25.24 kmpl, Manual | ₹ 5.74 Lakh | | |
| Zxi MT | Petrol, Upto 25.24 kmpl, Manual | ₹ 5.94 Lakh | | |
| Vxi AT | Petrol, Upto 26.6 kmpl, Automatic | ₹ 6.24 Lakh | | |
| Zxi AT | Petrol, Upto 25.2 kmpl, Automatic | ₹ 6.44 Lakh | | |
| Zxi+ MT | Petrol, Upto 24.9 kmpl, Manual | ₹ 6.50 Lakh | | |
| VXI CNG | Cng, Upto 35.6 Km/kg, Manual | ₹ 6.69 Lakh | | |
| Zxi+ AT | Petrol, Upto 25.2 kmpl, Automatic | ₹ 7.00 Lakh | | |
Maruti Suzuki Celerio Overview
The Maruti Suzuki Celerio is one of the most acclaimed and popular models from the house of Maruti Suzuki. Prices for this Hatchback start from Rs. 5.25 Lakh to Rs. 7.00 Lakh and buyers can pick from as many as 8 different versions.. The transmission options on the Maruti Suzuki Celerio include both Manual and Automatic gearbox. The Celerio offers a max power of 65.71 PS @ 5500 rpm. Some of the main rivals include Tata Tiago, Maruti Suzuki Wagon R and Hyundai Santro. The Maruti Suzuki Celerio is one of the most popular cars in the Hatchback segment in India.
Maruti Suzuki Celerio have 8 variants ranging from Rs. 5.25 Lakh to Rs. 7.00 Lakh. Under the hood, Celerio is powered by a 3 cylinder, 997 cc, K10C. It is able to produce 89 Nm @ 3500 rpm torque and 67 PS @ 5500 rpm power with a fuel efficiency/mileage of 25.24 kmpl. Maruti Suzuki Celerio can store up to 32 Litres fuel in one go at max. Head to our Celerio Specifications page for a complete specs list.
Monthly Sales
91wheels experts bring you the latest update on market insight and sales performance for your favourite car models.
Model Name
Units Sold in Month 2022
June 2022
July 2022
August 2022
Maruti Suzuki Celerio
8683
6854
5852
Source: Monthly SIAM Data 2022
Celerio Dimensions & Measurements
Celerio has 3695 mm Length, 1655 mm Width, 1555 mm Height, 2435 mm WheelBase, 170 mm Ground Clearance, 32 Litres Fuel tank Capacity, 313 Litres Boot Space, 165/70 R14 Front Tyre Size.
Keep reading to explore more about Celerio's updated specs, latest prices, mileage, genuine user reviews, colours, exclusive images & videos, best offers near you, Maruti Suzuki car dealers.
Read More
Maruti Suzuki Celerio competitors
Maruti Suzuki S-Presso 2022

₹4.25 Lakh Onwards
Maruti Suzuki Celerio Gallery
View From Co-driver's Door

View From Co-driver's Door
Maruti Suzuki Celerio Detailed Review
Celerio Performance

Maruti Suzuki has always been known for making one of the peppiest, refined, and fuel-efficient engines. The new Celerios is no exception as it has a three-cylinder engine with four valves. The 1-litre petrol engine gives approximately 65bhp at 5500rpm and 90Nm at 3500rpm torque is generated. The other engine of 1.2 litres can churn up to 82 hp and 113 Nm of torque. The engine feels refined with fewer vibrations. Gearbox options include a 5-speed manual as well as a 5-speed automatic segment.

The fuel tank has a capacity of 32litres and the efficiency is rated at 26kpl. The front suspensions are of Mac Pherson strut with coil spring while the rear suspension offers torsion beam with coil spring. The front brakes are ventilated discs while the rear ones are drum brakes. The car comes with four inbuilt speakers, one on each of the bottom of the doors, and has a decent performance quality. 

Summary

While the performance is not significantly better than before, the overall refinement from the engine is definitely a notch or two higher.

Celerio Exterior

The Maruti Celerio comes with an identifiable yet fresh look that includes a chrome slip, on which the metallic Suzuki Logo is set. The lower half of the front bumper has been repainted to black. Just like its rival Tata Tiago, this model is protected with a faux skid plate below the bumper. It features the old halogen headlights along with the new addition of the halogen foglamps. Talking about the side view, the car has a simple design with a slightly boxy and rugged feel. One might even find it a little identical to the alto and expresso family. The wheels are 15-inch and have an alloy framework unlike before. The rims have been given a specific design and are finished in black colour.

The Celerio has now introduced six different funky colours which were not available in the previous versions. The ORVMs have indicators and can be folded electrically in the higher variants. One can now get passive entry into the car but the door handle might be a problem to grip for users who are not a big fan of the pull-up handles. The doors also feature some black plastic cladding. The rear looks sober with a single wiper. Dimensionally, the Maruti Celerio is now 3,695 mm long, 1,655 mm wide, and 1,555 mm tall. It has a wheelbase of 2,435 mm and offers a boot space of 313-litre. The car has a seating capacity of 5 passengers. The overall design and the looks of the new Celerio make it a more mature and refined product than ever. The design language follows the latest design philosophy by Maruti Suzuki as seen on its new product lineup. 

Source: Maruti Suzuki Celerio 2021

Summary

The basic silhouette of the Celerio has been totally changed from the earlier and with the introduction of the new design language, the small car has a fresh appeal.

Celerio Interior

The Interior design of the new Celerio has also undergone a full treatment. The overall cabin ambiance has been tried to revamp as Maruti has tried to provide a more premium feel to the new customers. The new Celerio is a 5-seater modern hatchback. The dashboard is completely covered in black with a few elements having a silver finish. It is built of hard plastic and gives a robust feel. The AC vents offer a unique look as compared to other cars. It is equipped with a 7-inch touchscreen infotainment system with Android Auto and Apple CarPlay supported being supported as well. The touchscreen infotainment has a fantastic touchscreen response and is pretty easy to use. It has multiple features like voice recognition. It has a regular AC with no climate control option. 

Below the AC control panel is a USB point and a 12V point. There is also space allotted to keep the smartphones and two cup holders. The steering comes with a height adjustment feature that is comfortable for the user. The power steering now offers a driver control system which is a new input. In the instrument cluster, there is a digital element along with the analogue system. The window controls are located in the dashboard, which is different. Push-button start, keyless entry, updated control panel and a stylised gear lever, do offer a charm that attracts customers. 

In the second row, the interior feels wide and gives off a warm effect. The knee space is decent enough, not too incredible to be highlighted. The headroom is also considerable. The drawback here is that the headrests are fixed for the three passengers at the back. There are no armrests as well. The company has probably done some budget-saving cutting on the comfort equipment. The fabric used inside the car is black with a texture of grey in it. The window controls for the rear seat is not provided on the doors, rather it is placed in the centre of the front two seats. The boot space is fairly big and deep and can hold on to quite much luggage if required.

Summary

The overall feel of the interior is decent, even though a few areas could have been better.

Celerio Ride & Handling

The company has done a good job when it comes to providing a comfortable riding experience to the user. The engine feels refined and smooth going. There are not too many vibrations felt. One can ride it without much fuss and it can travel uneven terrains, providing a considerable amount of traction. The engine does get quite noisy at times and one might not be able to hear the surrounding noise due to it. The overall handling of the new Celerio is most suited for city driving. The short turning radius helps the Celerio to easily maneuver through tight city spaces. 

The handling of the car is easy and smooth because of its comfortable steering wheel. The steering is sleek is easy to grip and is flexible enough. The response of the car is on spot with no lags or bumps. The gear shifting will not require much strength and it is best suited for city traffic. The Celerio remains stable and sure-footed providing more than enough grip when required. The engine seems modest but has enough torque and provides no hurdle while climbing a steep inclination. Sadly, it does not have the hill-hold feature.

Summary

Other than the fact that the steering of the new Maruti Celerio is a bit too heavy in the city traffic, there's not much one will complain of in the ride and handling department.

Celerio Safety

Maruti Suzuki has been consistently working on the safety increment for its products. The new Celerio features some features like a pollen filter, key off / headlamp on the reminder, gear position indicator for safety purposes. Other safety equipment includes dual airbags, anti-lock brakes (ABS) with EBD's along with rear parking sensors. It has Advance Safety Features like Pedestrian protection, Headlamp Warning, Engine idle start-stop. It also features Speed Alert, Lock Pretensioners & Force Limiter Seat belts, Hill Assist, Impact Sensing Auto Door Unlock, Engine Immobilizer, Crash Sensor, Day & Night Rear View Mirror, Passenger Side Rear View Mirror and also Rear Seat Belts.

Even though the crash test ratings were a sheer disappointment for the previous Celerio models, this model somewhat gives hope that it will do better in the Global NCAP safety ratings that are yet to be done.

Summary

The Celerio is equipped with several safety features which are a big upgrade from the previous model & provide more assurance to the new owners.
Maruti Suzuki Car Dealers in popular cities
Kolkata

25 dealers in Kolkata

Pune

33 dealers in Pune

Lucknow

18 dealers in Lucknow

Navi Mumbai

6 dealers in Navi Mumbai
Celerio Cost of Ownership
Select Variant type
TCO for Maruti Suzuki Celerio for 1 year is
₹ 6,12,763*
View Breakdown
| TCO Calculation | 1 Year |
| --- | --- |
| Ex Showroom Price | ₹ 52,50,00* |
| Fuel Cost (approx) | ₹ 1,42,63* |
| Insurance | ₹ 3,15,00* |
| Service Cost | ₹ 4,20,00* |
| Total Cost of Ownership | ₹ 61,27,63* |
* Calculation is basis an average taken for fuel prices across India. Petrol Rs 100/Ltr*, Diesel: Rs 90/Ltr*, CNG: Rs 85/Kg*
Maruti Suzuki Cars in India
Popular cars

Upcoming cars
Maruti Suzuki Celerio Car Owner Reviews
4.0
59 ratings and reviews
Performance

4.1

Maintenance Cost

4.1

Comfort

4.0
Best in class & comfortable and fuel efficient Value for money

The car is nice Maruti should give response in the safety of the passengers I love the car thank you

The comfort and features are average.Build quality is on a lower side, but maintenance and fuel economy is great.

Celerio offers a better mileage which is good with the rising petrol prices.

Cheap runabout, automatic is very convenient and fuel efficient, but safety wise its a risk
Maruti Suzuki Celerio Colours
Maruti Suzuki Celerio Questions and Answers
Have More Questions about Maruti Suzuki Celerio?
Get answers from our 91wheels experts
Question asked on 08 Sep 2022

Hi, Currently we do not have the stock update for Maruti Suzuki Celerio. However you can contact your nearest dealer for the same as they would be in a better position to assist you on the Delivery Timeline. following are the dealer located Dealers - Maruti Suzuki Celerio

Question asked on 29 Jun 2022

The car is worth the money only if you are buying an AMT version, very lovely experience driving Auto Gear, its a small car so dont have to worry about parking or cutting it through small gaps.

Question asked on 16 Nov 2021

The old Celerio offered a mileage of 21.63 kmpl but the new Celerio 2021 is around 25-26 kmpl. However this is not the accurate mileage as it is also dependent upon the driving style, road conditions and condition. To check more details, please visit Celerio 2021
Latest news on Maruti Suzuki Celerio
Maruti Suzuki Celerio Images & Videos
Maruti Celerio Mileage Run || Extreme Fuel Economy Challenge || Can it deliver 40 kmpl

Maruti Celerio ZXI Manual Review || Real World Experience with 4 people + luggage + A/C running
Maruti Suzuki Celerio FAQs
What is the ARAI mileage for Maruti Suzuki Celerio?

Maruti Suzuki Celerio claims a mileage of 35.6 Km/kg.

What are the transmission types available in Maruti Suzuki Celerio?

The Maruti Suzuki Celerio comes in Petrol & CNG with Manual & Automatic transmission.

What is the price of the base model of Maruti Suzuki Celerio?

The base variant price for Maruti Suzuki Celerio Lxi MT is priced at Rs.5.25 Lakh.

What are the colour options of Maruti Suzuki Celerio?

Maruti Suzuki Celerio is available in 6 colours - Silky silver, Speedy Blue, White, Caffeine Brown, Glistering Grey, Fire Red.

Does Maruti Suzuki Celerio come with a sunroof option?

No, Maruti Suzuki Celerio does not come with a sunroof configuration.

What is the seating capacity of Maruti Suzuki Celerio?

Maruti Suzuki Celerio comes with a 5 seater capacity.
Celerio On-Road Price in India