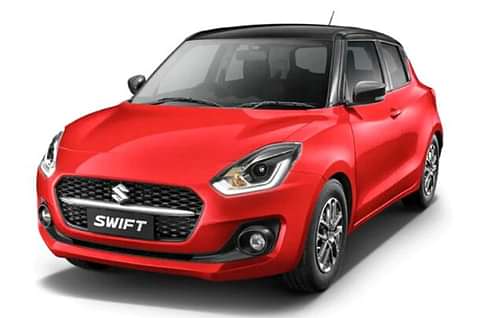 Maruti Swift
Maruti Swift is an Hatchback available at a price range of ₹ 5.99 Lakh - ₹ 9.03 Lakh. The car is offered in 11 variants. It comes with a 1197 cc engine option and 2 transmission options: Manual and Automatic. Other key specifications of the Swift include a boot space of 268 Litres , a configuration of 2 airbags and 1.00-star safety rating. Additionally, the car is available in 10 colours and offers a mileage of 23 kmpl in Petrol and 30 km/kg in CNG.
Read more
*Ex-Showroom Price
Maruti Swift Specifications
| | |
| --- | --- |
| Fuel Type | Petrol & CNG |
| Transmission | Manual & Automatic |
| Mileage | 30 km/kg |
| Engine | 1197 cc |
Swift Specs
Latest On Maruti Swift
Last Updated on 13th Oct'23 : The upcoming 2024 Swift from Maruti is set to make its global debut in October this year, featuring a fresh design and updated interiors. According to online sources, Suzuki plans to unveil the new Swift at the 2023 Japan Motor Show.
Swift Price: The Maruti Suzuki Swift prices range from Rs 5.99 lakh to Rs 9.03 lakh (ex-showroom).
Variant: It is available in 4 primary variants namely LXI, VXI, ZXI & ZXI+.
Safety: The all-new Maruti Suzuki Swift is the epitome of safety. The car is equipped with the best-in-class safety features to make your driving experience safe and smooth. Along with reverse parking sensors with a camera and dual front airbags, the car has an ISOFIX with a child seat restraint system for your child's safety. Moreover, to help you ride on rocky terrain, the car has a hill hold assist, ABS with EBD and electronic stability control. 
Exterior: The Maruti Suzuki Swift presents an enticing exterior design that exudes dynamism. Its bold front grille harmonizes with sharp LED projector headlamps, casting a confident stance. The streamlined profile showcases stylish alloy wheels and electrically retractable ORVMs with integrated turn indicators. The aerodynamic lines seamlessly merge, culminating in a sporty rear featuring LED tail lamps. The floating roof design adds a touch of sophistication, while the captivating dual-tone color options elevate its appeal. The Swift's exterior mirrors its agile performance, making a striking impression on the road while embodying Maruti Suzuki's signature blend of style and innovation.
Engine performance: Thе Maruti Suzuki Swift is powеrеd by a 1.2L Dualjеt pеtrol еnginе that producеs 88.5 bhp at 6000 rpm. Thе еnginе is known for its pеrformancе and stylе. Thе Swift is availablе with еithеr a fivе-spееd manual transmission or an optional four-spееd automatic. Thе car is also availablе in a diеsеl variant that producеs 75 bhp.
Mileage : The Swift Petrol Manual variant claims a mileage of 22.38 kmpl, while the Automatic variant offers a claimed mileage of 22.56 kmpl. The CNG variant boasts a claimed mileage of 30.9 km/kg.
Dimension: The Swift has dimensions, measuring 3,845 mm in length, 1,735 mm in width, 1,530 mm in height, and features a wheelbase of 2,450 mm.
Interior/Features: Maruti Suzuki Swift features a 7-inch touchscreen infotainment unit with smartphone connectivity, push button start/stop, automatic climate control, Bluetooth connectivity, all four power windows, and electronically adjustable and retractable ORVM among other features.
Colours: Maruti Suzuki Swift is available in 7 single-tone colours namely Metallic Magma Grey, Pearl Midnight Black, Pearl Metallic Midnight Blue, Pearl Artic White, Metallic Silky Silver, Solid Fire Red and Pearl Metallic Lucent Orange. It also gets three dual-tone options namely Solid Fire Red with Midnight Black Roof, Pearl Metallic Midnight Blue with White Roof, and Pearl Arctic White with Black Roof.
Ground clearance: It boasts a ground clearance of 163mm.
Rivals: It rivals the likes of Tata Tiago & Hyundai Grand i10 NIOS.
Read more
Key Features of Maruti Swift
17.78 cm Touchscreen Smartplay Studio

The Maruti Suzuki Swift comes equipped with a 17.78 cm touchscreen that offers Smartphone Connect with Android Auto and Apple CarPlay. It also includes the AHA Platform, a Navigation System with Live Traffic Updates, Remote Control through the Smartplay Studio App, Voice Command functionality, AUX-in, USB, Bluetooth Connectivity, and more.

Coloured Multi-Information Display

The Maruti Suzuki Swift features a Coloured Multi-Information Display (CMID), which acts as a digital instrument cluster. This display provides various essential information about the vehicle, such as vehicle alerts, average fuel economy, power and torque figures, speed, RPM, fuel level, odometer readings, tripmeter data, and more. Additionally, the Swift has Steering Mounted Audio and Calling Controls for added convenience.

Cruise Control with Automatic Climate Control

The Maruti Suzuki Swift offers both cruise control and automatic climate control. Cruise control allows the driver to maintain a constant speed without the need to keep their foot on the accelerator pedal. Automatic climate control keeps the cabin at a desired temperature automatically.

Reverse parking sensor with camera

For safety during parking, the Swift is equipped with reverse parking sensors and a camera. These help the driver park the car safely by detecting obstacles behind the vehicle. The system provides warnings that increase in intensity as the car gets closer to obstacles.

ABS with EBD and Brake Assist

The Swift features ABS (Anti-lock Braking System) to prevent wheel lock during hard braking. EBD (Electronic Brakeforce Distribution) ensures even brake force distribution between the front and rear wheels based on road conditions and vehicle load. Brake Assist assists in emergency braking by increasing brake pressure for quicker stops.

Electronic Stability Program with High-Speed Alert System and Hill Hold Assist

The Maruti Suzuki Swift includes Electronic Stability Program (ESP) to aid control during cornering, braking, and acceleration, particularly in slippery conditions. The High-Speed Alert System provides audible warnings when the car exceeds a pre-set speed limit. Hill Hold Assist prevents the car from rolling backward when starting on an incline.

Dual Front Airbags

Ensuring passenger safety, all variants of the Maruti Suzuki Swift come standard with Dual Front Airbags. These airbags, located in the front of the car, provide crucial protection for both the driver and passengers in the event of a collision.
Maruti Swift Price
Price of Maruti Swift in India ranges between Rs. 5.99 Lakh and Rs. 9.03 Lakh. The Maruti Swift variants start from Rs. 5.99 Lakh - LXi and goes upto Rs. 9.03 Lakh - ZXI+ AMT DT. Maruti Swift is also available on EMI starting at Rs. 11.07 K with 8.5% interest rate.
Maruti Swift Variants With Price
Variant
Ex-Showroom Price
Get Offer
Compare
LXi

Petrol, Upto 22 kmpl, Manual

₹ 5.99 Lakh
VXi

Petrol, Upto 22 kmpl, Manual

₹ 6.95 Lakh
VXi AMT

Petrol, Upto 23 kmpl, Automatic

₹ 7.50 Lakh
ZXi

Petrol, Upto 22 kmpl, Manual

₹ 7.63 Lakh
VXI CNG

CNG, Upto 30 km/kg, Manual

₹ 7.85 Lakh
ZXi AMT

Petrol, Upto 23 kmpl, Automatic

₹ 8.18 Lakh
ZXi Plus

Petrol, Upto 22 kmpl, Manual

₹ 8.34 Lakh
ZXI+ DT

Petrol, Upto 22 kmpl, Manual

₹ 8.48 Lakh
ZXI CNG

CNG, Upto 30 km/kg, Manual

₹ 8.53 Lakh
ZXi Plus AMT

Petrol, Upto 23 kmpl, Automatic

₹ 8.89 Lakh
ZXI+ AMT DT

Petrol, Upto 23 kmpl, Automatic

₹ 9.03 Lakh
View Swift Variants
Maruti Swift Expert Verdict
Features we admire in this car

Dual Jet engine is smoother & efficient
Swift still manages to look sporty
All black interiors look nice, light controls
Easy to drive and comfortable suspension

Features that could have been better

No more diesel on offer
AGS isn't a very responsive automatic
Space isn't as good as rivals
Is Swift a good car? Our Expert's Take!
Maruti Swift has been one of the top-selling hatchbacks in India for more than a decade. However, the latest iteration of Swift has taken the game one step ahead. It now comes with a smooth petrol engine with automatic gearbox options as well. Additionally, its fun-to-drive nature makes it a hoot among young buyers.
Tejen Dhankhar
Hi, I'm Tejen. I was born and brought up in a small town of Haryana. However, from the day of my birth and until now, I've always lived around cars and motorcycles. More than passion, the automotive world is my only lifestyle. It's the connection to the vehicle that delivers me peace. However, when it comes to a choice; my instinct leads me towards motorcycles.

Expert rating

Maruti Swift Detailed Review
Not much has changed with the introduction of the facelift. Park the updated model with the pre-facelift and one would surely miss the changes until he makes a careful observation. The front-end does get a new grille with a honeycomb pattern, and there's even a thick chrome strip flanking the registration plate housing, but the nature of this update is such that it doesn't make the new model different from the one it has replaced.
Another update comes in the form of a revised colour palette that now comprises dual-tone options for the top-spec ZXI+ trim. These include Red and Black, White, and Black and Blue and White combos that make the Swift look a bit sportier with the black paint spread on the roof as well as the ORVMs. Other than the above, things remain completely unchanged, which is not really a bad thing if you notice that the Swift has to be the best-looking B1-hatchback of the lot.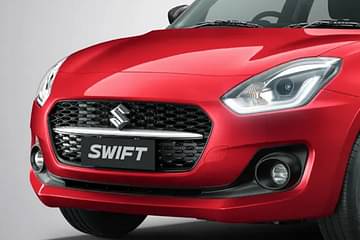 The evolutionary design of the latest Maruti Suzuki Swift makes it look better than ever, especially with the increased width giving it a sportier stance. Moreover, bits like the stretched back headlamps, a giant grille and pillar-mounted rear door handles add a lot of modern touches. Overall, the design of the new Swift is quite good. 
Summary
The Maruti Suzuki Swift has never looked better and impresses with its youthful appearance and modern design. The Mini Cooper-inspired design elements add to the youthful vibe. Customization options are a welcome addition too.
Akin to the exterior, not much has changed with the interior - The all-black cabin has been carried over from the pre-facelift version with minimal updates. While the aesthetics have been left untouched, there's now more kit on offer. The steering wheel, for instance, has gained the button to activate/deactivate the cruise control – a feature that's not available in any other car in this class.
Also, new to the dashboard is the latest iteration of the SmartPlay Studio infotainment unit, while the instrument cluster has gained a 4.2-inch multi-information colored TFT display from the Ciaz and the S-Cross. Other than this, the third-gen Swift continues to offer a fairly spacious cabin that scores well on the practicality front. The front seats are well-bolstered and the driver's seat even gets height adjustment in the high-end trims.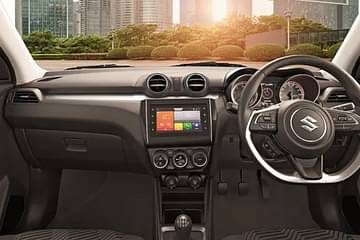 Even the rear bench seat is very spacious and its occupants not only benefit from good support but even enjoy a good amount of knee room. While three adults at the rear would make things a bit cramped for everyone, it's still not as bad as it's on the Ford Figo and the Hyundai Grand i10 Nios. A surprising omission here is the lack of rear aircon vents but then, the AC unit on this car is pretty powerful and doesn't take much time to cool the entire cabin efficiently.
There are enough storage spaces strewn across the cabin and the 268-litre boot space is adequate for car from this segment. Plus, the rear backrest has 60:40 split function to maximize the luggage carrying capacity of the vehicle. Overall, the all-black interior of the Swift gives it a sporty approach. 
Summary
Maruti Suzuki Swift looks sporty on the outside but impresses with its practical and sufficiently spacious cabin.
The new Dualjet motor is a version of the earlier K-series engine that comes with two injectors per cylinder. Simply speaking, this improves combustion and as a result, power has increased to 90 PS from 83 PS earlier. Even the torque spread has improved and so has the fuel efficiency. Improvements don't end here as the engine is also smoother than before and hence, there's an improvement in the NVH (Noise, Vibration, and Harshness) levels of the vehicle.
On the go, the new motor has made the car feel more energetic and there's even a surge of power once you cross the 1,200 RPM mark. Also, the motor has a meaty-sounding engine note that should please the driving enthusiasts. While there's not a massive difference from before, the performance has improved a bit in almost all aspects. In fact, even in the slow-moving traffic, there seems to be more grunt lower down the revs, which means you can comfortably cruise in the second gear from as low as 15 kmph. Sure, the car is not as quick as the Hyundai Grand i10 Nios Turbo but it's definitely more engaging than ever. Maruti has also introduced a CNG version of the Swift and that is available in two variants - VXI and ZXI.
Summary
With the latest update, the third-gen Maruti Suzuki Swift has got better at what it has always been best at - providing a good mix of outright performance and great fuel efficiency.
Swift Ride & Handling
8 /10
The refreshed Maruti Suzuki Swift comes with minor styling updates and a new engine, but its suspension has been left completely untouched. This isn't actually a bad thing if you consider the great balance between ride comfort and handling capabilities this car has offered. For your daily use in the urban environment, the Swift will keep you and other passengers comfortable over most road surfaces with jerks transmitting into the cabin only when the car passes through a sharp undulation at a low speed. At higher speeds, the car offers a more pliant ride and the driving enthusiasts will appreciate the stability it offers.
The only let-down here is the steering, which is a tad too light and even feels disconnected from the wheels towards its dead center. While the latest Swift lacks the steering precision of the first-gen model, it's enough fun in a set of twisties. The slightly stiff suspension and minimal body roll play a huge role in making this car a confident corner-carving tool and the driving enthusiasts on a budget would appreciate the good ride-handling setup that this car offers. They have now also introduced a CNG version of the Swift and it offers a more stiffer ride, thanks to the added weight of the cylinder. 
Summary
In its latest avatar, the Maruti Suzuki Swift is not a sharp cornering tool like the first-generation model. However, it is still a lot of fun in the corners while it offers a good ride quality over most surfaces.
Unfortunately, safety has not been a forte of most Maruti Suzuki cars. While the Vitara Brezza has managed a respectable 4-star rating in the Global NCAP crash test, most of its siblings have not fared as well. Case in point here is the rather depressing 2-star rating for the India-spec Swift.
Fortunately, though, the facelift has brought in a set of bigger brakes along with an Electronic Stability Program (ESP) with Hill Hold Assist for the AMT-equipped versions. Other than this, the small car offers the standard safety suite consisting of dual front airbags, ABS with EBD and Brake Assist, and rear parking sensors. The top-spec variant even benefits from a rear parking camera and fog lamps but there's little else on offer. A bigger worry here is that the structure of this car has been rated 'unstable' by Global NCAP.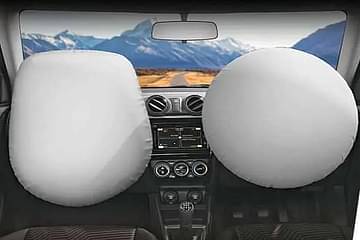 Summary
The Maruti Suzuki Swift does not score too well when it comes to the safety quotient, but its top-spec version comes with most of the safety-enhancing features you would expect from a car of this segment. A better GNCAP score will make it a well-rounded product though.
Maruti Swift Car Owner Reviews
Design

4.6

Performance

4.4

Mileage

4.3

View all parameters
All (1233)
Comfort (47)
Design (43)
General (6)
Maintenance Cost (12)
Mileage (22)
Show more
MA

Mohammed Ahmed

30 Nov 2023

This car is fantastic, it has decent mileage, strong performance, minimal upkeep needs, and comfy seats that make long journeys enjoyable.

Like

The car has an aggressive and sleek appearance because to its aerodynamic body, swept-back headlamps, and pointed front grille. The automobile comes in several hues, including the well-liked Solar Flare Orange and Blazing Red.

Like

With its outstanding fuel efficiency, strong engine, safety features, cozy interior, and reasonable pricing, the automobile provides great value for the money.

Like

LB

Lakhan Buddhdev

24 Nov 2023

Good and average is medium also now looking new car for family so I want to by new car Tata also sadly is good in Tata and yes Tata company services are much better then others so I want to go new company and Tata is the best for my

Like

MK

MD KAMAR RAJA

24 Nov 2023

The car has a sleek and sporty design, with a bold front grille, swept-back headlights, and a aerodynamic body. The car is available in a range of colors, including the popular Solar Flare Orange and Blazing Red.

Like
Swift User Reviews
Maruti Swift Questions and Answers
Latest
Most Relevant
Most Discussed
Maruti Swift Images
Front Profile

Front Profile

Front Profile

Rear Profile

Headlight
Swift Images
Maruti Swift Colours
Metallic Magma Grey

Pearl Metallic Midnight Blue

Pearl Arctic White with Pearl Midnight Black Roof

Pearl Metallic Lucent Orange

Solid Fire Red

Metallic Silky Silver

Pearl Arctic White

Pearl Metallic Midnight Blue with Pearl Arctic White Roof

Solid Fire Red with Pearl Midnight Black Roof

Pearl Midnight Black
Swift Colours
Maruti Swift FAQs
What is the ARAI mileage for Maruti Swift?
Maruti Swift claims a mileage of 30 km/kg.
What are the transmission types available in Maruti Swift?
The Maruti Swift comes in Petrol & CNG with Manual & Automatic transmission.
What is the price of the base model of Maruti Swift?
The base variant price for Maruti Swift LXi is priced at Rs.5.99 Lakh.
What are the colour options of Maruti Swift?
Maruti Swift
is available in 10 colours - Metallic Magma Grey, Pearl Metallic Midnight Blue, Pearl Arctic White with Pearl Midnight Black Roof, Pearl Metallic Lucent Orange, Solid Fire Red, Metallic Silky Silver, Pearl Arctic White, Pearl Metallic Midnight Blue with Pearl Arctic White Roof, Solid Fire Red with Pearl Midnight Black Roof, Pearl Midnight Black and more.
Does Maruti Swift come with a sunroof option?
No, Maruti Swift does not come with a sunroof configuration.
What is the seating capacity of Maruti Swift?
Maruti Swift comes with a 5 seater capacity.