Maruti Swift On Road Price in New Delhi
| Swift Models | On Road Price New Delhi | Specification |
| --- | --- | --- |
| Swift LXi | ₹ 6.55 Lakh | 1197 cc, Petrol, Manual, 22 kmpl |
| Swift VXi | ₹ 7.80 Lakh | 1197 cc, Petrol, Manual, 22 kmpl |
| Swift VXi AMT | ₹ 8.42 Lakh | 1197 cc, Petrol, Automatic, 23 kmpl |
| Swift ZXi | ₹ 8.57 Lakh | 1197 cc, Petrol, Manual, 22 kmpl |
| Swift VXI CNG | ₹ 8.81 Lakh | 1197 cc, CNG, Manual, 30 kmpl |
| Swift ZXi AMT | ₹ 9.15 Lakh | 1197 cc, Petrol, Automatic, 23 kmpl |
| Swift ZXi Plus | ₹ 9.33 Lakh | 1197 cc, Petrol, Manual, 22 kmpl |
| Swift ZXI+ DT | ₹ 9.49 Lakh | 1197 cc, Petrol, Manual, 22 kmpl |
| Swift ZXI CNG | ₹ 9.54 Lakh | 1197 cc, CNG, Manual, 30 kmpl |
| Swift ZXi Plus AMT | ₹ 9.95 Lakh | 1197 cc, Petrol, Automatic, 23 kmpl |
| Swift ZXI+ AMT DT | ₹ 10.10 Lakh | 1197 cc, Petrol, Automatic, 23 kmpl |
Read more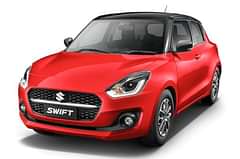 ₹ 5.99 - ₹ 9.03 Lakh *
*Ex-showroom Price in
New Delhi
Don't miss out on Latest Offers!
Maruti Swift Price in New Delhi (Variant List)
Maruti Swift price starts at Rs. 6.55 Lakh and goes up to Rs. 10.1 Lakh (on road New Delhi). Swift comes in 11 variants. Swift top Petrol model price is Rs. 10.1 Lakh and Swift base CNG is Rs. 8.81 Lakh. Whereas the price of Swift Petrol automatic version starts from Rs. 8.42 Lakh.
Filter By Fuel Type & Transmission
View Swift Variants
Swift On Road Price in Nearby Cities
Search Your City
Maruti Swift Price With Cost of Ownership
Select Variant type
TCO for Maruti Swift for 1 years is
₹ 6,99,736*
View Breakdown
| TCO Calculation | 1 Year |
| --- | --- |
| Ex Showroom Price | 5,99,450* |
| Fuel Cost (approx) | 16,363* |
| Insurance | 35,967* |
| Service Cost | 47,956* |
| Total Cost of Ownership | 6,99,736* |
* Calculation is basis an average taken for fuel prices across India. Petrol Rs 100/Ltr*, Diesel: Rs 90/Ltr*, CNG: Rs 85/Kg*
View Swift Mileage
Maruti Swift Questions and Answers
Latest
Most Relevant
Most Discussed
Maruti Swift Car Owner Reviews
Design

4.6

Performance

4.4

Comfort

4.3

View all parameters
All (1233)
Value for Money (6)
Comfort (47)
Design (43)
General (6)
Maintenance Cost (12)
Show more
With its outstanding fuel efficiency, strong engine, safety features, cozy interior, and reasonable pricing, the automobile provides great value for the money.

Like

The car offers excellent value for money, with its exceptional fuel efficiency, powerful engine, safety features, comfortable interior, and affordable price tag.

Like

The car stands out as a well-rounded hatchback that excels in various aspects including design, performance, fuel efficiency, and overall value for money.

Likes (2)

This car falls within the lower end of the price range for compact cars. Its competitive pricing makes it an attractive option for budget-conscious buyers who are looking for a reliable and efficient vehicle

Likes (1)

Tk

Tarun khurana

2 Month ago

Value for money , worth buying, low maintenance cost and great performance

Likes (1)
Swift User Reviews