Royal Enfield 120th anniversary edition 1st bike has been delivered to an Indian Navy officer at a special event conducted in Goa. Read details below.
Royal Enfield 120th anniversary edition 650 twins have finally started delivering to the owners as the cult motorcycle maker has commenced the delivery process in India.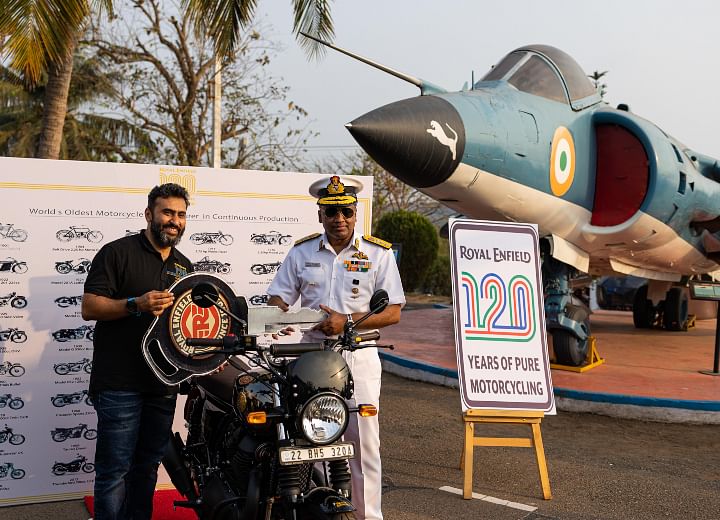 The first special edition motorcycle to be sold is the Interceptor 650 whose proud owner is an Indian Navy officer. The delivery ceremony of this first special edition motorcycle took place at an Indian naval base in Goa. The Indian Navy Admiral Philipose G Pynumootil has become the proud owner of the first special badge holder '001' 650cc motorcycle from the Royal Enfield. The ceremony took place in the presence of senior Indian Naval officers in Goa.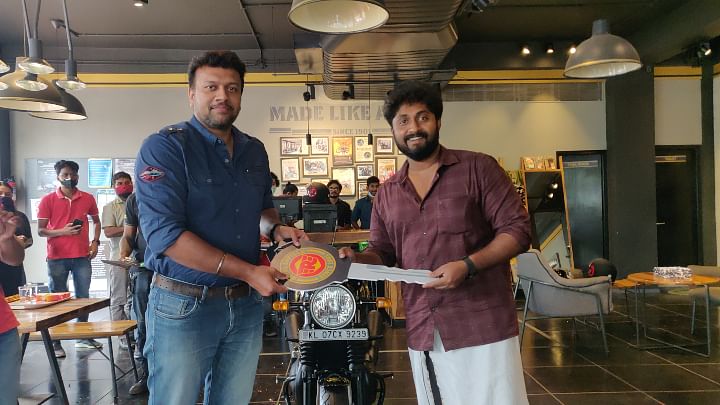 Talking about the 120th-anniversary special edition 650 twins, Royal Enfield has handcrafted an exclusive 120 units of Interceptor 650 & Continental GT 650 to celebrate their 120 years of production and being consistent in motorcycle manufacturing since then. While 60 units of Interceptor have been assigned for India; the rest 60 units belong to the Continental GT badge. A total of 480 units have been made globally thus supplying 120 units each to India, Europe, the Americas, South-East Asia.
Also Read - Next-Gen 2023 Royal Enfield 350 Spied On Test - Here Is What We Know!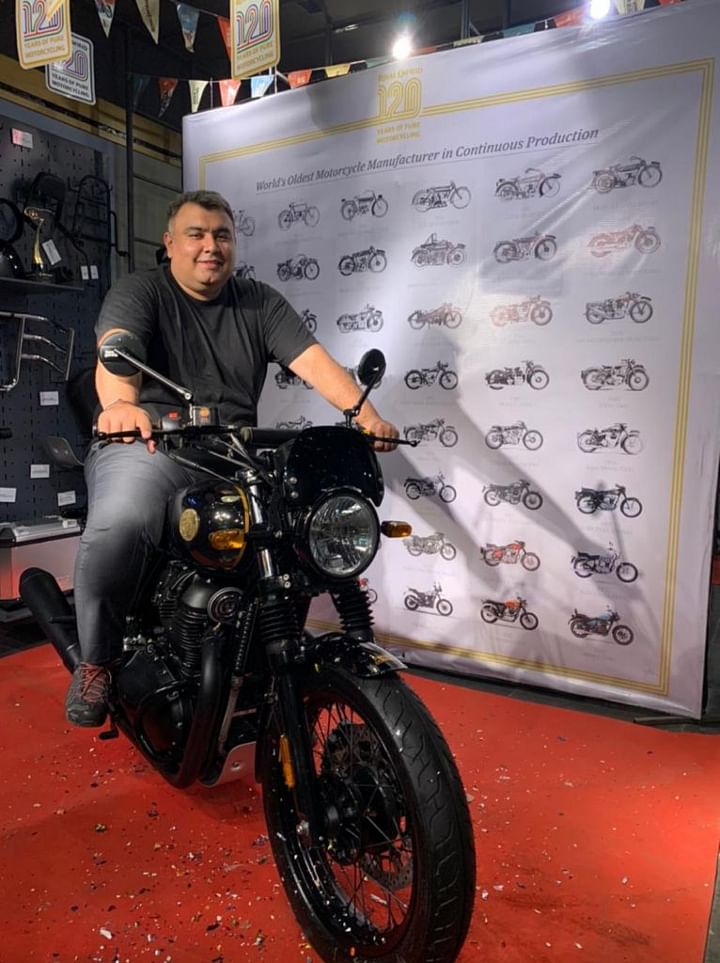 These special edition bikes have been specially handcrafted by passion and behold the unique style and design which differ them from the regular 650 twins globally. A full matte-black treatment meshed with chrome highlights embarks the main design and colour theme of these motorcycles. Special hand-painted graffiti from Royal Enfield artists, blacked-out engine and exhausts, black rims and spokes, and the special hand-made die-cast unique badge for each motorcycle which embeds the particular number of production are the main highlights of these special edition bikes.
Apart from these, Royal Enfield has also fitted OEM accessories to these special edition bikes which include the likes of flyscreen, engine guard, heel guards, touring mirrors, touring seat, etc. to provide a synchronized outlook for the overall design language. Indeed these motorcycles look a hoot to ride and have surely left a lot of Royal Enfield aficionados waiting like all of the 120 units were sold under 120 seconds in an online flash sale that took place in December 2021. No wonder 1,17,000 people had registered for this flash sale. On the mechanical and technical aspects, these special edition bikes remain unchanged from the regular 650 twins.
Also Read - Honda Scrambler 500 cc Patent Leaked : A New Royal Enfield Rival!
Now, with the first delivery of the special edition motorcycle in a grand way; Royal Enfield has made clear that the rest of the special anniversary edition motorcycles will be sold soon as the delivery process has commenced pan India.
So, tell us by commenting down below what you think about these special edition motorcycles from Royal Enfield. Also, make sure to subscribe to the 91Wheels YouTube channel and do become a member of the 91Wheels WhatsApp group for regular automotive updates.