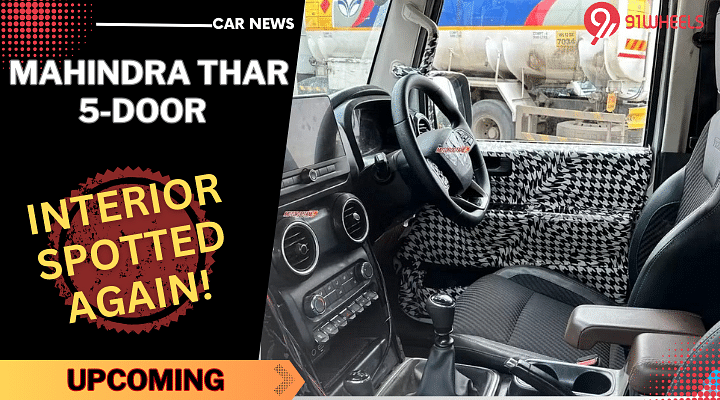 KEY HIGHLIGHTS
Mahindra Thar 5-Door is expected to be launched in 2024
Spotted with a new touchscreen infotainment display
To get some minor changes in the interior as compared to 3-door sibling
Mahindra is conducting extensive testing on the 5-door variant of its off-road vehicle, the Thar. Although the official launch of the Mahindra Thar 5-door is anticipated in 2024, numerous test prototypes have already been observed in the lead-up to the release. In a recent sighting, the interior of the upcoming Thar 5-door has been glimpsed, offering fresh insights into the vehicle. Explore further information about the upcoming Mahindra Thar 5-door below.
Also Read: 2023 Tata Nexon Facelift Launched At Rs 8.10 Lakh - DCA At Rs 12.20 Lakh
Mahindra Thar 5-Door Spotted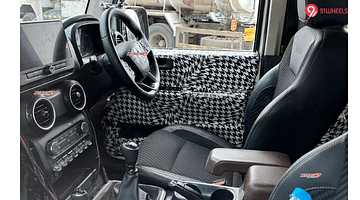 The recently sighted test prototype has provided a clear view of the interior of the Thar 5-door. In the front row of the upcoming SUV, there is a conspicuous new infotainment screen that appears to be around 12.3 inches in size. Previous reports have already indicated that the Thar 5-door will include a larger screen. In addition to the screen, the controls on the center console and the air conditioning vents resemble those found in its 3-door counterpart. However, a notable difference is the presence of two adjustable individual armrests for both the driver and the front passenger on the front row. Another change can be seen in the placement of the window switches, which have now been relocated to the door panels.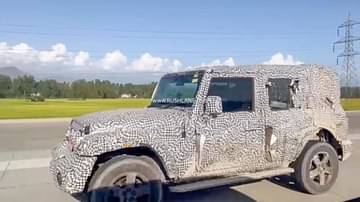 The steering wheel in the Thar 5-door follows the traditional three-spoke design and includes mounted controls. Anticipated features for the Thar 5-door encompass wireless compatibility for Android Auto and Apple CarPlay, wireless charging capabilities, cruise control, automatic climate control, and additional amenities. The manufacturer may consider upgrading the seat upholstery to enhance its premium appearance. Furthermore, there's a possibility of integrating soft-touch materials on the dashboard and door panels for added refinement.
Mahindra Thar 5-Door Engine
When it comes to the engine specifications, the Thar 5-door will offer the same engine options as the 3-door version. These choices include a 2.2-liter diesel engine producing 130 bhp of power and 300 Nm of torque, as well as a 2.0-liter petrol engine with a power output of 150 bhp and a torque range of 300-320 Nm. It is anticipated that both of these engines will be available with either a 6-speed manual or a 6-speed automatic transmission.
Also Read: Mahindra Thar 5-Door Spied Testing In Srinagar- Check Road Presence
Verdict

The Mahindra Thar is among the top-selling off-road vehicles in the Indian market. However, it has faced limited interest from family-oriented buyers due to its lack of practical space. With the arrival of the 5-Door Thar, the brand aims to address this issue and make the Thar accessible to family consumers who previously had concerns about space constraints.
You can join our Whatsapp Group Community of petrolheads to find out more exciting news like this.