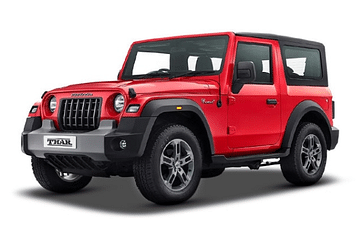 Mahindra Thar
Thar is a SUV car from Mahindra. Least expensive Mahindra Thar variant is AX Opt RWD Hard Top Diesel which is sold in Indian automobile market at an ex-showroom price of Rs. 9.99 Lakh.
'*Ex-showroom Price in
New Delhi
Mahindra Thar Specifications
Mahindra Thar-key Specifications

| | |
| --- | --- |
| Transmission | Manual & Automatic |
| Fuel Type | Petrol & Diesel |
| Mileage | 9 kmpl |
| Engine | 1497 to 2498 cc |
Latest On Mahindra Thar
Last Updated On 22nd Dec'22: Will Mahindra launch the 5-door Thar in Jan? Or will it be a low cost 3-door Thar with 4x2, manual transmission and a smaller 1500cc engine? 
This 4x4 SUV will not get the manually locking rear differential as a standard feature from now on. MLD or mechanically lockable differential will only be offered in the top-spec LX variant. Read more about Mahindra Thar new features.
Mahindra Thar Variants: The Mahindra Thar was originally launched in three main versions of AX, AX Opt and LX. However the AX entry level model has now been dropped. Thankfully, with the diesel engine,  both the AX Opt and LX can be bought with both soft top (convertible) as well as hard top roofs. For those looking at the petrol Thar, the AX opt will not offer a hard top and likewise the petrol LX convertible will only come with an automatic, not a manual. 
Mahindra Thar Engine: The new Thar is sold with both petrol and diesel engine options. Both the fuel types also get manual and automatic transmission choices. While the diesel unit is a 2184cc motor putting out 132 ps of power and 300 Nm of torque, the petrol engine is a smaller 1997cc unit. It makes 152 ps of power and 300 Nm for the MT gearbox and 320 Nm for the AT gearbox. Both the units are good at performance and smoothness. 
Mahindra Thar Rivals: The Mahindra Thar has only one direct rival in the India, the new updated Force Gurkha. Both of these are hard core 3-door 4x4 SUVs. While the Force Gurkha is bigger and looks meaner on the road, it does not come with a petrol option or an automatic gearbox. The upcoming Maruti Jimny 4x4 will be another cheaper alternative to the Thar. 
Read More
Mahindra Thar Price
Price of Mahindra Thar in India ranges between Rs. 9.99 Lakh and Rs. 16.29 Lakh.The Mahindra Thar variants start from 9.99 Lakh - AX Opt RWD Hard Top Diesel and goes upto 16.29 Lakh - LX Diesel AT 4 Seater Hard Top. Mahindra Thar is also available on EMI with interest rates varying from 7.15 to 7.5% through various banks.
Read More
Mahindra Thar Variants With Price
Variant
Specifications
Ex-Showroom Price
Offers
Compare

AX Opt RWD Hard Top Diesel

Latest launch

Diesel, Upto 15.2 kmpl, Manual

₹ 9.99 Lakh

LX RWD Diesel Hard Top

Latest launch

Diesel, Upto 9 kmpl, Manual

₹ 10.99 Lakh

LX RWD Petrol Hard Top AT

Latest launch

Petrol, Upto 9 kmpl, Automatic

₹ 13.49 Lakh

AX Opt Petrol 4 Seater Convertible Top

Petrol, Upto 15.2 kmpl, Manual

₹ 13.59 Lakh

AX Opt Diesel 4 Seater Convertible Top

Diesel, Upto 15.2 kmpl, Manual

₹ 14.16 Lakh

AX Opt Diesel 4 Seater Hard Top

Diesel, Upto 15.2 kmpl, Manual

₹ 14.21 Lakh

LX Petrol 4 Seater Hard Top

Petrol, Upto 15.2 kmpl, Manual

₹ 14.28 Lakh

LX Diesel 4 Seater Convertible Top

Diesel, Upto 15.2 kmpl, Manual

₹ 14.77 Lakh

LX Diesel 4 Seater Hard Top

Diesel, Upto 15.2 kmpl, Manual

₹ 14.87 Lakh

LX Petrol AT 4 Seater Convertible Top

Petrol, Upto 15.2 kmpl, Automatic

₹ 15.74 Lakh

LX Petrol AT 4 Seater Hard Top

Petrol, Upto 15.2 kmpl, Automatic

₹ 15.82 Lakh

LX Diesel AT 4 Seater Convertible Top

Diesel, Upto 15.2 kmpl, Automatic

₹ 16.20 Lakh

LX Diesel AT 4 Seater Hard Top

Diesel, Upto 15.2 kmpl, Automatic

₹ 16.29 Lakh
Mahindra Thar Overview
The Mahindra Thar is one of the most acclaimed and popular models from the house of
Mahindra
. Prices for this SUV start from Rs. 9.99 Lakh to Rs. 16.29 Lakh and buyers can pick from as many as 13 different versions.. The transmission options on the Mahindra Thar include both Manual and Automatic gearbox. The Thar offers a max power of 130-150 bhp. Some of the main rivals include
Hyundai Venue N Line
,
Nissan Kicks
and
Hyundai Creta
. The Mahindra Thar is one of the most popular cars in the SUV segment in India.
Mahindra Thar have 13 variants ranging from Rs. 9.99 Lakh to Rs. 16.29 Lakh. Under the hood, Thar is powered by a 4 cylinder, 2184 cc, mHawk 130 Engine. It is able to produce 300nm @ 1600-2800 rpm torque and 130 bhp @ 3750 rpm power with a fuel efficiency/mileage of 15.2 kmpl. Head to our Thar Specifications page for a complete specs list.
Monthly Sales
91wheels experts bring you the latest update on market insight and sales performance for your favourite car models.
Model Name
Units Sold in Month 2023
October 2022
November 2022
December 2022
Mahindra Thar
3666
3987
3374
Source: Monthly SIAM Data 2023
Thar Dimensions & Measurements
Thar has 3985mm Length, 1820 mm Width, 1844mm Height, 2450mm WheelBase.
Thar NCAP Rating
Thar has been accredited with NCAP Rating of 4 (Adult Safety Rating) & 4 (Child Safety Rating).
Keep reading to explore more about Thar's updated specs, latest prices, mileage, genuine user reviews, colours, exclusive images & videos, best offers near you, Mahindra car dealers.
Read More
New Cars in India
Mahindra cars

Popular cars

Upcoming cars
Mahindra Thar Competitors
₹ 12.30 Lakh - ₹ 13.44 Lakh*

₹ 9.50 Lakh - ₹ 14.90 Lakh*

₹ 10.44 Lakh - ₹ 18.24 Lakh*

₹ 12.64 Lakh - ₹ 16.14 Lakh*

₹ 10.52 Lakh - ₹ 18.43 Lakh*

₹ 10.48 Lakh - ₹ 18.99 Lakh*

₹ 10.69 Lakh - ₹ 19.15 Lakh*

Maruti Suzuki Grand Vitara

₹ 10.45 Lakh - ₹ 19.65 Lakh*

₹ 8.41 Lakh - ₹ 14.07 Lakh*
Mahindra Thar Expert Verdict
Features we admire in this car
Butter-smooth 6-speed Automatics.
Upgraded Engine
Well Built Quality
Features that could have been better
Less Mileage
Less Utilizable
Poor Interiors
Mahindra Thar Detailed Review
Thar Performance

The engine options on the Gen-2 Mahindra Thar include a 2.2-litre mHawk turbocharged diesel and 2.0-litre mStallion turbocharged petrol unit. The former outputs 130 PS-300 NM and the latter offers 150 PS-320 Nm. Transmission duties are handled by a 6-speed manual transmission while 6-speed automatic unit is optional. 4X4 hardware is standard across the range and so is a Mechanical Locking Differential (MLD) at rear.

The refined diesel engine is vibe-free at low speeds, but the performance is quite lethargic below 1,500 rpm. Once the turbo spools up, there's a strong surge of grunt that can enable the off roader to climb up even the steepest of inclines. In-gear roll-on acceleration has also improved by a significant margin. The clutch action isn't too long or heavy and the 6-speed manual transmission offers smooth shifts. The automatic unit isn't the smoothest-shifting unit around but recommends this over the manual for those who plan to use the SUV in an urban environment.

The petrol engine is extremely refined and has a lot of grunt on offer. The power delivery is quite linear above, say, 1,200 rpm, and the automatic version can sprint from 0-100 kmph in 10 seconds. Even the in-gear acceleration is strong and 20-80 kph is dismissed in about 6 seconds. Unlike the diesel, the automatic gearbox here is smooth but downshifts could have been quicker. The biggest downside, however, is the low fuel efficiency of 6-7 kmpl in city conditions. Of course, 4H and 4L come to the rescue if the going gets tough. The low-ratio transfer case on the Thar is the best we've ever seen on any reasonably-priced off-roader.

Summary

The latest-gen Mahindra Thar is a huge improvement over the predecessor in aspects like engine and transmission. The petrol model, however, is thirsty while the auto box could have been smoother. However, the newer engines with the optional AT gearboxes have increased the appeal of the Thar.

Thar Exterior

Compared to the earlier version, the new Mahindra Thar comes as a breath of fresh air. That said, the SUV has successfully managed to preserve much of its retro charm while managing to look far more modern than ever. The Jeep Wrangler inspiration seems to be plentiful here but then, it's only natural for the carmaker to carry forward the pedigree of the legendary Willy's Jeep. Also, careful observation reveals there's not even a single panel on the Thar that is identical to the Wrangler, which means any similarity between the aesthetics of the two off-roaders is purely due to same design DNA and not from any infringement.

 

 

The front-end has a more premium as the rudimentary design of the previous model has made way for a more polished and upmarket theme. That said, the radiator grille looks a bit odd as we would have preferred vertical slates to gel better with the front façade. Completing the front look are the LED DRLs and indicators on the fenders.

When viewed in profile, you'll be quick to establish a strong connection between the silhouettes of the current- and last-gen Thar. Also, as we mentioned, the Thar is now available with multiple roof options as the buyer gets to choose between a hard top, a soft top, and a convertible top. One of the biggest highlights of the side profile is the huge 18-inch alloy wheels that fill the wheel wells nicely.

Another design element here is that the wheel arches are roundish at the rear but squared-off up front. The rear, like the front, retains the Jeep DNA but looks more modern than the posterior of any of the predecessors. Our favourite bit here is the LED tail lights that lend a touch of sophistication to the rear façade.

Summary

The Mahindra Thar now looks quite modern whilst retaining much of the old-school charm of its predecessors. The Jeep Wrangler-inspired design is one of the selling points of the Thar. The grille is a bit odd looking though

Thar Interior

While the Mahindra Thar sits 226 mm above ground, the side steps allow effortless ingress and egress. The interior design and quality are a huge step up from the previous generation. The new dashboard is far more appealing, and the highlight here is the IP54 dust and water resistant 7-inch touchscreen infotainment system. Other than the capability of withstanding some abuse, this unit supports Android Auto, Apple CarPlay, and satellite navigation.

The steering wheel comes from the TUV300 and offers audio and telephone controls other than offering the cruise control button. The instrument console has an attractive design and legitimate fonts. The front passenger benefits from a dashboard-mounted grab handle but the glove compartment is tiny and won't hold much more than the car's instruction manual and some papers. Thankfully, though, it's a lockable unit. Unlike the bare-bones cabin of the previous Thar, the new model offers various comfort- and convenience-enhancing features such as aircon, power windows, central locking, and electric folding ORVMs.

The bucket seats in the front are extremely supportive and keep you in place on an off-road course. The steering wheel can be adjusted for tilt but not for reach. The front-facing second-row seats can accommodate two adults, but they are difficult to reach. Furthermore, with the second row in place, the boot space can only fit a couple of small size trolleys.

Summary

The Mahindra Thar's interior is now more car-like than ever and impresses with the various upgrades it offers over the previous model. Creature comforts are plenty and make this iteration of the Thar belong to the 21st century.

Thar Ride and Handling

Like all other aspects, the latest Mahindra Thar is a huge step up over its predecessor in terms of ride and handling characteristics. The SUV features coil springs with dampers on all four ends but the axle designs differ between the front and the rear. Up front, the SUV features an independent suspension with a double-wishbone setup, while the rear features a solid axle. The new Thar offers a very car-like ride quality but as it is a tall body-on-frame model, the body roll is pretty well evident.

The suspension has been tuned to the softer side and the SUV can absorb all the undulations with aplomb. The ride quality is lush at low speeds and the 
255 section Ceat CZAR all-terrain tyres that offer adequate grip in all conditions. The steering wheel feels a tad heavy in the city and making 3-point turns is a bit too difficult but, on the highways, the same heft turns out to be a positive attribute.

Summary

Driving the Mahindra Thar in the city is not particularly relaxing but where it shines is on the highway. The hydraulic power steering is a bit cumbersome to use in the city but makes it up during highway runs.

Thar Safety

The second generation Mahindra Thar has scored a 4-star rating at the Global NCAP with an adult protection score of 12.52/17 and a child protection score of 41.11/49. The only negative that came out of the NCAP report was that the safety for driver's knees is marginal due to "dangerous structures behind the dashboard.

Safety kit on offer includes dual front airbags, ABS with EBD, brake assist, Hill Hold Control, Electronic Stability Program, Hill Descent Control, ISOFIX child seat anchorage and rear parking sensors. Strangely, there's no rear parking camera even on the top-spec model.

Summary

With a 4-star rating from Global NCAP, the Mahindra Thar becomes the safest thoroughbred off-roader in the mainstream car market.
Mahindra Thar Videos
Mahindra Thar RWD 4x2 Diesel Manual Review With Off-Roading || Rs 9.99 lakh starting price

Mahindra Thar in fresh snowfall || 2020 Thar diesel automatic snow drive in Himachal full video

Mahindra Thar Diesel Fuel Economy Run || 2020 Mahindra Thar Mileage Test

Mahindra Thar : how the convertible top works

Mahindra Thar 2020 Comprehensive Review
Mahindra Dealers
Kolkata

10 dealers in Kolkata

Pune

13 dealers in Pune

Lucknow

8 dealers in Lucknow

Navi Mumbai

2 dealers in Navi Mumbai
Thar Cost of Ownership
Select Variant type
TCO for Mahindra Thar for 1 year is
₹ 11,60,175*
View Breakdown
| TCO Calculation | 1 Year |
| --- | --- |
| Ex Showroom Price | ₹ 9,99,000* |
| Fuel Cost (approx) | ₹ 21,315* |
| Insurance | ₹ 59,940* |
| Service Cost | ₹ 79,920* |
| Total Cost of Ownership | ₹ 11,60,175* |
* Calculation is basis an average taken for fuel prices across India. Petrol Rs 100/Ltr*, Diesel: Rs 90/Ltr*, CNG: Rs 85/Kg*
Mahindra Thar Car Owner Reviews
4.3
1103 ratings and reviews
Design

4.4

Performance

4.4

Features

4.3
Drive and thar and safety first.

Very good car for field jobs outings daily use road aaperence

Very good for off-road seating arrangement is not for family

Very good nice car, nice model, comfort for city traffic

Very nice car.. Very comfortable smmooth driving experience. Whole family love this
Have More Questions about Mahindra Thar?
Get answers from our 91wheels experts
Mahindra Thar Questions and Answers
Latest News on Mahindra Thar
Mahindra Thar FAQs
What is the ARAI mileage for Mahindra Thar?

Mahindra Thar claims a mileage of 9 kmpl.

What are the transmission types available in Mahindra Thar?

The Mahindra Thar comes in Petrol & Diesel with Manual & Automatic transmission.

What is the price of the base model of Mahindra Thar?

The base variant price for Mahindra Thar AX Opt RWD Hard Top Diesel is priced at Rs.9.99 Lakh.

What are the colour options of Mahindra Thar?

Mahindra Thar is available in 6 colours - Galaxy Grey, Aquamarine, Mystic Copper, Napoli Black, Rocky Beige, Red Rage.

Does Mahindra Thar come with a sunroof option?

No, Mahindra Thar does not come with a sunroof configuration.

What is the seating capacity of Mahindra Thar?

Mahindra Thar comes with a 4 seater capacity.
Thar On Road Price in India