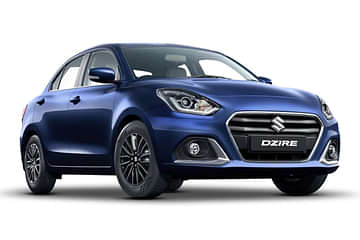 Maruti Dzire
Dzire is a Sedan car from Maruti Suzuki. Least expensive Maruti Dzire variant is 1.2 Petrol LXI MT which is sold in Indian automobile market at an ex-showroom price of Rs. 6.24 Lakh.
'*Ex-showroom Price in
New Delhi
Maruti Dzire Specifications
Maruti Dzire-key Specifications

| | |
| --- | --- |
| Transmission | Manual & Automatic |
| Fuel Type | Petrol & CNG |
| Mileage | 31.12 km/kg (cng) |
| Engine | 1197 cc |
Latest On Maruti Dzire
Last updated On 30th Dec'22:  Maruti is working on launching a strong hybrid version of the Dzire compact sedan in 2023. This is the same technology that we see in the Grand Vitara and will offer EV mode as well. Expect real world mileage of close to 30 kmpl. 
Read More
Maruti Dzire Price
Price of Maruti Dzire in India ranges between Rs. 6.24 Lakh and Rs. 9.18 Lakh.The Maruti Dzire variants start from 6.24 Lakh - 1.2 Petrol LXI MT and goes upto 9.18 Lakh - 1.2 Petrol ZXI+ AMT. Maruti Dzire is also available on EMI with interest rates varying from 7.15 to 7.5% through various banks.
Maruti Dzire Variants With Price
| Variant | Specifications | Ex-Showroom Price | Offers | Compare |
| --- | --- | --- | --- | --- |
| 1.2 Petrol LXI MT | Petrol, Upto 23.26 kmpl, Manual | ₹ 6.24 Lakh | | |
| 1.2 Petrol VXI MT | Petrol, Upto 23.26 kmpl, Manual | ₹ 7.28 Lakh | | |
| 1.2 Petrol VXI AMT | Petrol, Upto 24.12 kmpl, Automatic | ₹ 7.78 Lakh | | |
| 1.2 Petrol ZXI MT | Petrol, Upto 23.26 kmpl, Manual | ₹ 7.96 Lakh | | |
| VXI CNG | CNG, Upto 31.12 Km/kg, Manual | ₹ 8.23 Lakh | | |
| 1.2 Petrol ZXI AMT | Petrol, Upto 23.26 kmpl, Automatic | ₹ 8.46 Lakh | | |
| 1.2 Petrol ZXI+ MT | Petrol, Upto 23.26 kmpl, Manual | ₹ 8.68 Lakh | | |
| ZXI CNG | CNG, Upto 31.12 Km/kg, Manual | ₹ 8.91 Lakh | | |
| 1.2 Petrol ZXI+ AMT | Petrol, Upto 24.12 kmpl, Automatic | ₹ 9.18 Lakh | | |
Maruti Dzire Overview
The Maruti Dzire is one of the most acclaimed and popular models from the house of
Maruti Suzuki
. Prices for this Sedan start from Rs. 6.24 Lakh to Rs. 9.18 Lakh and buyers can pick from as many as 9 different versions.. The transmission options on the Maruti Dzire include both Manual and Automatic gearbox. The Dzire offers a max power of 90 PS. Some of the main rivals include
Hyundai Aura
,
Honda Amaze
and
Tata Tigor
. The Maruti Dzire is one of the most popular cars in the Sedan segment in India.
Maruti Dzire have 9 variants ranging from Rs. 6.24 Lakh to Rs. 9.18 Lakh. Under the hood, Dzire is powered by a 4 cylinder, 1197 cc, 1.2 Litre Petrol Engine. It is able to produce 113 Nm @ 4400 rpm torque and 76.43 bhp @ 6000 rpm power with a fuel efficiency/mileage of 23.26 kmpl. Maruti Dzire can store up to 37 Litres fuel in one go at max. Head to our Dzire Specifications page for a complete specs list.
Monthly Sales
91wheels experts bring you the latest update on market insight and sales performance for your favourite car models.
Model Name
Units Sold in Month 2023
October 2022
November 2022
December 2022
Maruti Dzire
12321
14456
11997
Source: Monthly SIAM Data 2023
Dzire Dimensions & Measurements
Dzire has 3995 mm Length, 1735 mm Width, 1515 mm Height, 2450 mm WheelBase, 170 mm Ground Clearance, 37 Litres Fuel tank Capacity, 378 Litres Boot Space, 165/80 R14 Front Tyre Size, 165/80 R14 Rear Tyre Size.
Keep reading to explore more about Dzire's updated specs, latest prices, mileage, genuine user reviews, colours, exclusive images & videos, best offers near you, Maruti Suzuki car dealers.
Read More
New Cars in India
Maruti Suzuki cars

Popular cars

Upcoming cars
Maruti Dzire Competitors
₹ 6.30 Lakh - ₹ 8.87 Lakh*

₹ 6.63 Lakh - ₹ 9.36 Lakh*

₹ 6.10 Lakh - ₹ 8.54 Lakh*

₹ 7.45 Lakh - ₹ 8.84 Lakh*

₹ 5.92 Lakh - ₹ 8.85 Lakh*

₹ 6.49 Lakh - ₹ 9.71 Lakh*

₹ 6.35 Lakh - ₹ 10.25 Lakh*

₹ 6.59 Lakh - ₹ 9.99 Lakh*

₹ 5.68 Lakh - ₹ 8.46 Lakh*

₹ 6.35 Lakh - ₹ 7.90 Lakh*
Maruti Dzire Gallery
View From Co-driver's Door

View From Co-driver's Door

View From Co-driver's Door
Maruti Dzire Expert Verdict
Features we admire in this car
Updated engine is more efficient & smoother
Factory fitted CNG even in top model
Easy to drive, light controls
Features that could have been better
Design isn't pleasing for everyone
No diesel engine on offer
AGS gearbox isn't quick to respond
Maruti Dzire Detailed Review
Dzire Performance

The Maruti Suzuki cars were always known for their peppy performance. The Dzire compact sedan is no different from this. Although, the Maruti Suzuki Swift Dzire is now no more available with a diesel engine. Post the BS6 emission norms, Maruti has stopped making diesel units. Over the years, the company has updated the petrol motor and in its latest avatar uses the dual jet technology. This K12N engine makes more power (90 bhp) and thanks to two injectors beign used for each cylinder, fuel economy has also gone up to as much as 23.26 kmpl for the manual model. As before, both manual and AMT gearbox options are on offer and Maruti has improved the automatic (they call it the AGS) over the past few years. For most usage patterns, the engine has adequate performance. For 2022, Maruti has added the option for a factory-fitted CNG kit as well. The overall performance of the Dzire remains adequate and the driver shall never feel the lack of power over varying terrains. 

Summary

As a result, the car's overall performance is satisfactory.

Dzire Exterior

The Maruti Suzuki Dzire was built from the bottom up to be a sedan, and the results are absolutely remarkable! The car does not appear to be a hatchback with a boot slapped on, and the boot blends in nicely with the rest of the design. The overall design of the new Dzire is very elegant as well as family car buyer oriented. Although, as the time is passing by, the new Dzire has started to grow common as well as old in design language. 

Most of the modifications have been made to the front of the car, and most purchasers will be pleased with the big chrome surrounding grille and fog lamps. The newly designed headlights, which include LED DRLs and projector headlamps, contribute to the design's luxury appeal. This is a first for the Dzire brand. When looking at the automobile from the side, the diamond-cut alloy wheels are the most noticeable feature. The silhouette has changed as well, although it will require a sharp eye to notice because the shift is gradual rather than drastic. The back, too, has been completely redesigned, with LED tail lights surrounding a wide chrome stripe

Source: Maruti Suzuki Dzire

Summary

The new Dzire has a pleasant and stylish appearance that sets it apart from the competitors. Clearly, the new Dzire is the best-looking car in its class at the moment, and one of the few that appears like a sedan rather than a compromise.

Dzire Interior

Step inside the new Dzire's interior, and it's clear that this isn't the cabin of another Maruti Suzuki car with a few new features, but rather an entirely new design. The blacktop of the dual-tone dashboard contrasts with the beige lower portion. The wood finish on the dashboard and the lower portion of the flat-bottomed steering wheel greatly enhances the cabin's luxury appearance. After the Volkswagen Ameo, the Dzire is the second small car with a flat-bottomed steering wheel. The touchscreen infotainment system in the center console is identical to that found in the Baleno and Vitara Brezza, although it is housed differently. It also has Apple CarPlay and Android Auto, making it unique in terms of functionality. It features the standard SD Card navigation system, as well as Bluetooth, USB, and Aux-In connections. The system is simple to use, and the user interface ensures that even those with little experience with smartphones will be able to use it. Two 12V power outlets are also available, one on the lower center console and the other between the front seats. The front and back door pockets can comfortably hold one-litre bottles while still leaving enough for a variety of other items.

The overall interior quality is decent and at par with the segment rivals. Additionally, Maruti Suzuki has been known for good fit & finish quality which remains bluntly visible throughout the cabin ambiance of the new Dzire.

Summary

The cabin of the new Dzire maintains the vehicle's premium standing. From every angle, it's the best interior in the small car class in India.

Dzire Ride & Handling

The new Dzire strikes a decent mix between ride comfort and agility at high speeds. As the Dzire is a compact sedan, the main aim of the suspension setup is to please the passengers with utmost comfort. That's why the suspension has been adjusted to be on the softer side, resulting in a pleasant ride at city speeds. Up to 120 kmph, the car seems steady, but beyond that, a touch of uneasiness begins to seep in. The brakes have a strong bite, and the pedal feels very nice. High-speed cornering can result in a considerable amount of body roll due to the soft suspension setup, but this cannot be considered a disadvantage.

Summary

The Dzire is positioned as a practical and value-for-money car rather than a performance vehicle.

Dzire Safety

The Maruti Suzuki Dzire comes with multiple safety features that help the Dzire to achieve a good overall built quality. Across all of the variants, ABS with EBD and twin front airbags are standard. The new Dzire hasn't been crash-tested yet, so no ratings are available, but the manufacturer claims that the bodyshell's torsional stiffness has been enhanced significantly despite the weight reduction. One can easily feel the stability and sense of safety in Dzire at high speeds. The car feels planted and the door thud provides a sense of safety among the Dzire owners. 

Summary

The Dzire comes with a long-range of safety features from Maruti Suzuki.
Maruti Suzuki Dealers
Kolkata

25 dealers in Kolkata

Pune

33 dealers in Pune

Lucknow

18 dealers in Lucknow

Navi Mumbai

6 dealers in Navi Mumbai
Dzire Cost of Ownership
Select Variant type
TCO for Maruti Dzire for 1 year is
₹ 7,26,837*
View Breakdown
| TCO Calculation | 1 Year |
| --- | --- |
| Ex Showroom Price | ₹ 6,24,000* |
| Fuel Cost (approx) | ₹ 15,477* |
| Insurance | ₹ 37,440* |
| Service Cost | ₹ 49,920* |
| Total Cost of Ownership | ₹ 7,26,837* |
* Calculation is basis an average taken for fuel prices across India. Petrol Rs 100/Ltr*, Diesel: Rs 90/Ltr*, CNG: Rs 85/Kg*
Maruti Dzire Car Owner Reviews
4.2
167 ratings and reviews
Design

4.4

Performance

4.3

Mileage

4.3
It's build quality is so poor, infotainment is worst too slow speakers aren't so nice. Suspension and break are hilarious never trust on brakes ABS is just a word. Maruti need to Learn from hyundai. Infotainment system is of no use. Navigation can't be connected wirelessly on top model.

Maruti Desir car note good quality vehicle as a according to price . my personal experience Maruti is very very low quality mention.

Not bad its an average car. Car outer body not good .

Very good affordable car , good mileage . Very low maintenance cost !!

Worth fully satisfied maintenance free car
Have More Questions about Maruti Dzire?
Get answers from our 91wheels experts
Maruti Dzire Questions and Answers
Latest News on Maruti Dzire
Publish date : 3 December 2022
Maruti Dzire FAQs
What is the ARAI mileage for Maruti Dzire?

Maruti Dzire claims a mileage of 31.12 Km/kg.

What are the transmission types available in Maruti Dzire?

The Maruti Dzire comes in Petrol & CNG with Manual & Automatic transmission.

What is the price of the base model of Maruti Dzire?

The base variant price for Maruti Dzire 1.2 Petrol LXI MT is priced at Rs.6.24 Lakh.

What are the colour options of Maruti Dzire?

Maruti Dzire is available in 6 colours - Arctic White, Oxford Blue, Phoenix Red, Premium Silver, Sherwood Brown, Magma Grey.

Does Maruti Dzire come with a sunroof option?

No, Maruti Dzire does not come with a sunroof configuration.

What is the seating capacity of Maruti Dzire?

Maruti Dzire comes with a 5 seater capacity.
Dzire On Road Price in India