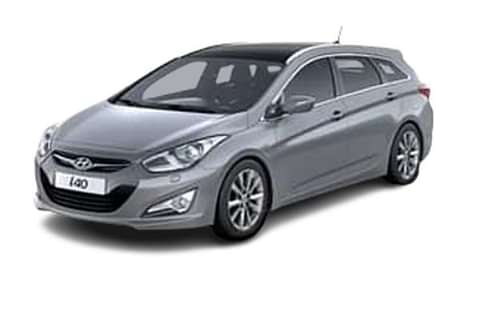 Hyundai i40
Hyundai i40 is a Sedan car, that will launch in India at an expected price of ₹ 16.00 Lakh. i40 is expected to launch in January 2024. It will launch in Petrol versions only. Hyundai i40 will compete with Volkswagen Virtus, Skoda Slavia, Hyundai Verna.
₹ 16.00 Lakh*
*Ex-Showroom Price
(Estimated starting price)
Expected Launch Date - January 2024
Hyundai i40 Latest Update
The Hyundai i40 is a big family car produced by Hyundai in South Korea, particularly for the European market. The i40 sedan debuted at the Barcelona Motor Show, sharing its underpinnings with the Hyundai Sonata sold in the United States. Now, the South Korean brand may introduce the i40 sedan, which would be its first foray into the Indian market.
What do we know so far?
The Hyundai i40 will be a feature-rich vehicle that offers excellent fuel economy, comfort, and value for money. The i40 will be available in two versions: a diesel-powered by the U II 1.7 diesel engine and petrol-powered by the Gamma 1.6 GDI or Nu 2.0 GDI petrol engines. The automobile will be available in India in two models: the i40 Tourer and the i40 Sedan.
Design
Hyundai is expected to integrate its new 'Sensuous Sportiness' design language, which has previously been seen on cars such as the other Hyundai sedans sold internationally. The new i40 will have a broad grille that blends in with the headlights, and it may possibly have split headlamps. 
Summary
The Hyundai i40's arrival in India is still a mystery, but if the company does, it will be one of the most feature-packed mass-market sedans available. Hyundai's automobiles are known for being packed with goodies, and the i40 is no exception. The Hyundai i40 will be a high-end D-segment sedan with excellent features.
Pricing
The Hyundai i40 is likely to cost around Rs 15-16 lakhs in India. The Hyundai i40 diesel variant could cost well over 17 lakhs.
Read more
Hyundai i40 Price
The Hyundai i40 price is expected to start at ₹ 16.00 Lakh.
Hyundai i40 Expert Verdict
Features we admire in this car

Expected to get lots of standard features
Decent interior and boot space

Features that could have been better

Fuel efficiency
Pricing will most likely be expensive
User Reviews
No Reviews Found
Hyundai i40 Questions and Answers
Latest
Most Relevant
Most Discussed
Hyundai i40 is an upcoming sedan car which is expected to launch in February 2023. For more details, please click on Hyundai i40

91Wheels Expert

• 10 Months ago
i40 Questions and Answers
Hyundai i40 FAQs
What is going to be the price of upcoming Hyundai i40?
The tentative price of the upcoming Hyundai i40 is going to be around Rs. 16.00 Lakh.
When is the Hyundai i40 cars going to be launched in India?
Hyundai i40 car is expected to be launched around January, 2024.
Which are the key features expected in the upcoming Hyundai i40?
Hyundai i40 is expected to be coming with Transmission Manual, Automatic, Body type Sedan.
Does the upcoming Hyundai i40 come with both Automatic and Manual transmission?
Hyundai i40 is expected to be coming with Transmission Manual, Automatic.