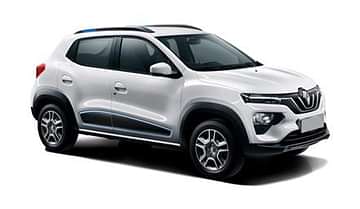 Renault KWID EV
KWID EV is a Hatchback car from Renault. Renault KWID EV is expected to be launched at a price of Rs. ₹ 7.00 Lakh - ₹ 9.00 Lakh in Indian automobile market.
(Estimated Starting Price)
₹ 7.00 Lakh - ₹ 9.00 Lakh*
Expected Launch Date : December 2023
Renault KWID EV Specifications
Renault KWID EV-key Specifications

| | |
| --- | --- |
| Fuel Type | Electric |
Renault KWID EV Latest Update
Last Updated on 21st Feb 23 : As per latest rumors, Renault is planning to launch the electric avatar of Kwid in India by 2024.
Kwid EV Exteriors
The Electric version of Kwid will not be very different in terms of style from the current generation car. Expect a few cosmetic changes to the bodyshell for making it distinct as an EV but that's it. Kwid EV will continue to use the same chassis and design as the running current-generation model. What is possible is the addition of new design elements such as the new bumper and slightly redesigned front fascia. Similarly, the rear of the new car will feature slight upgrades for distinct EV looks. We can also expect different styled wheel caps and a 'closed' design for the grille. 
Kwid EV Interiors
In terms of interiors, Kwid EV will remain mostly the same. Space management and creature comforts shall not be compromised. Kwid Electric will carry along the design cues from the current-generation car. A slight update in terms of cosmetics is expected which is still not clear what Renault will change.
Renault may tweak the colour them to match that of the electric powertain. 
Kwid EV Features
Kwid EV features list shall include the use of a new all-digital speedometer. The instrument cluster shall be provided with hosts of features that will assist the driver in various circumstances. A touch-screen infotainment system shall be the segment-first feature that is highly expected to come as standard fitment on the upcoming Kwid EV.
Kwid EV Engine
No details have been revealed about the type of batteries to be used and how Renault is going to design the powertrain till now. What we can expect is that this all-electric powertrain shall help the Kwid EV to achieve an actual driving range of somewhere upwards of 200 km on a single charge. The current car is available with 800cc and 1000cc petrol engine options.
Kwid Electric might use the 26.8 kWh battery from the Dacia Spring EV. This electric motor could generate 45 PS of power and 125 Nm of torque. 
Kwid EV Price & Launch
Kwid EV is expected to come into the market by the mid of the year 2023 or the first quarter of 2024. A long way far from launch, Kwid EV when launched shall be priced on a little higher side than expected. Equating this, a price bracket from Rs 7-9 Lakhs is expected for the upcoming electric Kwid.
Read More
New Cars in India
Renault cars

Popular cars

Upcoming cars
Renault KWID EV Competitors
₹ 9.13 Lakh - ₹ 9.46 Lakh*

₹ 8.69 Lakh - ₹ 11.99 Lakh*

₹ 11.50 Lakh - ₹ 12.43 Lakh*

₹ 12.49 Lakh - ₹ 13.75 Lakh*

₹ 13.04 Lakh - ₹ 13.54 Lakh*

₹ 14.49 Lakh - ₹ 17.50 Lakh*

Mahindra XUV 400 Electric

₹ 15.99 Lakh - ₹ 18.99 Lakh*

₹ 16.49 Lakh - ₹ 18.99 Lakh*
Renault KWID EV Expert Verdict
Features we admire in this car
All-electric means no pollution and less running costs.
Kwid itself is a brand and well established in the market.
Some segment-first features such as the touch-screen infotainment to come as standard.
Features that could have been better
Competition offers more value for money.
Less on interior space. Rear seat is a short and tight place to be in.
Pricey if launched at the expected price range.
Renault Dealers
Kolkata

4 dealers in Kolkata

Pune

5 dealers in Pune

Lucknow

5 dealers in Lucknow

Navi Mumbai

1 dealers in Navi Mumbai
Latest News on Renault KWID EV
Publish date : 27 March 2022
Renault KWID EV Questions and Answers
Updated on 2 Months ago

Renault KWID EV is an upcoming electric car which is expected to launch in December 2023 with an expected price of Rs 7.00 Lakh - Rs 9.00 Lakh. Brand has not disclosed any information on safety features of Renault KWID EV. It is requested to wait till the next update from brand's end. For more details, please click on Renault KWID EV

...Read More
Renault KWID EV FAQs
What is going to be the price of upcoming Renault KWID EV?

The tentative price of the upcoming Renault KWID EV is going to be around Rs 7.00 Lakh.

When is the Renault KWID EV cars going to be launched in India?

Renault KWID EV car is expected to be launched around December, 2023.

Which are the key features expected in the upcoming Renault KWID EV?

Renault KWID EV is expected to be coming with Transmission Automatic, Body type Hatchback.

Does the upcoming Renault KWID EV come with both Automatic and Manual transmission?

Renault KWID EV is expected to be coming with Automatic.