In recent years, prices of both petrol and diesel have not only seen a steep hike but also a narrowing gap. The result is such that the difference between the two is just Rs 9.68 in Mumbai (Petrol - Rs 77.57, Diesel - Rs 67.89) as of today. And with the recent BS6 emission norms, some carmakers have discontinued the diesel engine totally. One such manufacturer is Maruti Suzuki which now only sells petrol vehicles and has discontinued diesel for good. And in order to give an idea that which fuel will be right for you, Maruti's fuel calculator helps in clearing out your confusion between petrol vs diesel!
Also Read: Upcoming Maruti S-Cross Petrol vs Maruti Brezza ? You Should Pick What?
Maruti's fuel calculator on petrol vs diesel helps you achieve a clear idea of how much you might be spending extra on the diesel car you are planning to buy! Or it is sensible that you choose a petrol one? To find that, we will take two examples here - first of Maruti Brezza Petrol and Diesel followed by the Maruti Swift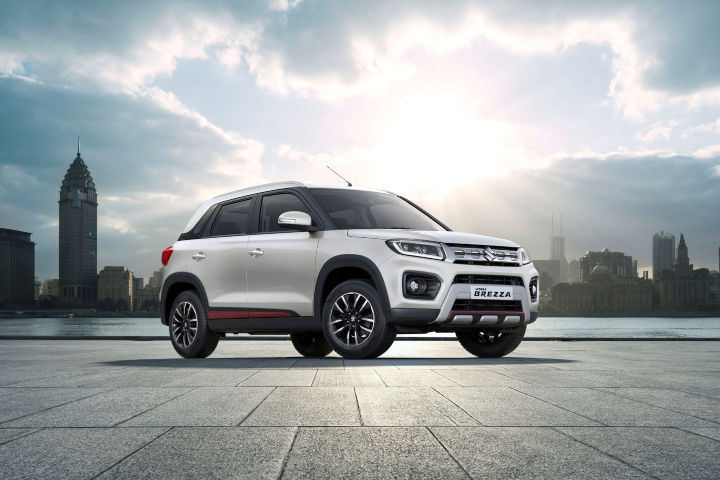 Case Study 1 (Maruti Suzuki Brezza Petrol vs Diesel)
We take the case of the popular compact SUV from Maruti's garage which is the Brezza. Earlier this one came only with a 1.3L DDiS diesel unit which has now been discontinued. Please note, even with a sole diesel engine, the Brezza was in top sales.
Maruti Brezza now only comes in a sole 1.5L petrol engine in both manual and automatic transmission. Let's compare the fuel costs of both petrol and diesel!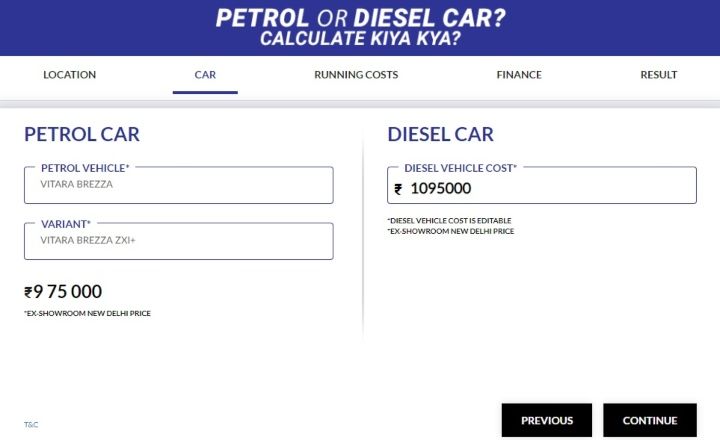 We have chosen a ZXI+ trim in the manual transmission which comes with all the bells and whistles. The petrol model costs Rs 9.75 lakh whereas the diesel unit used to set you back by Rs about 10.95 lakh, ex-showroom, Delhi. The ARAI certified mileage of Petrol Manual Brezza is 17.03 km/l while the diesel used to give 24.3 km/l.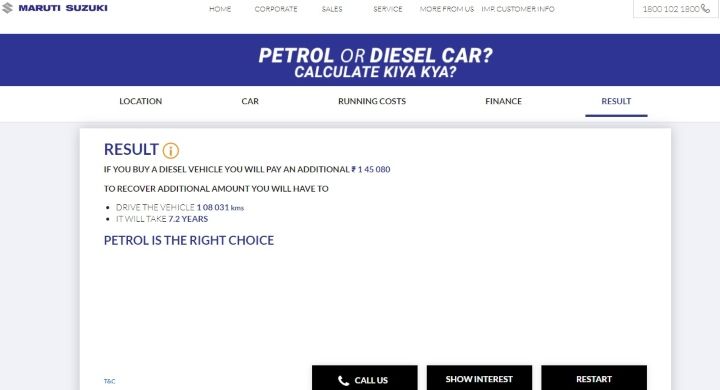 Here, we set the calculator at 35 km and it says petrol Brezza is the right choice. If you got a diesel unit then you pay an extra Rs 1.45 lakh. And to recover that amount, you will have to drive the car 1,08,031 km and it will take about 7.2 years. The calculator also helps you in calculating your daily costs and provides result depending on your running. If your daily running is less than 50 km then petrol is the right choice.
Also Read: Popular Cars Of India ? Mitsubishi Lancer, Tata Safari To Fiat Palio
Now coming to the diesel perspective as someone who wants a diesel unit only! The variant is the same as before but the daily kilometres list has been changed to 70 km. We have taken an average user commute of 70 km from Delhi-Gurugram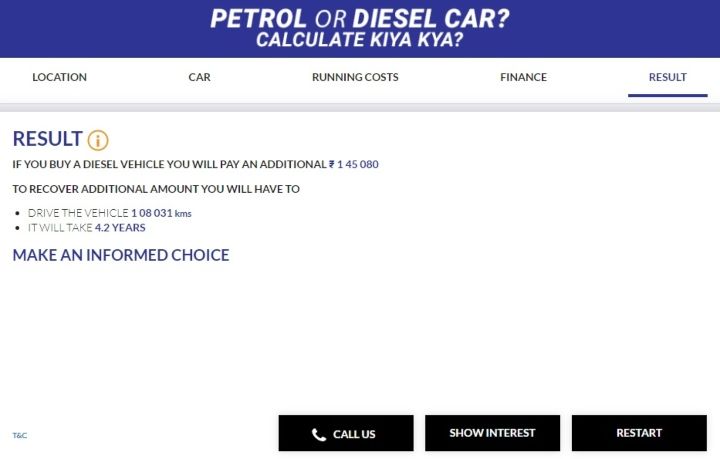 If your daily running is 70 km then it will take you a total of 4 years and 2 months to cover the extra Rs 1.45 lakh you paid for the diesel Brezza.
Case Study 2 (Maruti Suzuki Swift Petrol vs Diesel)
Here we have taken the mid-spec version of Swift that is the VXi and chose an AMT gearbox. The petrol costs Rs 6.66 lakh while the discontinued diesel used to cost Rs 7.86 lakh, ex-showroom, Delhi!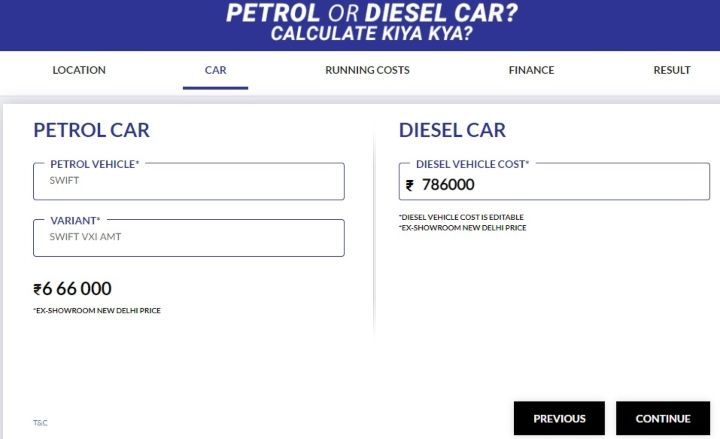 The monthly running we have kept is the same 35 km. The ARAI certified mileage of petrol is 21.21 km/l while the diesel used to give 28.4 km/l. Check the result out for yourself - do note you can change the fuel economy figures in the boxes as well.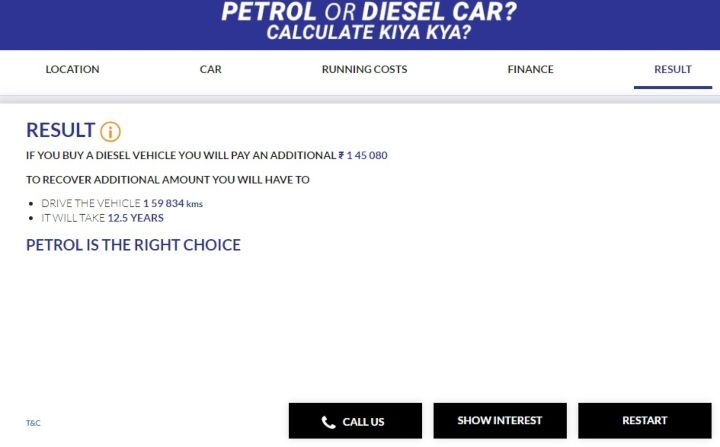 If you have a low usage then petrol comes out as the right choice. If you buy the diesel Swift then you not only pay Rs 1.45 lakh as a premium but also you got to drive 1,59,834 km which can be averaged in about 12.5 years.
If you were to buy a diesel Swift when your daily running from Delhi to Gurugram is an average 70km! Let's check out the result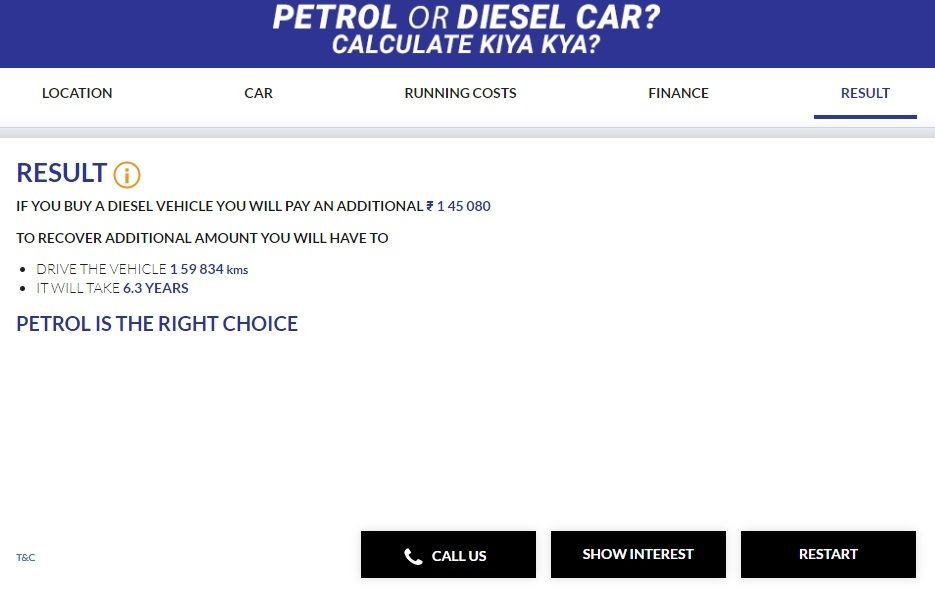 For a hatchback giving 21.21 km/l as fuel economy in an automatic transmission, petrol Swift turned out to be fruitful even if the daily running is 70 km. Still, if you brought the diesel Swift then you pay a premium of Rs 1.45 lakh and to cover that amount you have to drive an average of 1.6 lakh kilometres which will take about 6 years and 3 months.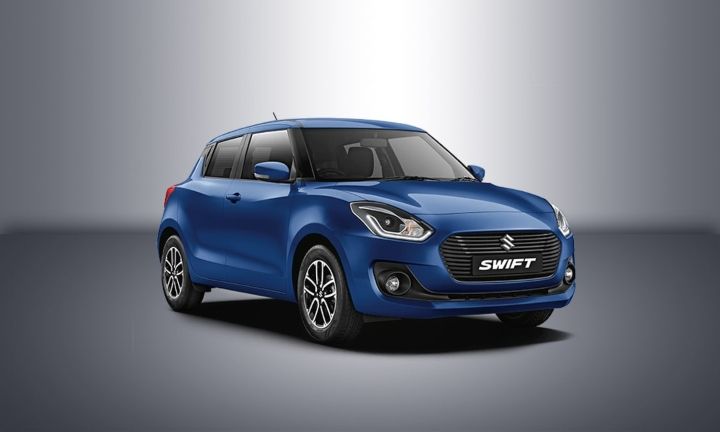 Verdict
Maruti's portfolio now only consists of petrol models. And the carmaker is bringing in advanced technologies in their petrol engines so they stand at par with the discontinued diesel engines and thus give in a greater fuel economy.
Just recently only, Maruti introduced a facelifted model of Dzire with updated engines. The new 1.2L petrol in Dzire now gives out 24.12 km/l from the AMT version while the manual returns an ARAI certified mileage of 23.26 km/l. The power figures have also been juiced up from 82 PS to 90 PS now. It is expected that once the lockdown ends, this same engine will come with the Swift too.