2022 Maruti Suzuki Brezza was launched recently. A customer recently modified it with after-market 20-inch alloy wheels. See the details of this crazy modification below.
The 2022 Maruti Suzuki Brezza C-SUV made its debut in India not long ago. It was just a matter of time before the new customers started to modify it accordingly. Today we share with you one of such examples of modification that has gone a bit too extreme. This new Brezza has been modified with 20-inch aftermarket alloy wheels in Punjab & we just can't get over it.
Also Read - Toyota Urban Cruiser Hyryder SUV India Launch On 16 August
2022 Maruti Suzuki Brezza Modification
When it comes to putting swanky alloy wheels to a car, nothing comes closer to Punjab. The recent viral photos of the new Brezza modification are a testimony to this fact. The 20-inch alloy wheels have been fitted by Ravi Tyres hailing from Amritsar city.
The new Brezza comes fitted with standard 16-inch diamond-cut alloy wheels as an OEM fitting. But, the customers who want more always find a way or two for their liking. Catering to such a customer, the recent fitment was done to a brand new Brezza. Before we head into what a technical disaster it is, we must admit that it looks eye-catching for sure.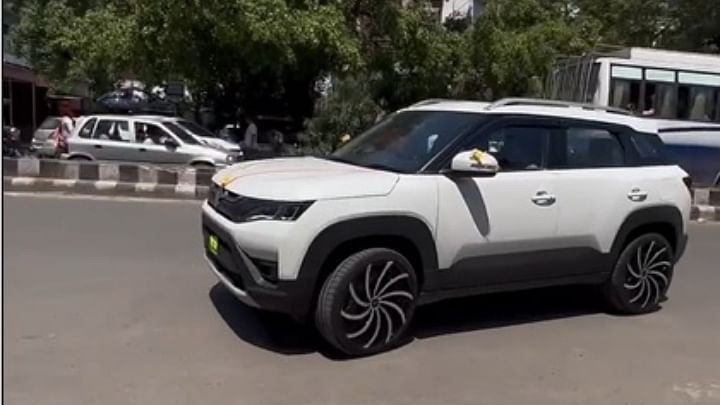 The rubber used seems to be very low profile too. We can't imagine the harsh ride quality and the bullock-cart feeling that the new owner must be getting after these tyres. But, such modifications are not meant for practicality. Most of such modifications are done in lieu of making the car stand out from the crowd. Attention-grabbing is what such mods do and this has done it brilliantly.
Modification Cons
The new Brezza has been designed to roll on 16-inch tyres. The profile and size are always selected after an extensive research period inside the R&D. The OEM fitments are finalized after hundreds of vendor parts are tested for thousands of kilometers and hours of tests. Any manufacturer designs select and manufactures the parts that comply with each & every safety standard.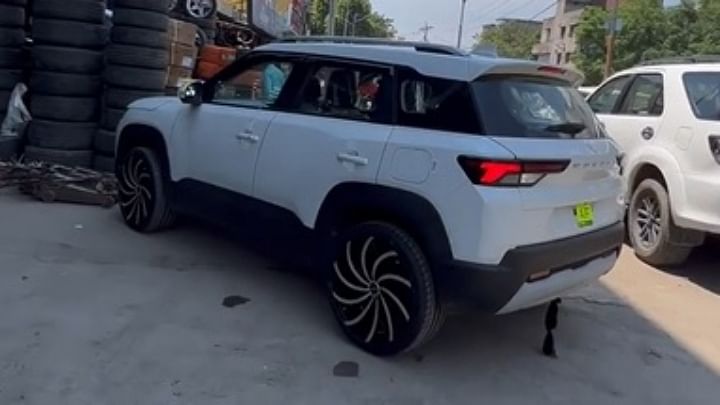 Such modifications will only cause harm to the vehicle. For example, the car featured here will face extensive abuse to the suspension, steering rack, and link rods. Basically, all of the chassis and suspension connecting parts will undergo extreme abuse.
Not only this but the engine also suffers extreme stress and unnecessary wear & tear. The new Brezza comes with a 1.5-Lt K15C petrol engine with mild-hybrid technology. It has been designed and tuned to provide a comfortable and economical commute. Such modifications not only hinder the fuel economy but also kill the engine performance in a short time.
Verdict
We at 91Wheels strongly recommend sticking to the OEM parts and specifications. Modifying your vehicle with such products will not only kill your vehicle's warranty but additionally make the insurance claims very tough or even negligible at times. For any modification, please visit only professional and certified technicians.
Currently, the main rival cars in the range of Brezza include - Hyundai Venue, Tata Nexon, & Mahindra XUV300.
Also Read - Old Mahindra Scorpio SUV Available On Rs 1.79 Lakh Discount - Best Time To Buy It?