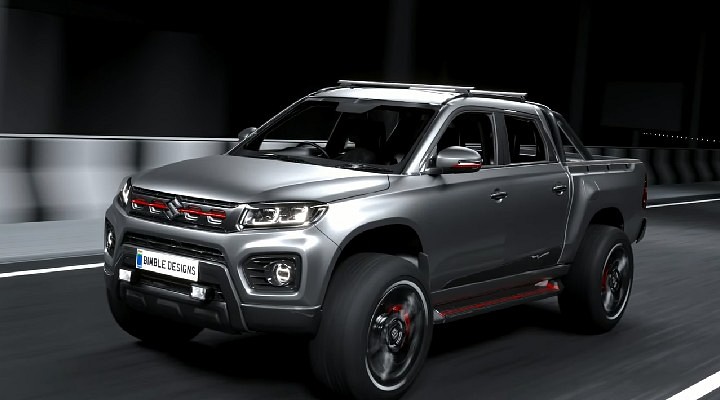 The Maruti Suzuki Vitara Brezza is one of the most popular compact SUVs in India. It has a good engine and enough features on board to fit in with a typical family. But have you ever visualized a Maruti Brezza in the form of a pickup truck? The majority of you will be confused as to how this is possible. On the other hand, Bimble Design (@bimbledesign) has a different point of view.
Bimble Design is known for creating digital representations of everyday cars that are always fantastic iterations. The Brezza Max pickup truck is one of the most attractive Brezzas we've seen.
Also Read: Maruti Suzuki Evaluates Plans To Launch Suzuki Jimny In India
Maruti Vitara Brezza Max Design
Let's talk about the Vitara Brezza pickup truck's design. To begin with, the designer has made several changes to make it look to be a legitimate pickup truck. If we look at the front fascia, it looks a lot like the normal Brezza. A stylish red stripe is added to the front grille to make it stand out, and the black skid plate gives it a robust appearance and an upright posture.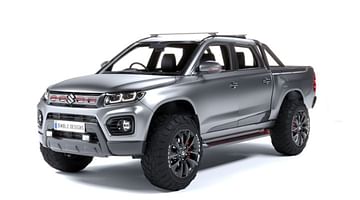 The rear part of the normal Brezza has been removed to extend the wheelbase and make room for the pickup bed. It's worth mentioning that the rear bed is taken from a Hilux pickup truck, yet it fits perfectly to give it the appearance of a finished product. Another bed highlight is the protection rods installed, the taillamps are huge yet basic.
On the side, the massive and wide high-profile tyres befitting an off-roader are the major focus, while the alloy wheel design is similar to the OEM spec Brezza. Because the pickup truck sits relatively high off the ground, side stairs can be seen on the sides for easy access to the cabin. To make the truck look more aggressive the designer has given red accents on the alloys and sidestep.
Also Read: New 2022 Maruti Suzuki XL6 Facelift Bookings Open In India!
What if the country's leading carmaker introduced something similar in a market where buyers had limited alternatives for a pickup truck? Many people looking for a pickup truck will undoubtedly consider it. There are now just two pickup trucks available in India: the Isuzu V-Cross and the freshly released Toyota Hilux.
What do you feel about Maruti Brezza pickup truck? Do let us know in the comment section. Also, join 91Wheels WhatsApp and 91 Wheels Telegram groups to know more about vehicles, conduct discussions on your favourite ride, and much more! Also, you can subscribe to our Youtube channel for video content on the latest from the world of cars and motorcycles.