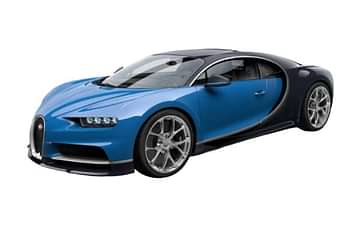 Bugatti Chiron
Chiron is a Sports car from Bugatti. Bugatti Chiron is expected to be launched at a price of Rs. ₹ 19.21 Cr - ₹ 21.22 Cr in Indian automobile market.
(Expected Price)
₹ 19.21 Cr - ₹ 21.22 Cr*
Expected Launch Date : January 2023
Bugatti Chiron Specifications
Bugatti Chiron-key Specifications

| | |
| --- | --- |
| Body Type | Sports |
| Transmission | Automatic |
| Fuel Type | Petrol |
| Engine | 7993cc |
Bugatti Chiron Overview
Bugatti Chiron Overview
It has a unique appearance, costs more than everything else, and moves quicker than everything else. The 2022 Bugatti Chiron isn't just the ultimate Bugatti; it's also the ultimate automobile. Thanks to a 16-cylinder engine with four turbochargers and at least 1500 PS of power, the more expensive Super Sport edition is even more powerful.
Bugatti Chiron Engine
The Chiron is powered by an 8.0-liter quad-turbocharged W16 engine that produces 1500PS and 1600Nm of torque, and can accelerate from 0 to 100 kilometers per hour in under 2.4 seconds. A Haldex All-Wheel-Drive system sends power to all four wheels, with a top speed of 420kmph.
Bugatti Chiron Exterior and Interior
The exterior is designed in the classic Bugatti style, with the signature form and sharp lines. The rounded shape and bullet-like silhouette of the hypercar express speed and ease. The vehicle's interior combines a modern stylistic approach with an homage to historical architecture. The interior colours blend well together and draw attention to significant aspects such as the centre console, which is designed like the flying buttresses that influenced Gothic architecture. With two high-resolution screens balanced against an analogue speedometer, the Chiron reflects a minimalist design when it comes to electronics.
Bugatti Chiron Features
The Chiron's single-minded focus on performance necessitates concessions in terms of infotainment. This Bugatti is built to perform like a race car, with stripped-down technology to match. There isn't an infotainment screen, and technologies like Apple CarPlay and Android Auto aren't available. The car's entertainment system consists mostly of a sound system and a trip computer.
Bugatti Chiron Price
The Bugatti Chiron's launch date in India has not been announced, but it is estimated to cost between Rs 19.21 Cr and Rs 21.22 Cr.
Read More
Bugatti Chiron competitors
Mercedes-Benz AMG GT Black Series

₹5.50 Cr Onwards
Bugatti Chiron Expert Verdict
Features we admire in this car
An engineering masterpiece
Quite Fast (0-100 kmph 2.4 seconds)
Refined Performance
Features that could have been better
Built for tracks
Very expensive to buy and maintain
Bugatti Car Dealers in popular cities
Bugatti Chiron Colours
Black and Yellow with Carbon Fiber

Exposed Blue Carbon Fiber

Exposed Carbon Fiber and Champagne

Exposed Red Carbon Fiber and White

Light Blue and White with Carbon Fiber

Red and Black with Carbon Fiber
Have More Questions about Bugatti Chiron?
Get answers from our 91wheels experts
Bugatti Chiron FAQs
What is going to be the price of upcoming Bugatti Chiron?

The tentative price of the upcoming Bugatti Chiron is going to be around Rs 19.21 Cr.

When is the Bugatti Chiron cars going to be launched in India?

Bugatti Chiron car is expected to be launched around January, 2023.

Which are the key features expected in the upcoming Bugatti Chiron?

Bugatti Chiron is expected to be coming with Transmission Automatic, Body type Sports, Mileage 5.95 kmpl, Max Torque (nm@rpm) 1479bhp@6700rpm.

Does the upcoming Bugatti Chiron come with both Automatic and Manual transmission?

Bugatti Chiron is expected to be coming with Automatic.